The Best Whole30 Tuna Salad
Made with simple ingredients and ready in minutes, this Whole30 Tuna Salad recipe is perfect for warm weather. Serve it with crackers, in lettuce wraps, or as a sandwich for the perfect easy lunch or light dinner recipe!
I don't know about you but in the summer when it's hot and my boys are running around wanting to play, I don't have the time or patience to be standing over a hot stove all day. As a result, I find myself reaching for fast, slightly more refreshing meals. This often means pre-packaged goods and calorie-dense sandwiches. So, in an effort to save as much time as possible, I decided to try my hand at making a  Whole30 Tuna Salad recipe. After all, what's more convenient than canned tuna? 
Luckily, I was not disappointed. In fact, this tuna salad recipe might be my favorite meal to date. It's made with common kitchen ingredients and requires no cooking for the most convenient meal ever. With fresh vegetables and creamy sauces, it's the perfect combination of hearty, crunchy, and refreshing to satisfy all your tastebuds. Plus, it can be served in a variety of ways so it never gets old or boring. 
I think I could eat this recipe all day. However, if you're looking for more quick ideas, be sure to take a look at this Easy-Peasy Whole30 Chicken Salad, Buffalo Chicken Salad, and Whole30 Egg Salad for One. Like this tuna salad, they're all Whole30 and ready in minutes. They're also kid-approved as all three of my little ones have tried and enjoyed each salad. You might want to adjust ingredients and spice levels to meet their needs.  Personally, I like to make a big batch ahead of time for quick meals all week long. So, to get you started with the perfect meal prep, let's make tuna salad!
How to Make Whole30 Tuna Salad
As promised, this tuna salad is beyond simple to make. Even better, it only takes one bowl for the easiest clean up ever.
To get started, make sure you drain your tuna. Then, flake it into the bowl. Add all of the ingredients except the green onions and half of the bell pepper. Use a spatula to mix everything thoroughly.
To finish, add in the rest of the ingredients, and mix gently. Be careful not to over mix here. You don't want the onions and betters to be too coated with the mayonnaise. Otherwise, they won't provide the added texture we're looking to achieve. Let this recipe chill in the fridge or serve immediately.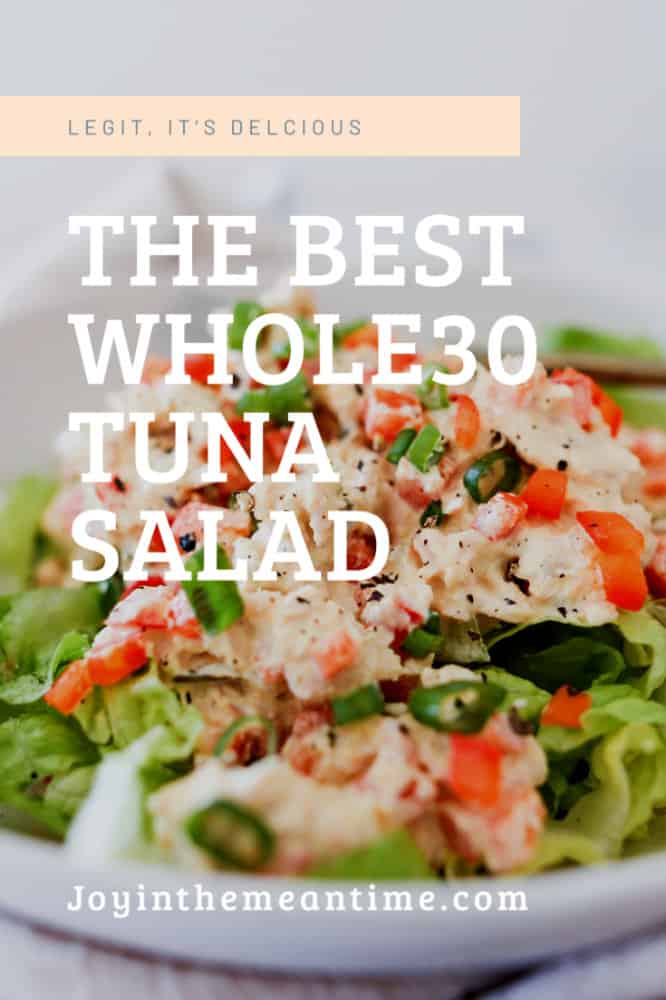 Ingredients, Alternatives, and Add-Ins
The key to making this recipe Whole30-friendly is to find compliant options. Luckily, most grocery stores have great options, and you can always order online. For example, I like to use Costco tuna, a diet-friendly relish I found at Whole Foods, and a super convenient mayo alternative made out of avocados. 
However, if you can't find ingredients to meet your dietary needs or simply want to try something new, there are still tons of great options! For instance, mayo can easily be swapped with mashed avocado or Greek yogurt. Meanwhile relish can be omitted or substituted with chopped pickles or olives.
In addition, I like to add in bell peppers for a little extra crunch and a refreshing flavor. If peppers aren't your thing, you could use chopped cucumber or celery instead. Then, if you want to kick your tuna salad recipe up another notch, you can always try using fun ingredients like slivered almonds, shallots, fennel, tomatoes, or carrots. Or, if you like your meals on the sweeter side, experiment with adding in raisins, craisins, or chopped apples.
Whatever you choose to do, be sure to check the ingredient lists and make sure that all of your add-ins are in line with whatever diet you choose to follow.
What Can I Use in Place of Canned Tuna? 
If you don't like canned tuna or are worried about the mercury content, there are several healthy alternatives that are high in protein and just as delicious. Instead of tuna, try using smoked trout, canned salmon, shredded chicken, or even chickpeas. The flavor of this recipe might change slightly depending on which meat alternative you choose, but it will still be delicious!
Is Canned Tuna Whole30 Approved?
Depending on what brand of tuna you're using and the ingredient list, it may or may not be included in the Whole30 diet. Unfortunately, many packages are made with ingredients that contain soy making them incompatible. However, as long as your tuna is made with clean, natural ingredients it should be totally fine! Just be sure to check the ingredient list before buying. To keep things easy, I just buy tuna canned in water. 
How to Serve Whole30 Tuna Salad
As mentioned, part of why I love this recipe so much is because of how versatile it can become. It's perfect to just toss in a bowl in the fridge and pull out when you're ready to eat. My favorite way to eat this tuna salad recipe is over a bed of lettuce as a salad. Similarly, it can be stuffed in lettuce leaves for grain-free wraps.
When I'm not on a Whole30 kick, which I'll admit is rare, I also love to eat this tuna salad spread over crackers. My favorite are Simple Mills Almond Crackers (I get them at Costco). Raw veggies such as carrots and celery are great for dipping as well, and my boys love to eat this as a sandwich or wrap. 
Of course, if you make this or any of my other recipes, please tag me on Instagram! I'd love to see your creations, connect, and share your page. I hope you love this recipe as much as I do. Stay tuned for new recipes, easy meal plans, decoration tips, and more every week! 
In the meantime, enjoy!
Karin
Ingredients
1

thinly sliced green onion

1

can of drained tuna

I use this one from Costco

1 1/2

Tablespoon

compliant relish

I use this one from Whole Foods or diced compliant pickles

2

teaspoons

compliant yellow mustard Note: Most simple yellow mustards are compliant

but be sure to check labels

2

Tablespoons

compliant mayo

I use this one

3/4

diced medium red pepper or 1 small red pepper

1

teaspoon

salt

Cracked pepper to taste
Instructions
Once the tuna is drained, use a fork to flake into a bowl

Add in all of the ingredients, except for the green onions and half of the diced red pepper into the bowl

Using a fork or small spatula, mix thoroughly

Once combined, gently mix in the green onions and remaining red pepper, you don't want them as coated with the tuna mayo mixture – this helps with that whole texture thing I was talking about

Serve on a bed or mixed greens, chopped romaine or with some crackers (not compliant)
P.S. This page may contain affiliate links. Of course, you're not obligated to use them, but I appreciate the love if you do!