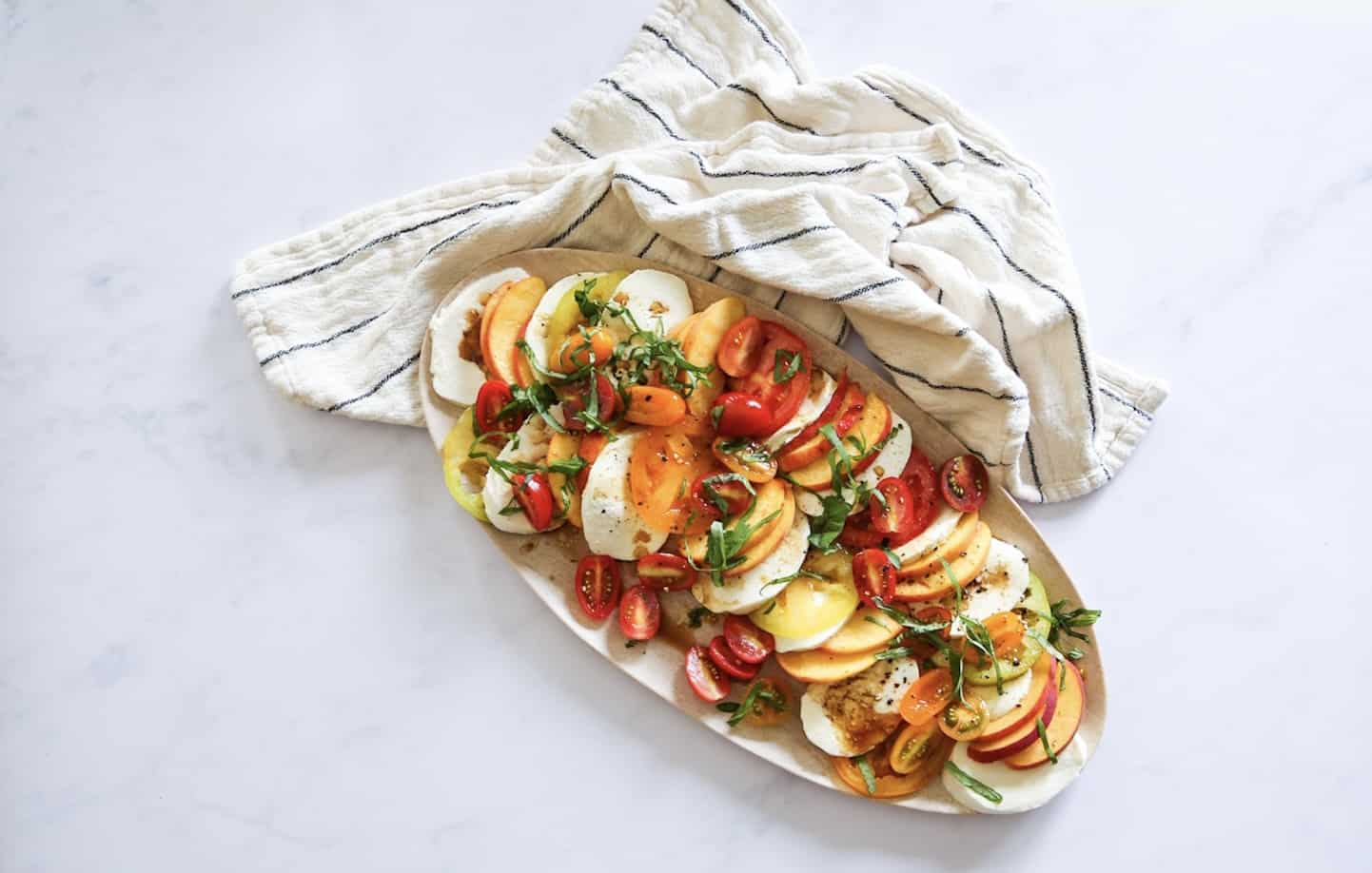 Made with fresh ingredients and ready in minutes, this Peach Caprese Salad is the easiest summer recipe everyone will love. Serve it as a healthy appetizer or light side dish to have all your guests raving!
A Summer Salad Even The Kids Will Love
If you've been following along with our day-to-day life over on Instagram, you'll already know I've recently been obsessed with this Peach Caprese Salad recipe. I can't get enough! With fresh summer produce, the sweet and savory flavors are drool-worthy. Even my kids agree. That's how you know it's legit.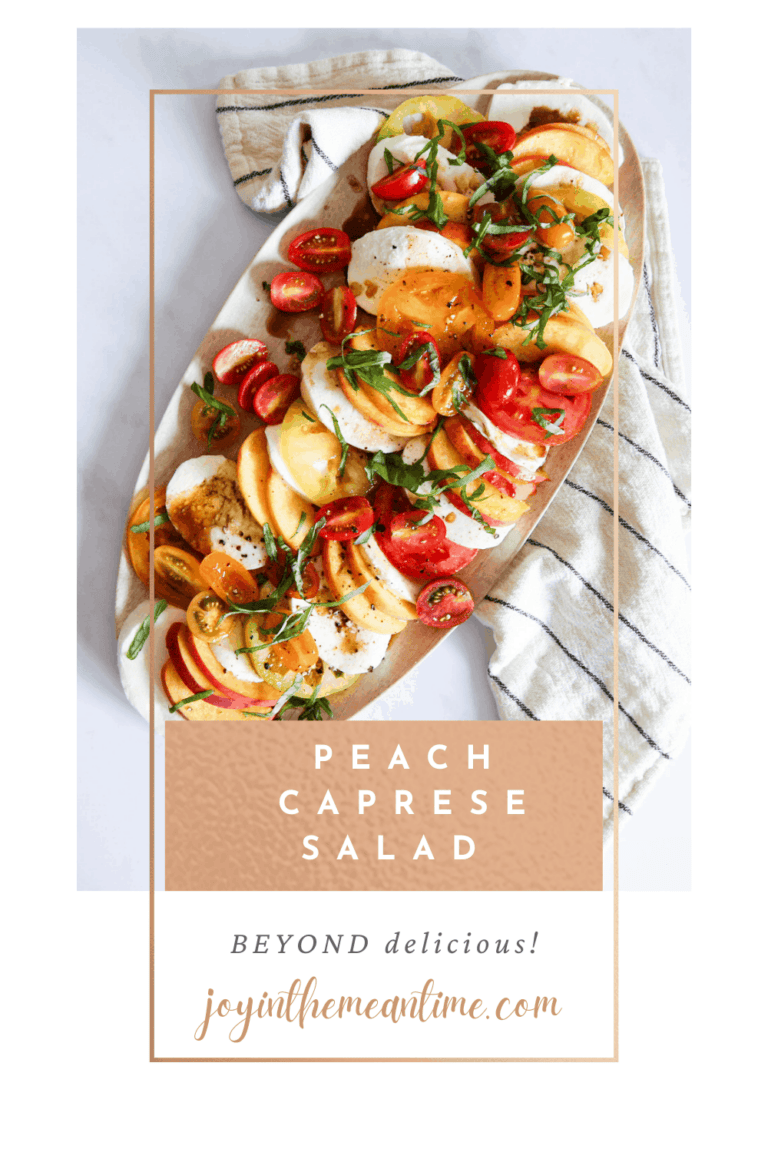 With such simple ingredients and easy instructions, I don't know how something so easy to make can taste so incredible. However, what I do know is that it will be a staple in my meal planning right along with my family's favorite sides including Patatas Bravas, my kid-friendly Perfect Roasted Green Beans, and crowd-pleasing Zucchini & Carrot Fritters. If you can, I highly recommend getting your produce fresh from a local market as they taste just that much better. If you can't, no worries, this recipe is guaranteed to taste great no matter where you shop! It's basically foolproof.
The best part is that it requires super minimal prep and cleanup. Plus, the kids can help assemble it. Or, if they're like mine, they'll spend the time snacking on extra peaches and sneaking bites of cheese. Either way, it's quality time I wouldn't trade for the world!
So, ready to get in the kitchen? Let's go!
What You'll Need to Make the Best Caprese Salad with Peaches
Traditionally, caprese salad recipes are made without fruit (I know, I know tomatoes are technically a fruit, but stay with me). However, with this recipe, I decided to switch things up with the addition of sweet and juicy peaches. To recreate my version, you'll need to gather the following ingredients.
Peaches – I used yellow peaches, but any peach variety such as white peaches, donut peaches, and even nectarines would taste great! Or, simply add a drizzle of honey as a finishing touch.


Tomatoes – To make this recipe extra pretty, I used a variety of tomatoes including heirloom, cherry, and grape, but feel free to use whichever versions you like best.


Mozzarella – You'll want to make sure your mozzarella is fresh. I haven't tested it, but if you want to swap out cheeses, I would opt for a light white cheese such as provolone. Just be aware that the flavor will be slightly altered.


Balsamic Vinegar – I don't recommend using a different vinegar or trying to substitute balsamic as it cuts through the acidity of the tomatoes and perfectly balances all of the flavors.


Lemon Olive Oil – If you're unfamiliar, lemon olive oil is standard in most grocery stores. However, you could also use regular olive oil and lemon juice or zest. If you do opt for regular olive oil, I recommend using extra virgin as it has a bolder flavor than unrefined versions.


Basil – Not only does basil make this recipe picture-worthy, it also adds a refreshing taste to balance out the heavy fats from the oils and cheese.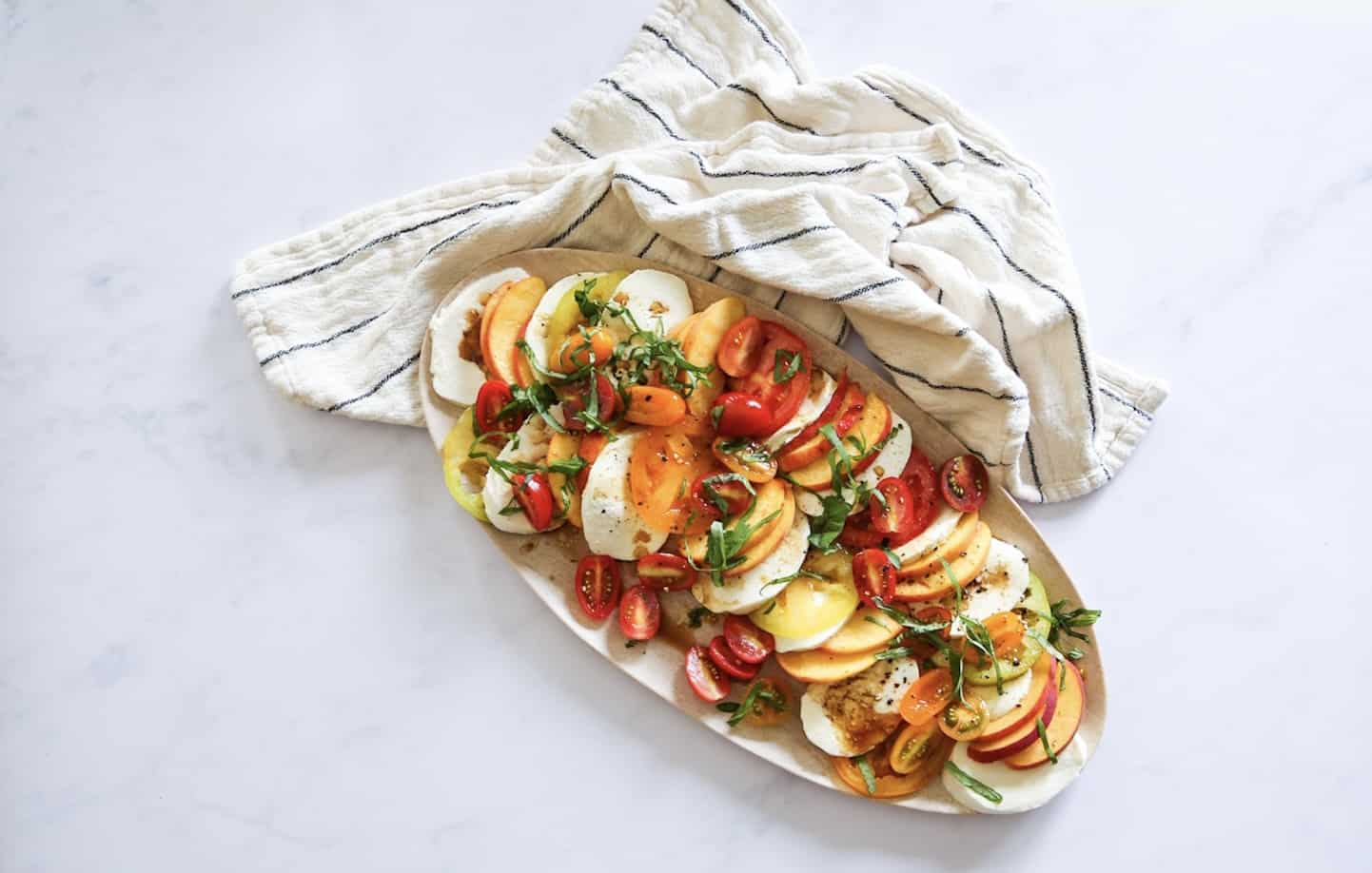 How to Make a Caprese Salad
This caprese salad recipe is so easy, you probably don't even need instructions. However, just in case you need some reassurance, I've got you covered with step-by-step instructions below.
Make the glaze. To make the balsamic glaze, add the balsamic and lemon olive oil in a small bowl using a sprouted measuring cup, and set it aside.


Arrange the board. Once washed and sliced, arrange the peaches, tomatoes, and mozzarella on a plate, serving board, or platter.


Add the finishing touches. To finish, drizzle the glaze over the ingredients, and add salt, fresh ground pepper, and basil ribbons to taste.
How Long Does this Salad Stay Fresh?
This recipe tastes best if eaten right away or within 24 hours. However, if you want to prepare it ahead of time, it can keep in the fridge for 2-3 days if covered in an airtight container. It may become a bit soggy, but no worries! If it does, just drain it before serving, and it will be as good as new!
Can I Use Regular Mozzarella Instead of Fresh Mozzarella?
Regular packaged Mozzarella found in stores is typically made in bulk in factories that has a dry, slightly rubbery texture ideal for cooking as it melts beautifully. Meanwhile, fresh Mozzarella is handmade in small batches and has a softer, more buttery texture. It's delicate flavor makes it ideal for eating raw in dishes such as caprese salads.
Delicious Serving Suggestions
A summertime staple, this Peach Caprese Salad pairs well with pretty much everything. For the best combinations, I recommend serving it with lighter grilled meats such as chicken, fish, or shrimp. Yet, it would also be a great side dish to a hearty burger or juicy steak! If you wanted, you could even add a protein source to the salad to turn it into a complete meal on its own. Then, pair it with a thick, crusty bread or soft dinner roll.
More great salads you'll love
There you have it, friends, the best summertime salad recipe ever. Do you love peaches as much as I do? If so, let me know in the comments below if there are any peach-filled recipes or if you have any favorite dishes to bring to family gatherings!
Of course, if you make this or any of my other recipes, please tag me on Instagram! I'd love to see your creations, connect, and share your page. I hope you love this recipe as much as I do. Stay tuned for new recipes, easy meal plans, decoration tips, and more every week!
In the meantime, enjoy!
Karin
Ingredients
3

peaches sliced

Tomatoes of choice

sliced (I used heirloom, cherry and grape)

12

oz

fresh mozzarella

sliced

3

T

balsamic vinegar

1

T

lemon olive oil

you can sub for evoo and add zest of half of a lemon as garnish

Salt and pepper to taste

8

fresh basil leaves sliced into ribbons
Instructions
In a small bowl or spouted measuring cup, add the balsamic and lemon olive oil, set aside

Arrange the peaches, tomatoes and mozzarella as desired, and drizzle with balsamic mixture, and finish with salt and freshly ground black pepper and top with basil ribbons
P.S. This page may contain affiliate links. Of course, you're not obligated to use them, but I appreciate the love if you do!