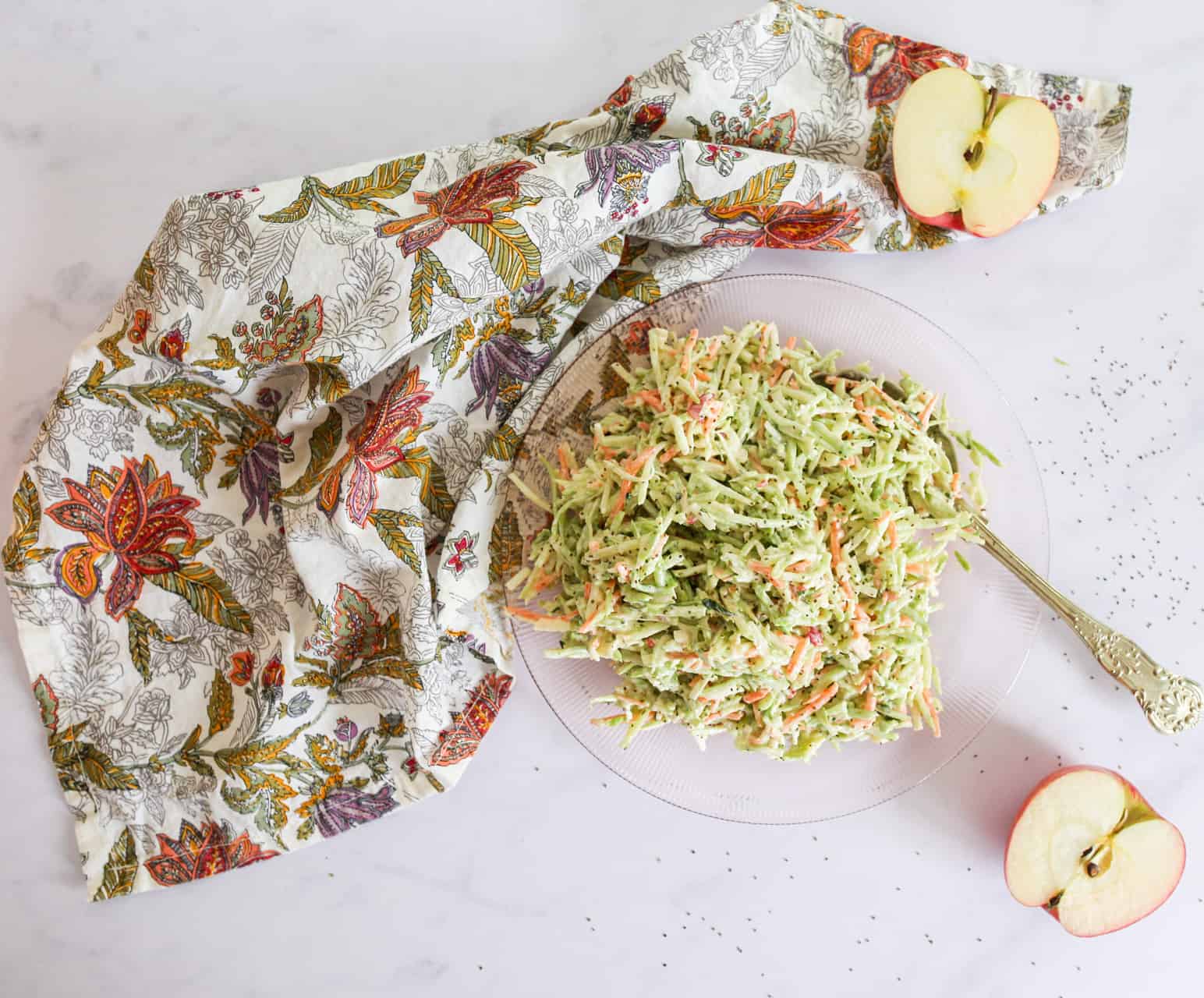 Made with fresh ingredients, this Whole30 Broccoli Slaw is a great kid-friendly alternative to traditional coleslaw recipes. Make it ahead of time for summer barbecues, weeknight dinners, and everything in between!
Also known as broccoli slaw salad, this Whole30 Broccoli Slaw recipe came to be thanks to my husband who prefers coleslaw to be made without the cabbage. In an effort to satisfy the need for this classic side dish, the move to broccoli slaw seemed like a natural jump. In an effort to keep a similar flavor and texture, I utilized pre-shredded broccoli slaw and mayo. However, I also added shredded apple for a bit of sweetness and added crunch.
The result? An incredible healthy side dish my whole family loves! It's the perfect recipe for every summer barbeque, pitch-in, and even weeknight dinner. Even better, this recipe for broccoli slaw salad is ready in minutes and can be prepped ahead of time and stored in the fridge.
It tastes delicious with pulled pork, grilled chicken, or pretty much any protein source you have on hand. Even better, your kids won't even realize they're eating vegetables! They'll just be focused on the sweet and tangy combination of flavors. For delicious dinners, serve it with the Perfect Burger, in fish tacos with Blackened Cod, or with Cajun Grilled Shrimp! No matter what you choose to pair it with, I know you're going to love it.
How to Make Whole30 Broccoli Slaw
This recipe for broccoli slaw salad comes together in just 5 steps. Yep, you read that right! 5 easy steps get you to a nutrient-packed side dish recipe you're going to love.
Ingredients Needed
Mayo


Apple Cider Vinegar


Celery Seeds


Yellow Mustard


Salt


Black Pepper


Pre-Shredded Broccoli Slaw


Apples
Instructions
To start, shred your apples- I do this with a box grater
Then, use a small bowl to whisk together your mayo, apple cider, celery seeds, mustard, salt, and pepper.
Next, add your broccoli and apple to a large bowl, and pour in the mayo mixture.
Combine the ingredients making sure everything is evenly coated with the mayo mixture.
To finish, add your salt and pepper to taste, and refrigerate your Whole30 Broccoli Slaw for at least 30 minutes or overnight.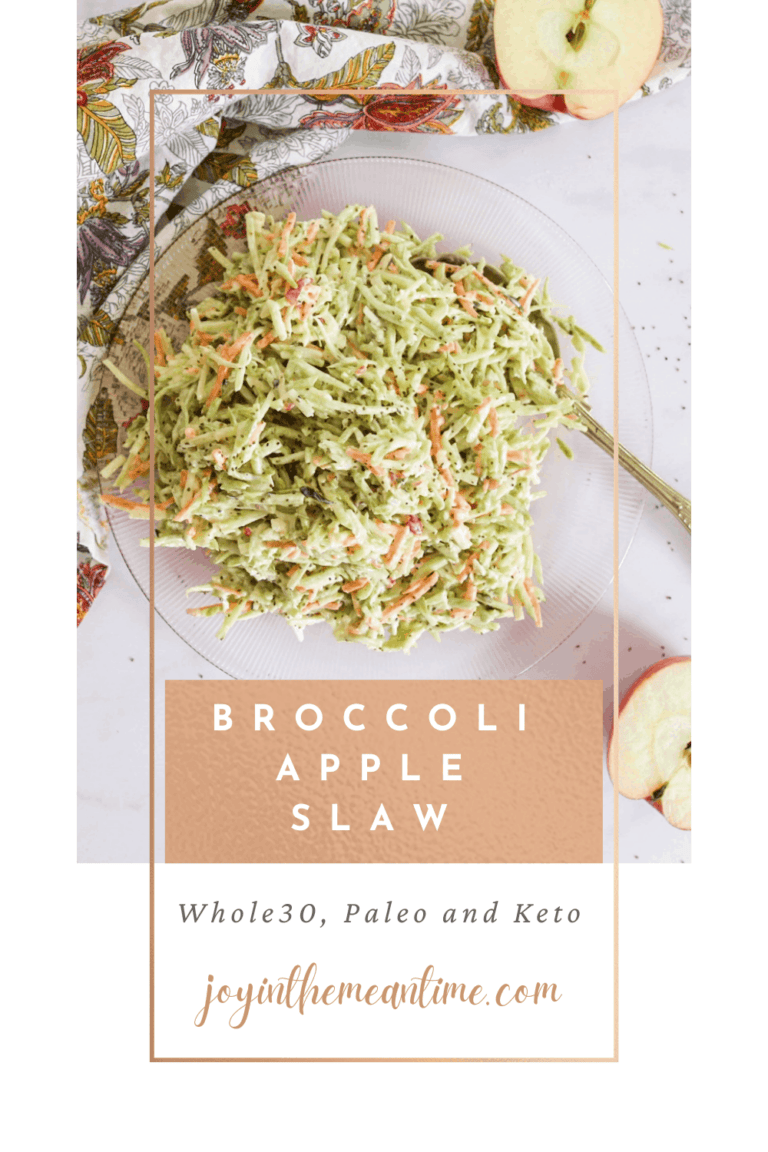 Add-Ins and Alternatives for Whole30 Broccoli Slaw
While I only tested this recipe with the specific ingredients listed, they can absolutely be substituted to fit any dietary needs or preferences you may have. For instance, mayo can be substituted for Greek yogurt or Avocado. Or, swap out the apple for any other fruit you prefer!
Also, feel free to add in any extras you'd like as well. Additional nuts and seeds such as slivered almonds, walnuts, or sesame seeds add great crunch and healthy fats to keep you full. To add more sweetness, I like to include raisins or craisins in addition to the apple. Or, if you want to bulk this recipe for broccoli slaw salad up to make a complete meal, add in a protein source like chicken, bacon, ground turkey, or even shrimp. Some people even like to add noodles for a more filling recipe.
Meal Prep & Storage Tips for Broccoli Slaw Salad
The great thing about this recipe for broccoli slaw salad is that it is best made ahead of time. Helloooo easy meal prep! Letting your slaw sit in the fridge overnight allows the flavors to fully incorporate and sink into the veggies. However, don't wait too long! Once combined, this Whole30 Broccoli Slaw can stay fresh in the fridge for up to 5 days. For optimal freshness, be sure to store it in an airtight container.
While it can be frozen, I don't recommend doing so with this recipe as it will likely turn soggy as the mayo mixture thaws. If you do choose to freeze and thaw this Whole30 Broccoli Slaw, be sure to drain the excess water before serving and check out this article for 3 easy tips to freeze and thaw broccoli slaw. Okay, technically, they're talking about coleslaw, but it still applies!
Common Questions about Whole30 Broccoli Slaw
Is Whole30 Broccoli Slaw gluten-free?
Yes, this Whole30 Broccoli Slaw recipe is gluten-free and completely modifiable to meet all your nutrition and dietary needs!

Where can I buy pre-shredded broccoli slaw?
Pre-shredded broccoli slaw can be found in most grocery stores! This giant bag from Walmart is super convenient, affordable, and great to feed a crowd. Look for it in the refrigerated section of your grocery store's produce.

Is Whole30 Broccoli Slaw healthy?
Of course, everyone's definition of healthy varies, but overall, this recipe for broccoli slaw salad is super healthy! Broccoli is a fantastic vegetable to include in your diet. Full of fiber and protein, it's also loaded with nutrients and minerals to keep you feeling great. Combined with the apple, this recipe is a nutrient powerhouse that tastes like you're cheating on your diet.

Can Whole30 Broccoli Slaw be cooked?
Yes, if you prefer your veggies cooked, broccoli slaw can be stir-fried. Just wilt your broccoli slaw in a skillet before mixing all the ingredients together. The taste and texture will be altered just slightly, but it will still be tasty!
You're not going to believe how well this recipe is going to go over with your friends and family! If you have any questions I missed, please feel free to leave them in the comments below, and I'll be sure to get back to you.
Of course, if you make this or any of my other recipes, please tag me on Instagram! I'd love to see your creations, connect, and share your page. I hope you love this dish as much as I do. Stay tuned for new recipes, easy meal plans, decoration tips, and more every week!
In the meantime, enjoy!
Karin
Ingredients
1/2

Cup

mayo

1

T

apple cider vinegar

1

T

yellow mustard

1

T

celery seeds

½

t

salt plus more to taste

¼

black pepper plus more to taste

1

bag pre-shredded broccoli slaw

2

apples peeled and grated, I prefer granny smith but any will work
Instructions
In a small bowl, whisk together the mayo, apple cider vinegar, celery seeds, mustard, salt and pepper

In a large bowl, add the broccoli and apple, and then pour mayo mixture, and thoroughly mix, ensuring everything is evenly coated.

Salt and pepper to taste.

Refrigerate for at least 30 minutes to overnight.
P.S. This page may contain affiliate links. Of course, you're not obligated to use them, but I appreciate the love if you do!