Mixed Greens Salad with Dijon Vinaigrette and Shaved Gruyere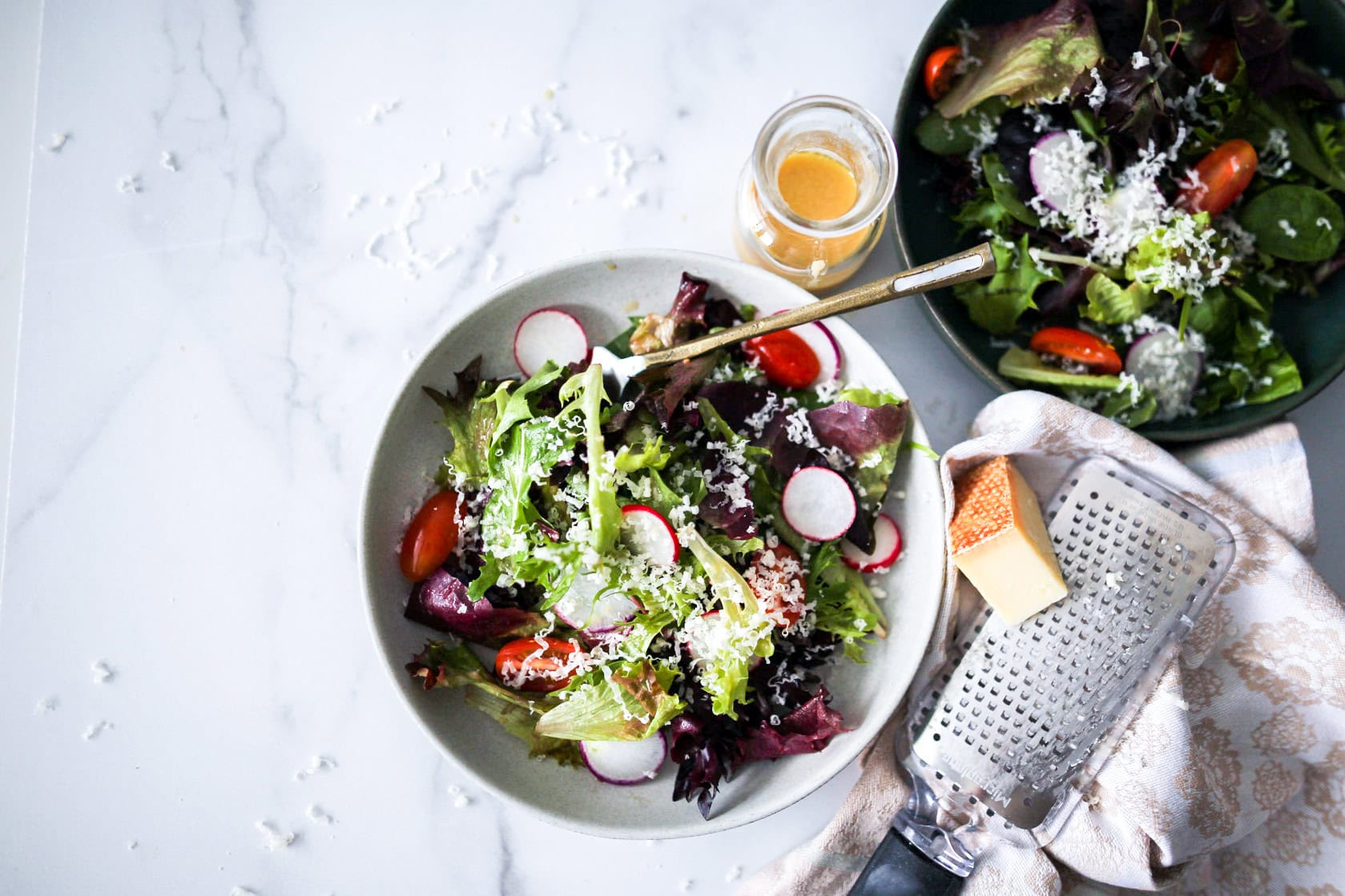 Made with simple, fresh ingredients, this easy mixed greens salad recipe tastes just as good as the restaurant version for a healthy recipe you're going to love! Make it as a side dish for your next meal, or add protein for a complete and delicious meal.
This Mixed Greens Salad recipe with Dijon Vinaigrette and Shaved Gruyere is one of my favorite recipe creations to date. However, my inspiration for this recipe was a bit different this go-around. Let me explain. Pre-COVID, my husband had several working lunches at a spot called Sullivan's Steak House. Every evening he came home from these lunch meetings, he raved on and on about the Garden-Fresh salad he had eaten. This is saying A LOT because he's not usually a big fan of cheese.
So, when we sprung for an upscale takeout for a quarantine date night, I knew I had to try the salad! The end result? I was blown away by how delicious it tasted. While ordering takeout is fun for a treat every now and then, I knew I wanted to try my hand at recreating this seemingly simple and totally irresistible salad at home.
What resulted is a mixed greens salad that feels like fancy restaurant quality without all the fuss (or cost). All you have to do is toss a few fresh ingredients together, and you're done! I know when we can begin hosting dinner parties again (Is anyone else SO ready?!), this salad will be the first thing on the menu!
If you're looking to start planning your parties now, take a look at these fun appetizers and side dishes to include in your menu. Then, opt for the Perfect Whole30 Steak, Pan Seared Salmon, or my favorite Whole30 Broiled Lobster Tails recipe to truly wow your guests!
Now, back to the salad…
What Kind of Greens Are In a Mixed Greens Salad Recipe
Ultimately, the types of greens you use in this salad recipe are up to you. Personally, I opt for premade store-bought mixes. These typically include some sort of blend of greens including baby lettuce, arugula, frisée, and spinach. However, you could use any blend, lettuce, or spinach you like best!
How to Make Mixed Greens Salad with Dijon Vinaigrette and Shaved Gruyere
I'm not joking when I say this mixed greens salad recipe comes together in minutes! Seriously, it's the easiest side dish ever. Even better, it's an easy way to get my kids eating more veggies.
To start, whisk your shallots and vinegar in a medium-sized mixing bowl until well combined. Then, slowly drizzle the olive oil into the shallot mixture making sure to whisk the entire time in order to help emulsify the dressing.
Once the oil has been well mixed, add in your sugar and salt and pepper to taste.
Next, using a large bowl, gently toss the mixed greens, radishes, and tomatoes.
To finish, dress the salad with the shallot and oil mixture, top it with shaved Gruyere cheese, and enjoy!
Mixed Greens Salad Recipe Nutrition
What I love most about this recipe is that it is loaded with health benefits! Plus, it's super versatile to fit your needs and preferences. The main ingredients including mixed greens, radishes, and tomatoes are all low carb and loaded with vitamins, nutrients, and fiber. In addition, the dressing is made with shallots and olive oil to pack in antioxidants and healthy fats that can boost your heart health, increase satiety, and so much more!
Admittedly, there are a few ingredients such as Gruyere cheese and coconut sugar that may be deemed less healthy by some. While often given a bad wrap as being "bad for you" cheese is a great food to add protein and fats to any meal to help keep you full. It is also a great source of Calcium, vitamin A, vitamin B12, and more! Furthermore, at just 1 teaspoon, the calories and sugar content from the coconut sugar are negligible in this mixed greens salad recipe.
Of course, if you wish, you can omit these ingredients. Or, swap them out to add more nutrition without sacrificing flavor! Easy alternatives include:
Honey


Maple Syrup


Nutritional Yeast


Tahini


Avocado


Hard Boiled Eggs
Mixed Greens Salad Dressing Alternatives
If you prefer, feel free to use a different dressing or a store-bought blend with this mixed greens salad recipe. Given that the vegetables and cheese already pack quite a bit of flavor, I would recommend sticking with something light like this Honey Dijon Salad Dressing or this Simply Vinaigrette Italian Salad dressing.
Frequently Asked Questions about Mixed Greens Salad
Can I substitute extra virgin olive oil for a different oil in this mixed greens salad recipe?
I highly advise against using a different type of oil to make the dressing for this mixed greens salad recipe. Extra virgin olive oil is just light enough to carry all the flavors well without overpowering any of the other ingredients.

What protein sources can I add to this mixed greens salad recipe?
Any protein source would work great on this mixed greens salad recipe! I would recommend opting for leaner meats with light flavors such as shrimp or chicken.

Can I prep mixed greens salad ahead of time?
Technically, this mixed greens salad recipe can be prepped ahead of time. However, be sure to keep the dressing and the salad separate until just before serving in order to prevent your greens from becoming too soggy! The best way to store your greens is placed in the crisper door of your refrigerator in a container that has been lined with a damp paper towel.
So, there you have it! It really just a matter of a few easy steps to create an insanely delicious salad recipe you're going to want to make again and again!
Of course, if you make this or any of my other recipes, please tag me on Instagram! I'd love to see your creations, connect, and share your page. I hope you love this recipe as much as I do. Stay tuned for new recipes, easy meal plans, decoration tips, and more every week!
In the meantime, enjoy!
Karin
Ingredients
Ingredients for the Dressing
1

tbsp

grated shallot

2

tsp

white wine vinegar

2

tsp

Dijon mustard

6

tbsp

extra virgin olive oil

1

tsp

coconut sugar

Salt and pepper to taste
Ingredients for the Salad
8

cups

Mixed greens – approximate 2 cups per person

8

radishes

thinly sliced

½

cup

cherry or grape tomatoes

halved

1/2

cup

shaved Gruyere cheese – I use my microplane
Instructions
Directions for the Dressing
In a medium mixing bowl, add the shallot and vinegar, whisk until incorporated

Using a measuring cup, or something with a spout, slowly drizzle the olive oil into the shallot mix, whisking the entire time, this will help to emulsify the dressing.

When fully mixed, add the sugar, and salt and pepper to taste (I used approximately ½ tsp salt and ¼ tsp pepper, but adjust to your preference)
Ingredients for the Salad
In a large bowl, gently toss the mixed greens, radishes, and tomatoes. Just before serving dress the salad, and top with shaved Gruyere
P.S. This page may contain affiliate links. Of course, you're not obligated to use them, but I appreciate the love if you do!