Hey friends! Recently back from amazing Costa Rica and wanted to get some of the details to you, just in case you're planning a trip of your own! Long story short, we highly recommend it!
A Little About costa Rica
The rugged, rainforested Central American country with coastlines on the Caribbean and Pacific is not to be missed. It's an amazing country dedicated to the welfare of its people, and the preservation of its natural resources and wildlife.
Costa Ricans or "Ticos" live by the motto, Pure Vida, which translates to Pure Life. Living in the moment, with the most joy and choosing not to stress, or dwell on the negative. Their national animal is a sloth, I mean, can you get more chill vibes?! This might just be why they've been listed as one of the happiest countries. Where do we sign, right?
Many popular resorts discourage visitors from going off-site, however, Costa Rica's low crime rates, friendly and welcoming locals encourage you to get out and explore.
Why We Chose Costa Rica
Each year my husband's company has their annual sales incentive trip, and families get to come along. And while Roger does have to work, entertaining his team, facilitating excursions, and doing all the sales stuff my social worker heart has no idea about, we still manage to enjoy the experience! I know, it's a struggle, but someone has to do it, ha! With all that being said, we would most definitely take this trip if work was not what brought us there!
This is our third year traveling to Costa Rica, the second time with the kids. Something neat about this trip was that both my brothers were there! One of my brothers also works for the company and brought his amazing family. My nieces are precious, btw. My other brother also came along to help us with the kiddos, since Roger still had quite a few work commitments. He was incredible, and there's nothing quite like having a fun uncle on a trip to Costa Rica!
Where we Stayed
The Westin Reserva Conchal, an All-Inclusive Golf Resort & Spa
This is one of the best all-inclusive resorts we've visited. The property is expansive, but still feels comfortable and personal. The landscape is beautiful, and the staff and customer service are great. Everthing is clean, and the food on-site is tasty. We have stayed here twice, both with the kids, and each time has been a great experience. They have a separate family pool, which is fantastic, and makes all the jumps and splashing perfectly fine. They also have a kid's play zone, but due to Covid, it was closed. With a fitness center, spa, golf course, multiple pools and restaurants, bike tours, and staff dedicated to helping plan off-site adventures, you will most definitely have a wonderful time.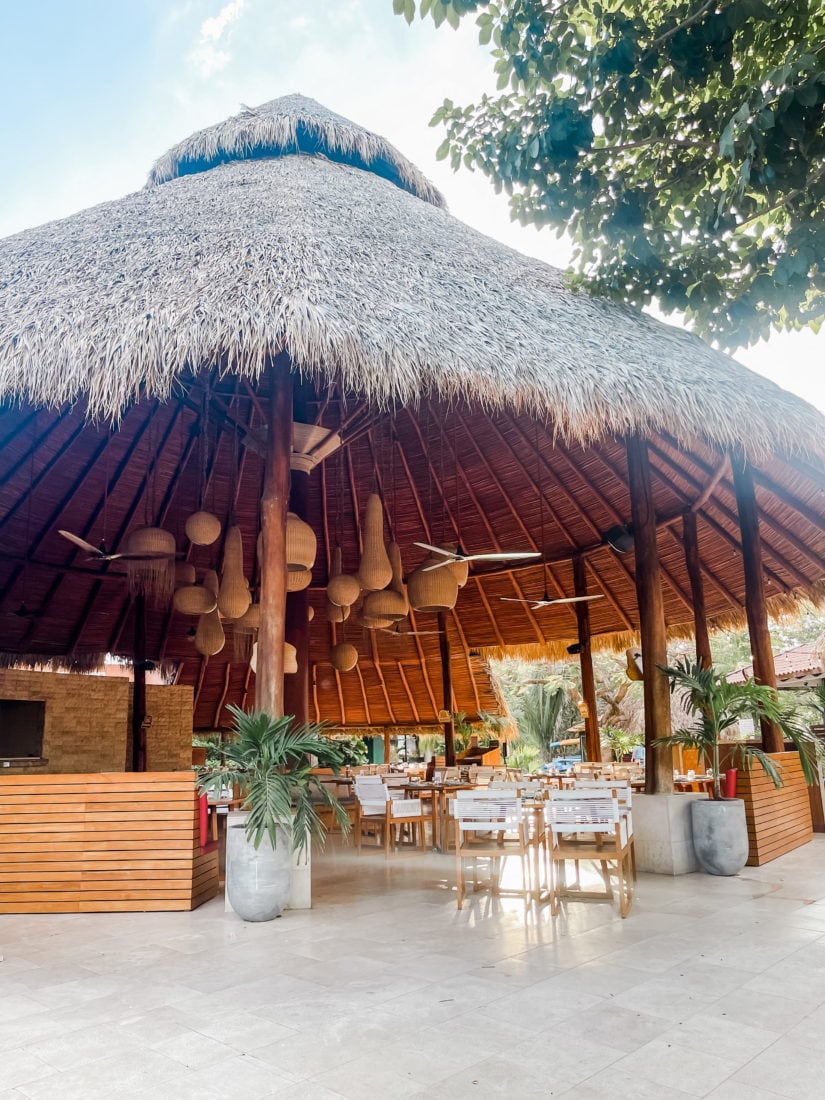 Travel Details
To get to CR a direct flight from Chicago is about 5 hours, with an additional 1-1.5 hour bus ride. Side note, if you or your kiddos get motion or car sick easily, highly recommend Dramamine just after landing, as it takes a bit to get into your system. They do have a children's version, too. The bus drive can be a doosey with all the winding roads and bumps- both I, and one of my boys got a little sick on the way to the resort from the airport.
What we did
Costa Rica has SO MANY amazing excursion options. Because we traveled with younger kids, the more strenuous adventures haven't been in the cards, BUT that hasn't stopped us from having fun!
Horseback Riding: The kids had a blast, and it was very easy to schedule, just on the beach outside our room. Our older boys, 6 and 8, were able to ride on their own, with someone guiding with the reigns, and our 2 year old rode with my husband. We even rode at sunset, making it even more magical.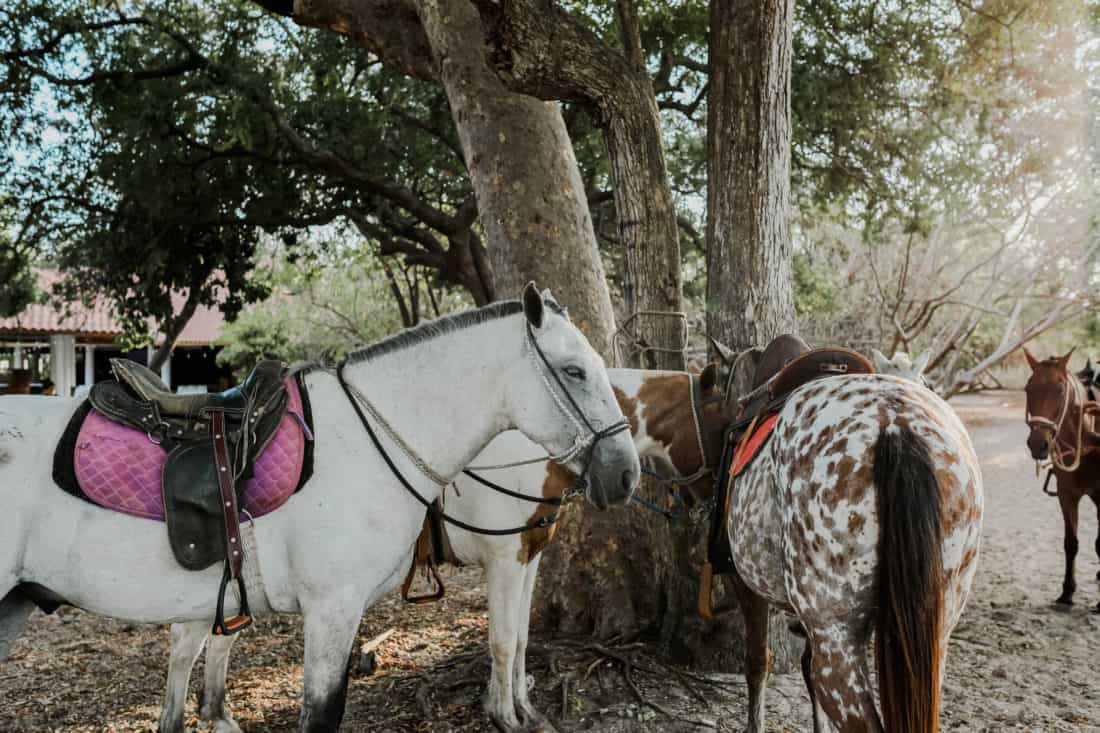 Sunset Sail: This is an activity that can be scheduled at the resort activities center and is well worth it! The sunsets are stunning and something the kids enjoyed. Note: if you or your kiddos tend to get motion sickness, Dramamine should be your friend, just sayin'.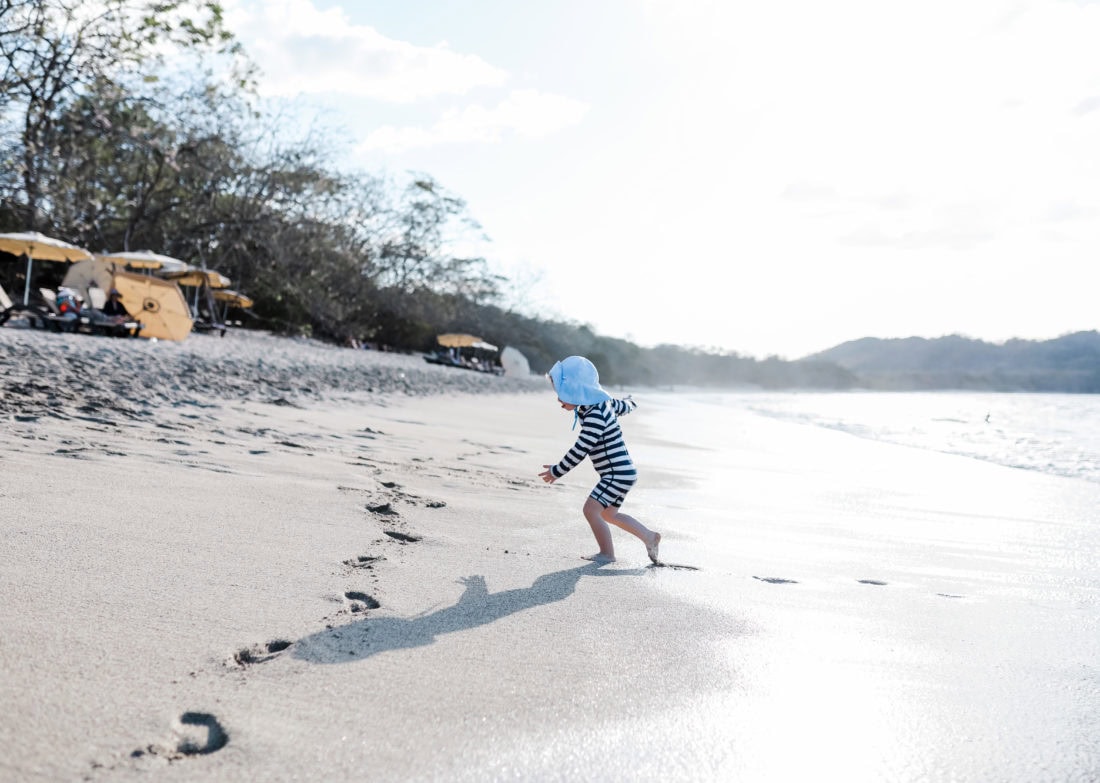 Snorkeling and Sunset Sail: Roger and I did a snorkel and sunset sail on a catamaran and it was a blast! The water was warm, clear and they even served some amazing food and drinks, too. They provide sanitized flippers, snorkels, and masks.
Dinner in Town: We ventured off the resort into Tamarindo for dinner at Agua Salada. Right on the beach, with an amazing sunset, delicious drinks, and the best seabass I've had in a long while! We also watched a one-of-a-kind performance by Pyro Danza, a world-class professional fire performer, it was a lot of fun.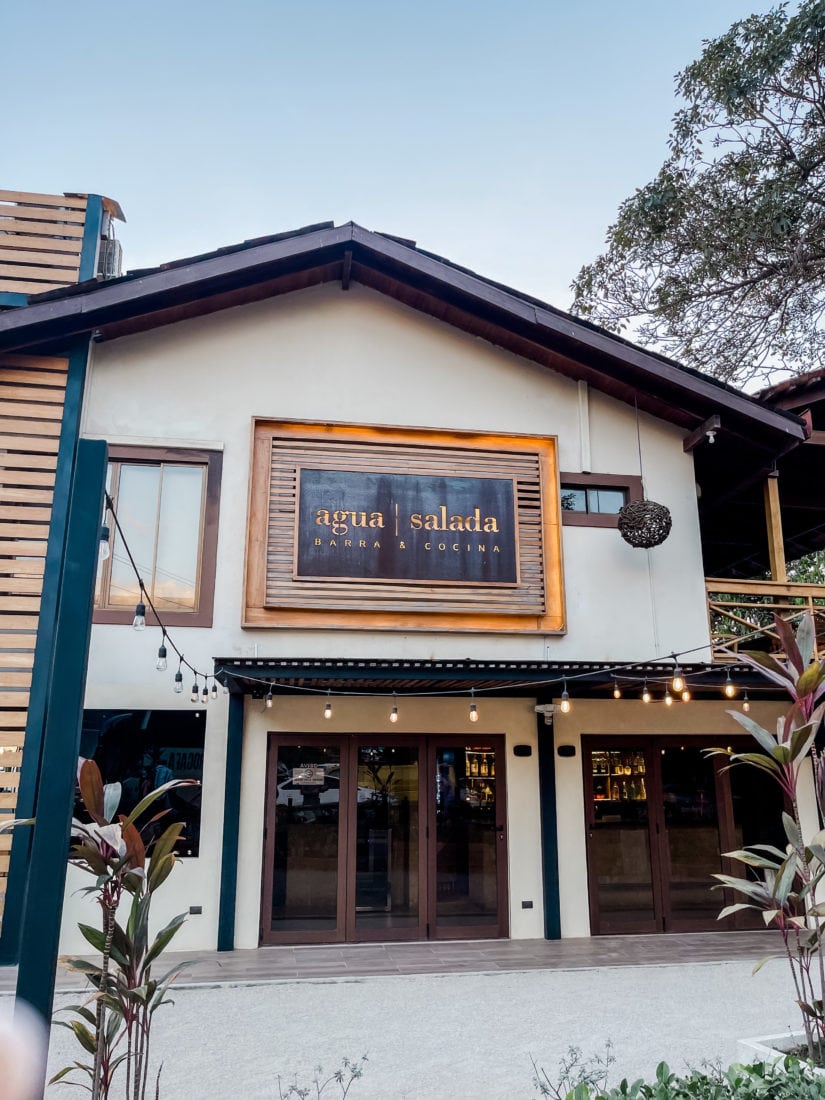 Golf: There is an amazing golf course right on site, and Roger had an amazing time, even with all the iguanas roaming around!
Wildlife: Enjoyed all the wildlife right on the resort! Apparently, Costa Rica accounts for about 6% of the world's biodiversity, making it an excellent spot to see animals. Iguanas, howler monkeys, white-noses coati, the most colorful butterflies, and birds, all just right outside our door!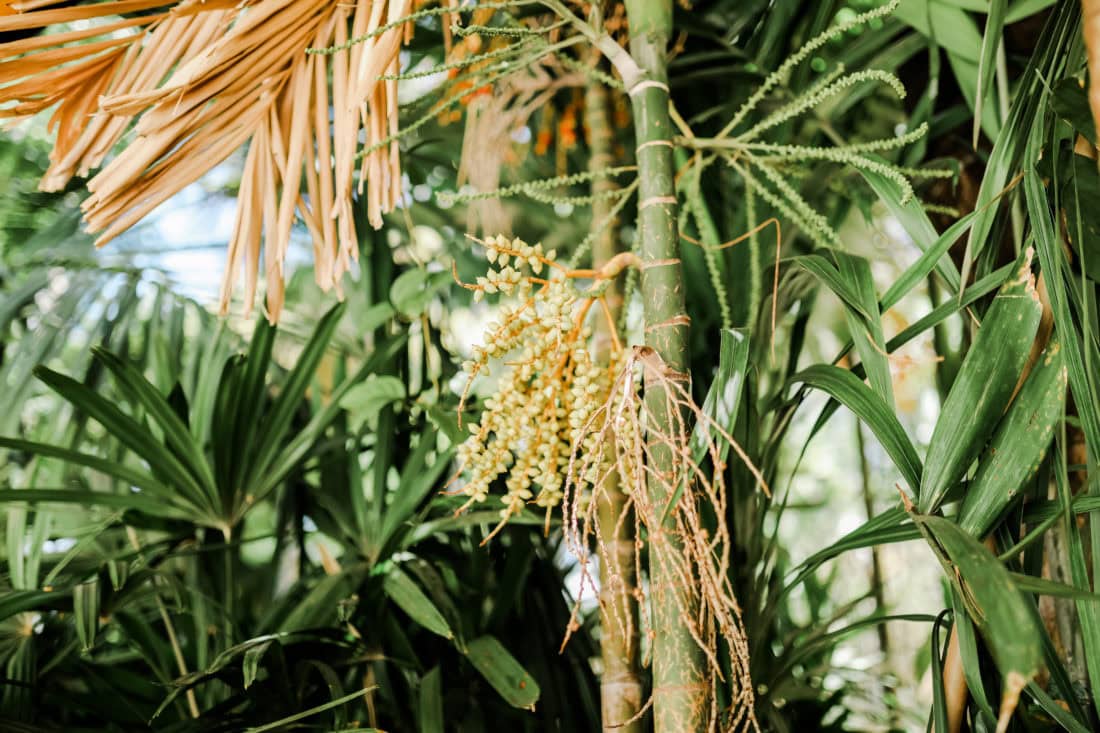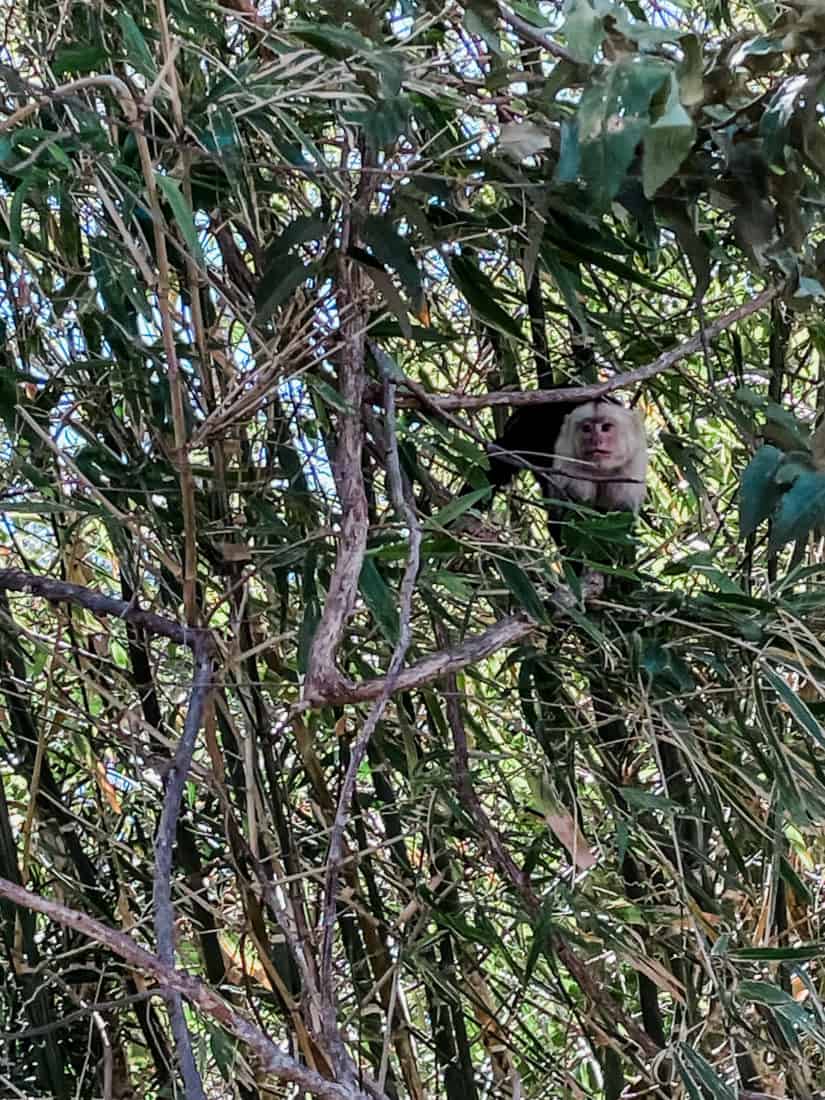 Boogie Boarding: This might have been the highlight for the older boys. With a freeboard rental from the resort, we spent a lot of time riding the waves and soaking up the salty air! Note, the waves and riptide can be strong, so we kept it one child to one adult, and our toddler spent most of the time in the shade building sandcastles, and playing with his dump truck!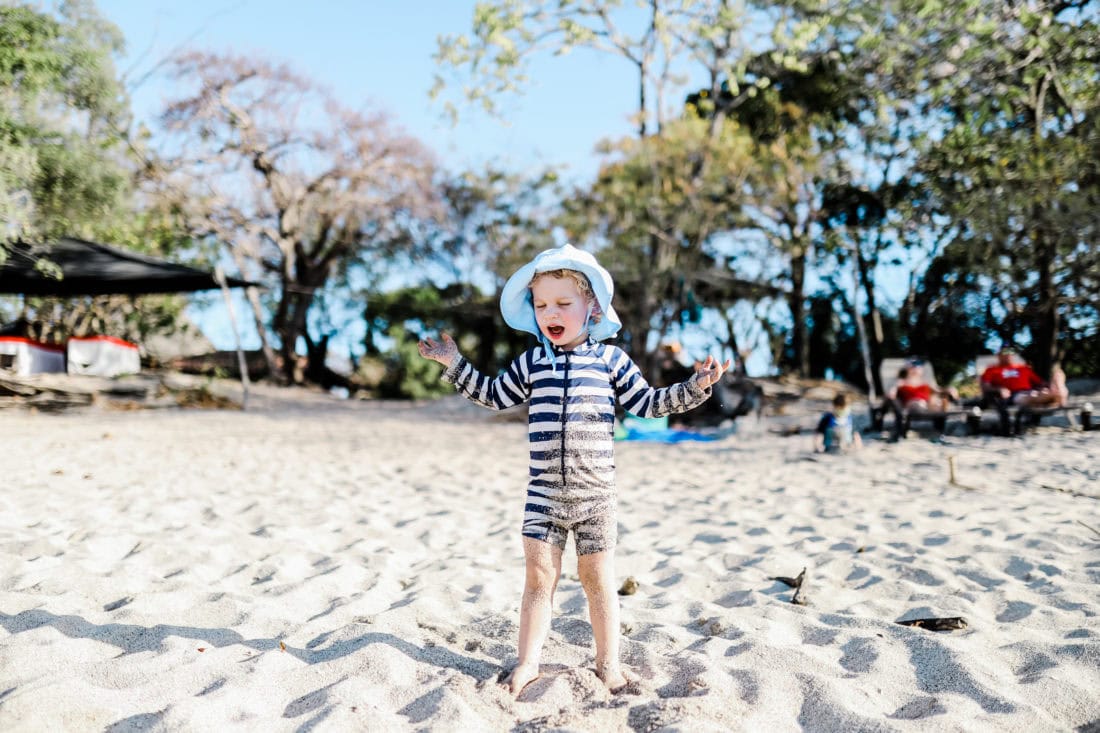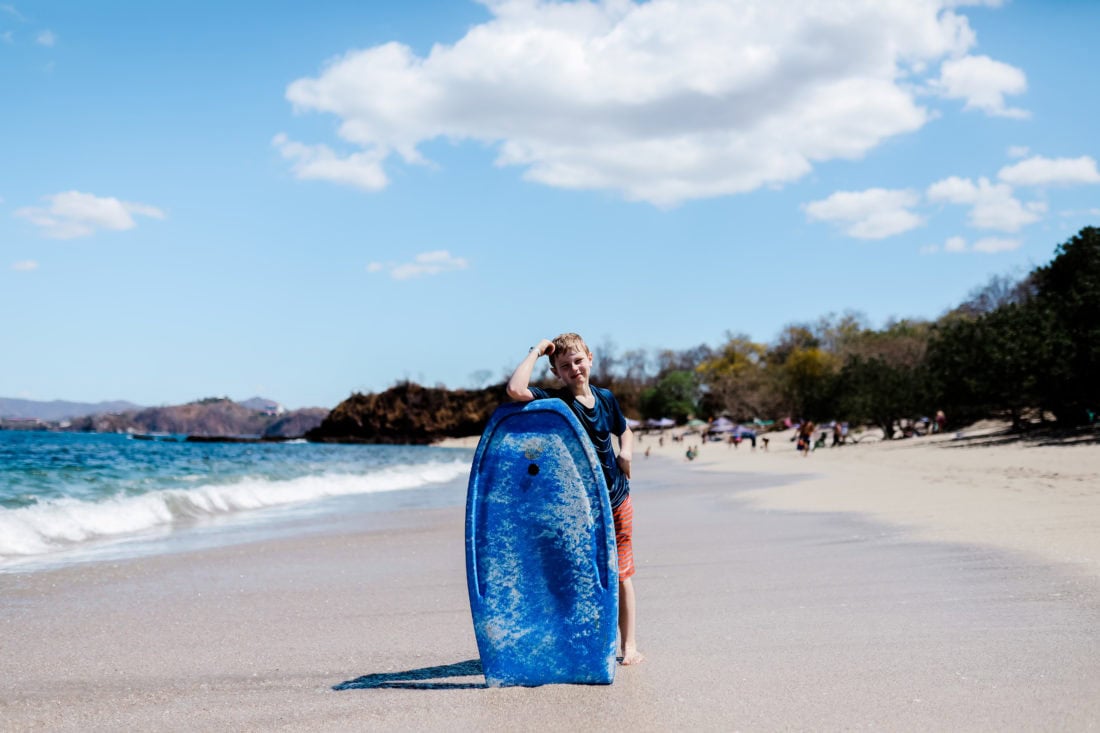 Pool Day: Pools days just spell vacation! A full day of splashing, jumping, and ordering virgin daiquiris from the swim-up bar. What more could a kid want (or an adult for that matter)?! I did manage to hit up Amazon before our trip and brought goggles, divers, a water football, and a few toddler-friendly pool toys. We were able to order lunch directly from the pool, as well as walk into any of the open restaurants.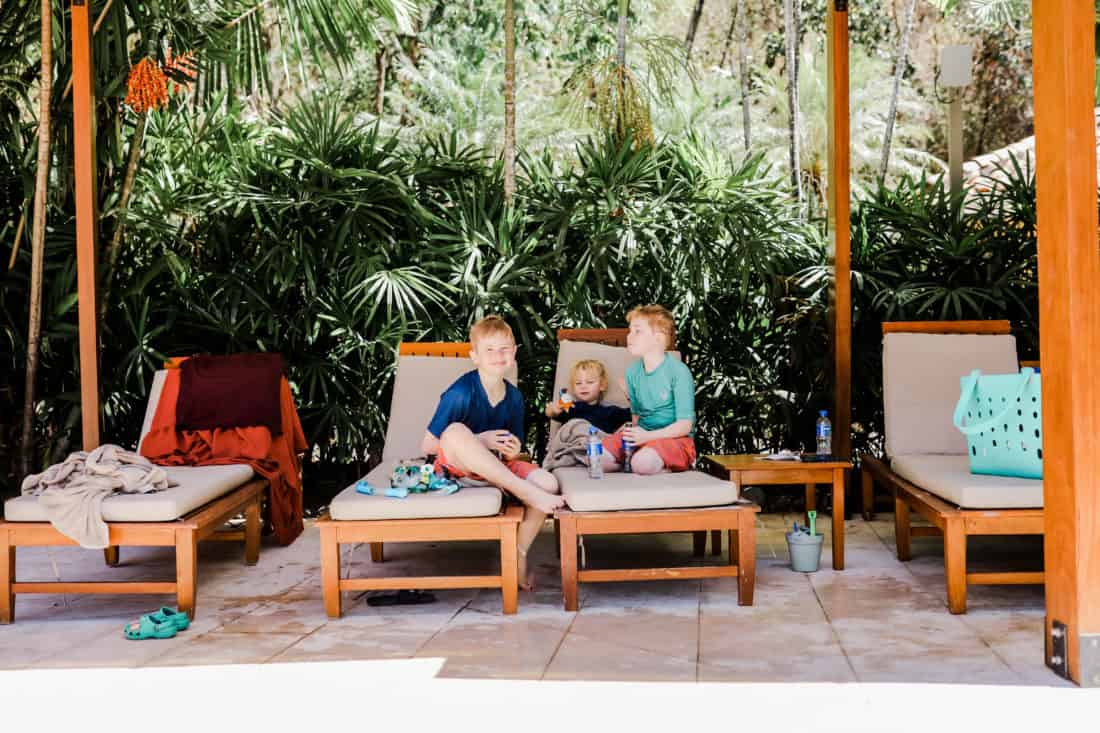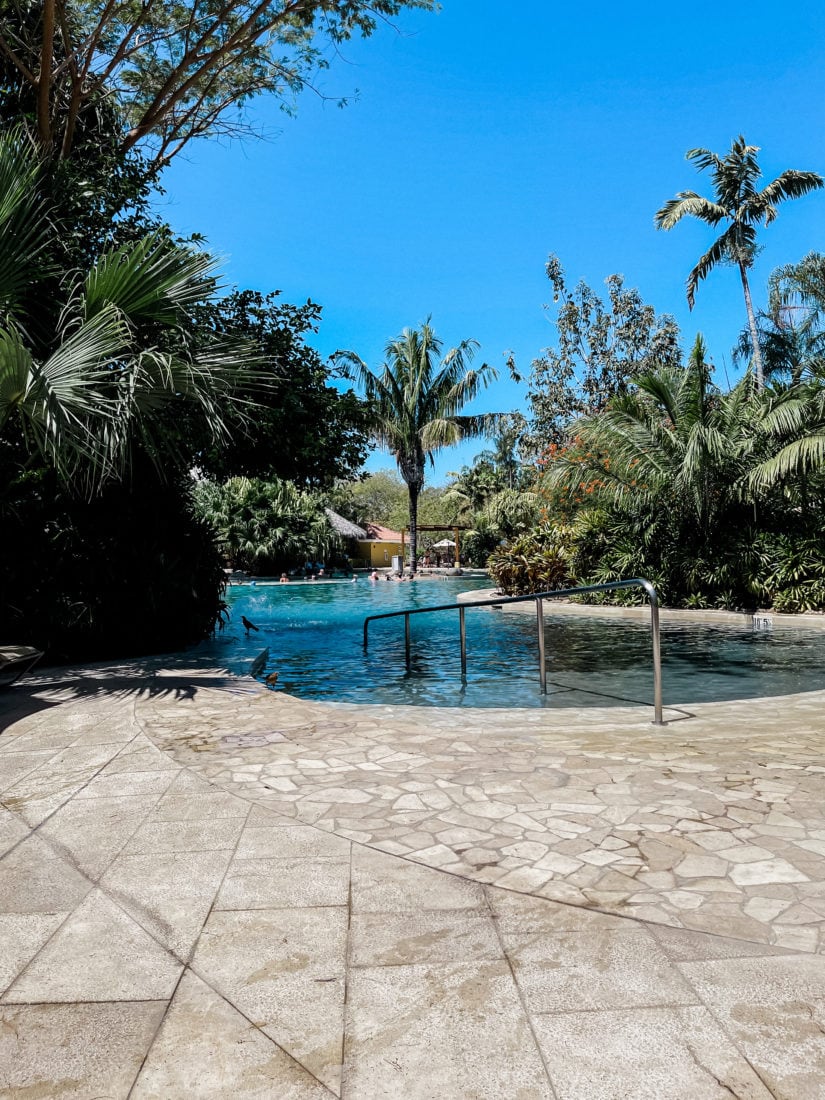 Adventure Foods: This was such a highlight for everyone. We have always encouraged the boys to be adventurous eaters. You can't say you don't like something if you've never tried it, ya know? Enter the two-bite rule. To our surprise, they were taken with the freshly caught seabass. I mean, eyeballs still in, and picking off the bones. They swore this was the best fish of their life!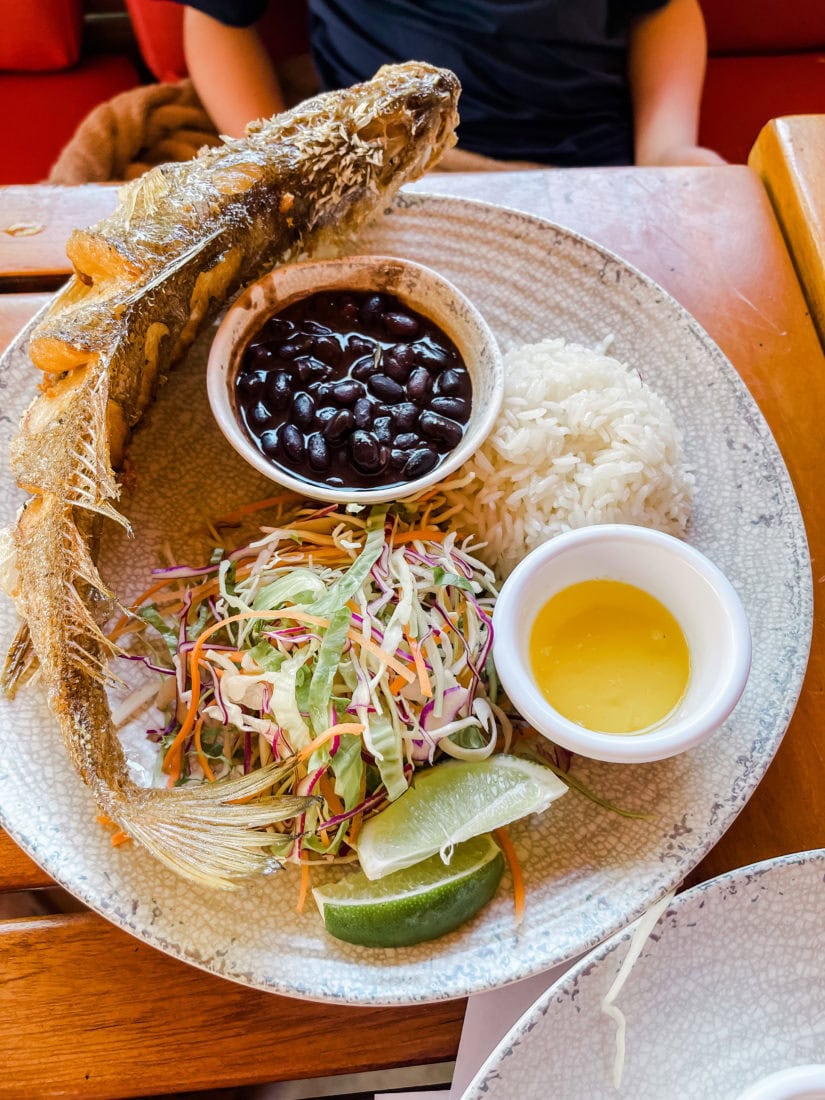 On-site Entertainment: The resort does have nightly entertainment ranging from musicians to dancers, to comedians, and more. After a full day of fun in the sun, it's a big ask for the kids to stay up later, but if you can manage to squeeze in a nap, I think you should be good to go!
Spa services: Heaven. Pure heaven. There are a whole host of services available, and the serene and welcoming vibe is pretty special. It feels a lot like they took the outside and brought it inside. With a range of beautiful plants, flowers, and running water, you're sure to relax.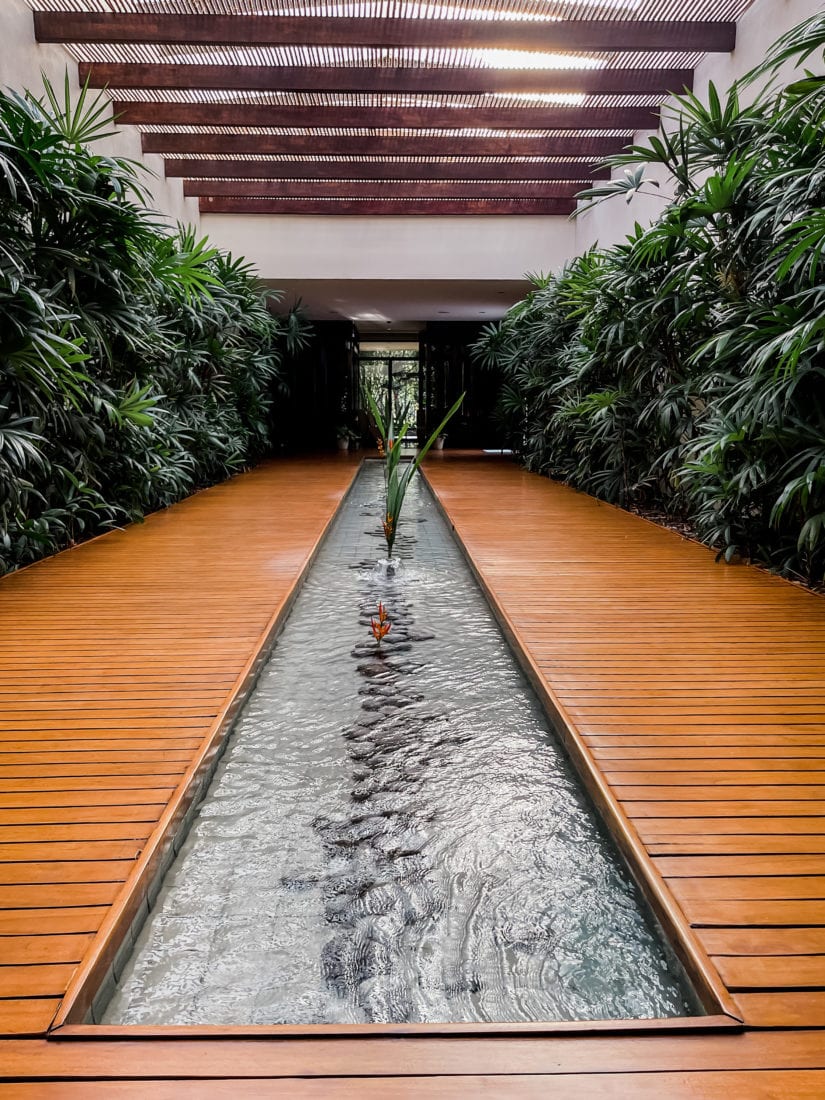 What we're planning for next time
Sloth Refuge Buggy Tour: The drive for this is a bit longer than my two-year-old could do, but next time, it's happening!
Boat Safari: My brother and SIL took my young nieces (2 and 7), and they love it!
Waterfall Tour: A lot of these kinds of activities are either a full or half-day adventure, with a few hours drive just to get there, and with one of our boys still napping, it would have been a very long day.
Early Morning Fishing Tour: Our friends did this and were able to bring their fish to one of the resort restaurants, where it was prepared for sushi and ceviche. Amazing!
Zip-Lining: They so have some family-friendly options, so smaller children can ride with an adult.
Volcano Tours: A few hours' drive away from the resort, this special hike that ends in a waterfall looks like absolute magic!
Off-Site Adventuring: A solo trip to town to explore the off-resort cuisine with the kids.
The food
The food in CR is influenced by a variety of sources, but could be described as fresh as the day is long! They are known the world over for the freshest produce. The food is understated but completely delicious. My go-to for breakfast was an egg, pico de gallo, rice, either bacon or sausage, and fresh fruit: it was so filling, but didn't leave me feeling like I just slammed a bunch of pancakes, ya know?! The kids alternated between yogurt, cereal, pancakes, and bacon, haha! The ceviche is not to be missed, as well as whatever the catch of the day is- even the boys were taken with the seafood!
Breakfast: The resort did cater to a variety of breakfast preferences (omelet station, waffle, pancakes, bacon, eggs, fresh fruit, cereal, and the usuals that accompany a continental breakfast).
Lunch: Lunches could be taken poolside, or you could hit up the buffet, order room service, or walk into any of the on-sight restaurants.
Dinner: Dinners were primarily on the resort, but we did manage to sneak away, sans kids, for some really high-end and tasty dishes. Note: you do need reservations for dinners, as the restaurants can fill up quickly, especially the fish restaurant, Manglar.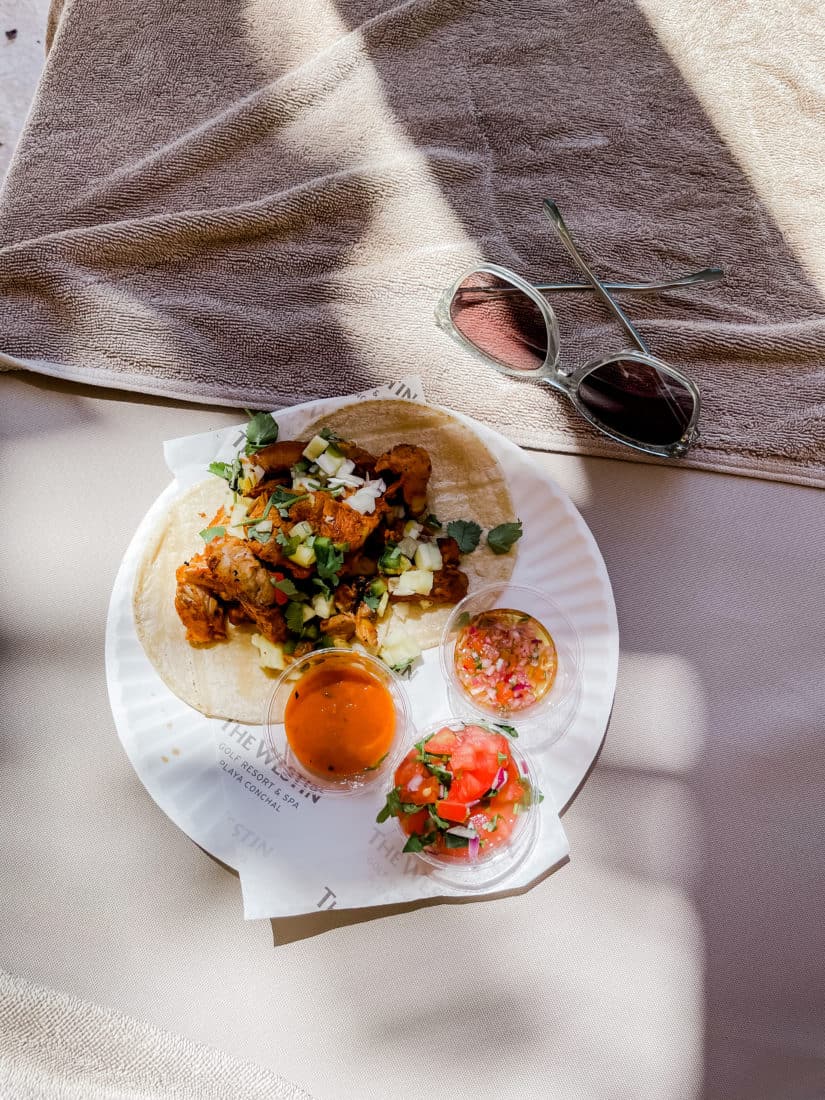 What we loved
We love Costa Rica because of the people, who are always kind and welcoming. The delicious food, especially the fruit, it's absolute perfection. The warm weather and sunshine, obviously. As well as the go with the flow relaxed vibes that a busy family often needs. While a slightly longer trek than a quick jaunt to Florida, this journey is well worth the price of admission.
What we'd change
Next time, we're hoping to skip the all-inclusive, in favor of a space that allows for more off sight dining, and adventuring. Note: this trip is organized and facilitated through my husband's company, so we will see how next year pans out. That being said, there's nothing quite like soaking up the sunshine and giggles that come with a simple afternoon pool or beachside. The resort does offer a few pool toys, but we also brought our own water gear (goggles, divers, a puddle jumper, water football, and beach balls)!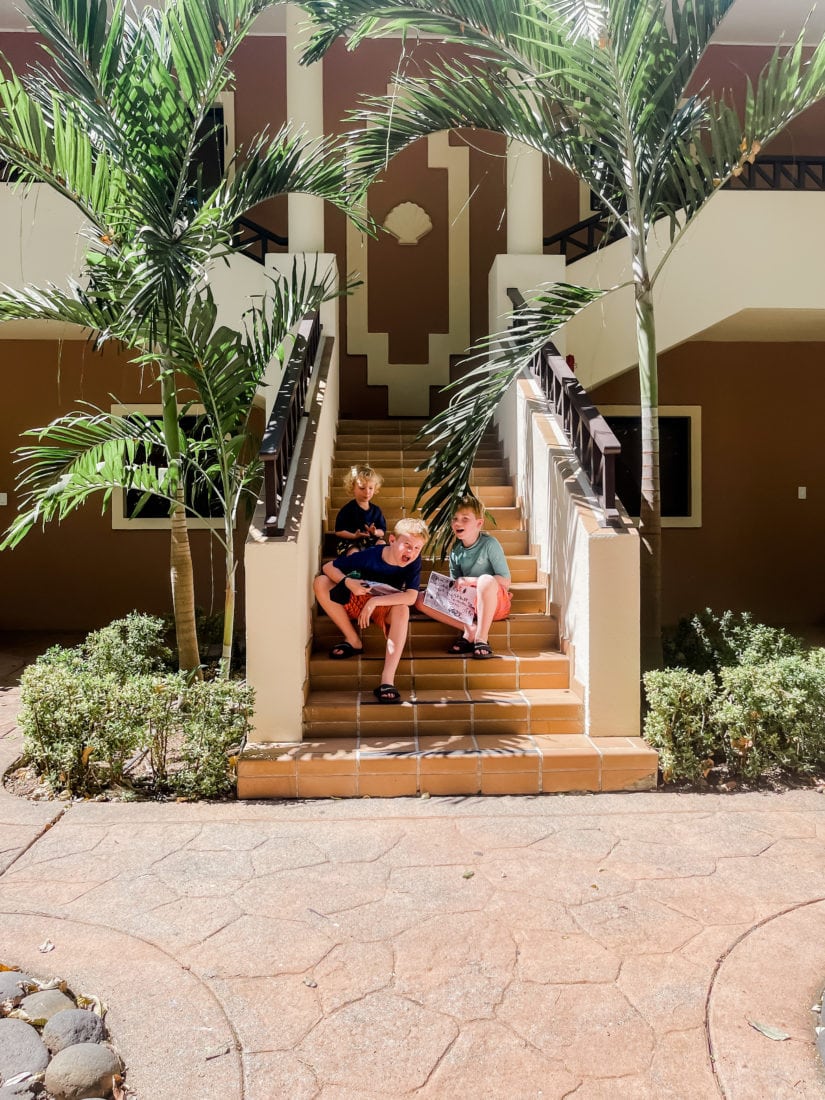 traveling with kids
Any time you travel with kids, it's highly recommended that you come prepared with plenty of snacks (tiny lollipops are my secret weapon), as well as plenty of patience! Fun in the sun and all the stimulation of a new adventure can really make for tired, and even grumpy kids. We tried to carve out time each afternoon to go back to the room for some quiet time. I found this incredibly helpful not only for the kids but for the grown-ups. I've mentioned it before but I believe that kids who are well-rested before a trip, make for flexible travelers. We also left plenty of room to ebb and flow as moods, energy levels, and general attitudes prevail!
Costa Rica was an amazing experience, and we can't wait to go back! I hope your found this helpful, be sure to reach out with anything.
In the meantine, enjoy!
-Karin