Learn how we implement weekly family meetings to instill good habits, build trust and confidence, and keep the whole family on track with day-to-day happenings and routines!
What is a Family Meeting?
Simply put, a family meeting is exactly how it sounds! We meet as a family and discuss family stuff. My parents did this when we were younger, and truth be told, it wasn't my favorite! However, I clearly remember my mom explaining that I would see things differently as a parent, and, shocker, she was right (don't mention it to her, mmmmk)!
Our family meetings are a designated time meant to discuss our schedules, upcoming plans, areas we need to learn and grow, a time to praise and encourage, meal plans, chores, practice communication, and any other essential things we need to chat about. It's meant to be a safe, consistent event that has allowed us to ensure we're all on the same page. By doing this now, we are setting the expectation that we talk as a family, are there for each other, are a team, and work best when we work together. We decided to include donuts to create a natural reason to sit around the table. Plus, my youngest calls it Donut Day, and how could you not love a day like that?!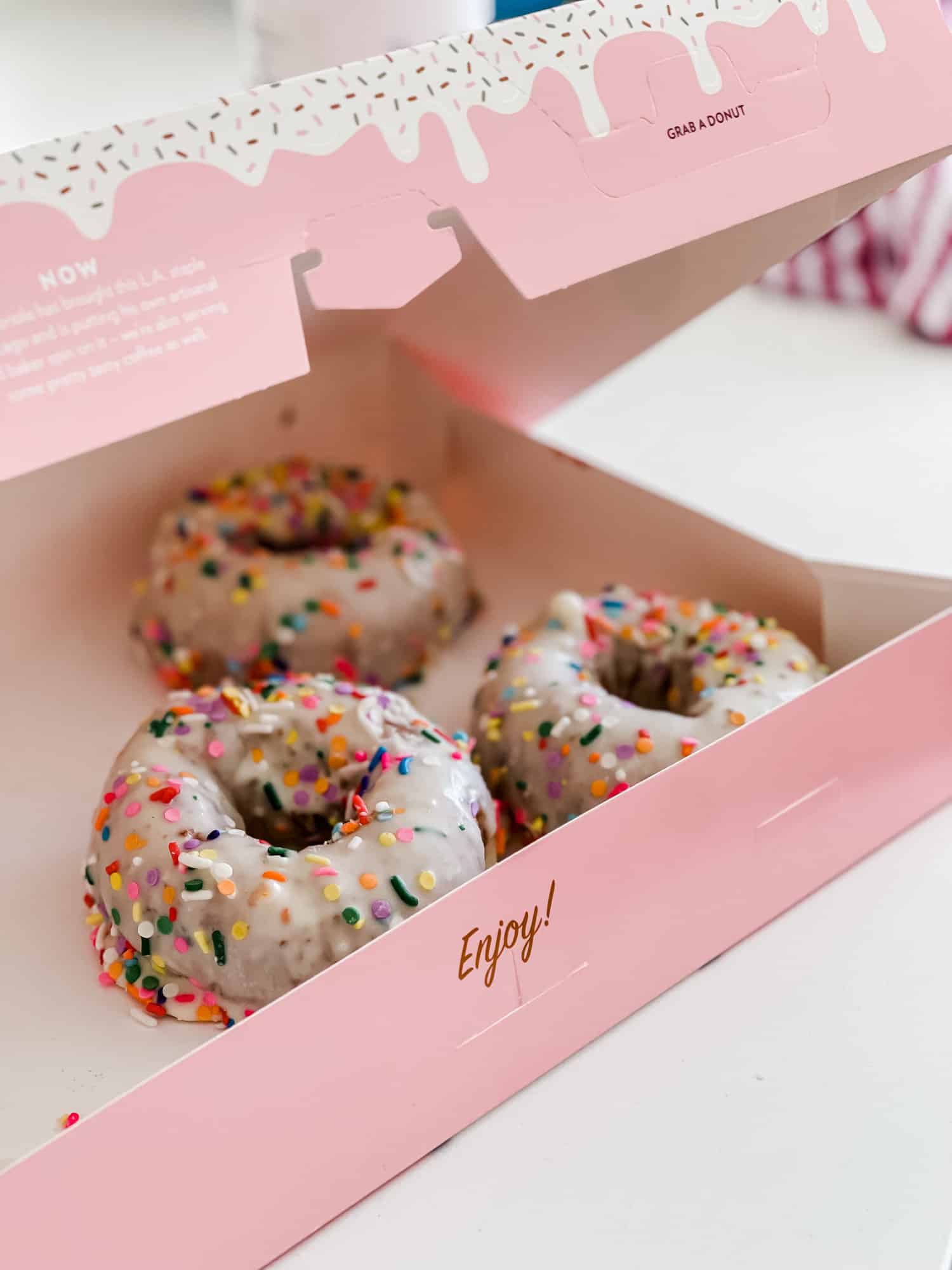 Frequency and Length of Time
We meet on Sundays and have found this frequency beneficial because it's often enough to create consistency. Yet, it's not so common that everyone bemoans the event. We are also flexible when an event, travel, or commitment prevents it from happening. In these cases, we might move or skip the meeting. Of course, pick a day that works best for your family and will allow you to have the most consistency.
It's also important to note that we keep our meetings SHORT at this age! We have three active kids that aren't interested in sitting around the kitchen table longer than they have to! Our three-year-old sits for about 5 minutes before he's up and running around, but we'll take it. I know he will be able to sit longer as he gets older. I like to keep things to about 15-20 minutes, max. We found this is the sweet spot before we lose their attention entirely. The meeting is not meant to be a punishment but rather a comfortable and safe space to discuss the more significant issues that don't often get addressed in the day-to-day.
My husband and I will jot down our notes but will meet a few minutes before to go over things to ensure we're on the same page – figuring out who will lead which topic or if there's anything the other missed.
Agenda
We follow the same agenda at each meeting, which has helped create consistency and give the kids a sense of control and confidence from knowing what to expect.
Something Good
We share something specific about each child that impressed or made us proud. I love the idea of celebrating someone's success or achievement as a family. I think giving them something specific is essential because this shows them that goodness is noticed and valued even when they might not realize it! This also establishes that the family meeting is a positive and mutually beneficial experience. I use the notes section on my phone to jot experiences down as they happen and I notice them. Seeing the kids' faces when I share something they may have forgotten is always fun. Seeing your children beam with pride is a pretty special thing.
The Week's Schedule
This was the main reason we started these meetings. We have multiple people with multiple schedules and commitments. So, we must be all on the same page to make things work well. Kids thrive in routine and knowing what's coming. As a result, reviewing the week's schedule and setting expectations are enormous. Everyone knows their role and responsibilities for the week. We also have a weekly calendar that hangs in the laundry room so it can be referenced as needed. Per someone in the Joy in the Meantime Instagram community, we have also started to include ideas for meal planning, which has made my job a lot easier! The schedule consists of sports or extracurricular activities, social events, holidays, out-of-the-ordinary work schedules for my husband or me, or repair or remodeling projects around the house.
Where We Can Grow
This is the point in the meeting when we share some of the things we struggled with during the week. We want to be sure not to shame or embarrass anyone, so we usually start with the question, "How do you think the week went?" Or, "Is there anything you think could have been handled better?" These simple questions let the kids join instead of feeling like a lecture. The usual topics are chores, talking back, listening skills, school responsibilities, and occasionally, more extensive issues like sick relatives, moving, or planning our next travel adventure. We like to use the sandwich method – something positive — the problem we need to be addressed or changed — something positive. An example would be: we love how much pride you take in creating fabulous LEGO creations; we want to see you put that same effort into tidying them up or putting them where they go because we know that it would make it so much more enjoyable and a more creative space to build your creations.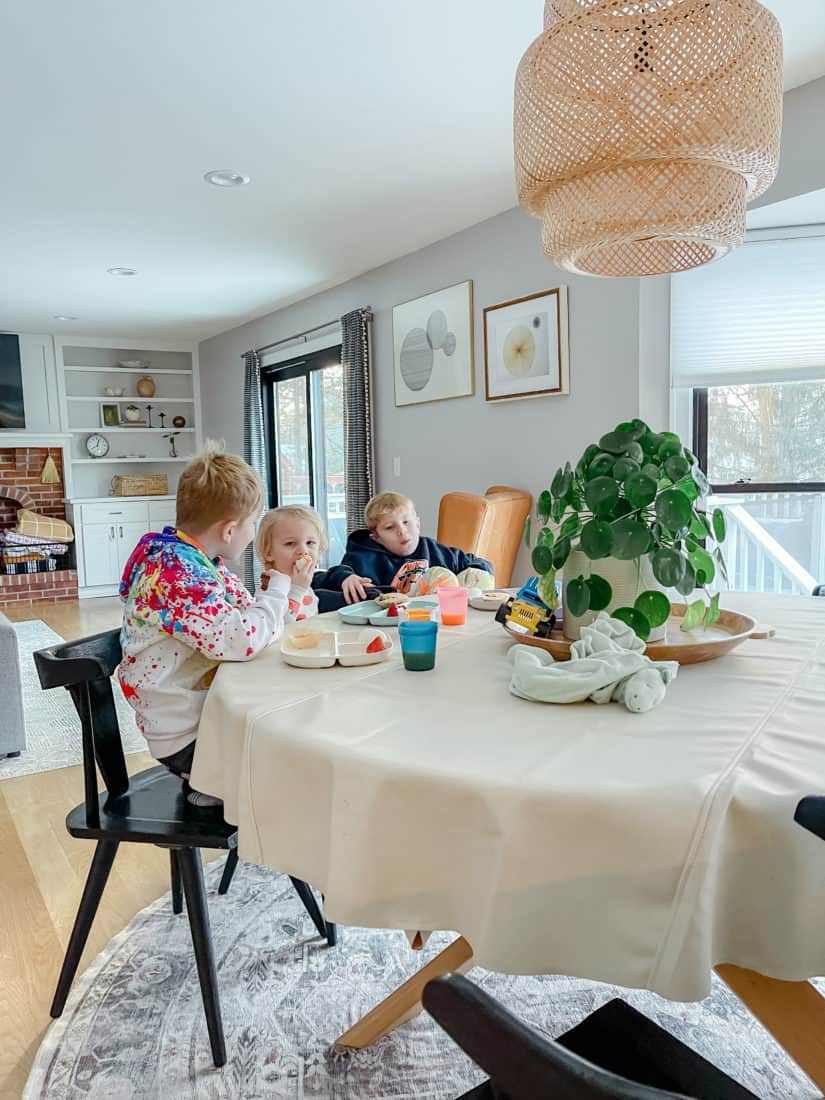 Let's Learn
This is where we try to squeeze in some skill-building of the social and emotional intelligence variety. This will usually come in the form of a simple game. Most recently, we have been working on self-control and have used this worksheet on Self-Control Spotting and Think It or Say It on whether they should say something aloud. As with the theme, we keep it short! The game usually takes about 5 minutes or less.
Kid's feedback
We want to set the example that we all need to be open to giving and receiving feedback. The concept of feedback is something they will have throughout their life. Whether in school, job or relationships, we want to encourage them to see feedback as a positive thing and a way to grow. This is also an opportunity for the kids to feel that we value what they say and are eager to grow and learn how to be better parents. They can discuss or present anything they'd like! From sharing that they felt we yelled too much during the week, wanting a later bedtime, to change their chore, or requesting a Yes Day, it runs the gamut.
Chores and Allowance
This is a quick rundown of how the week went regarding completing their chores and paying the allowance. We pay $1 a day for each day their task has been completed. So, usually $7/week. This has been a good way for the kids to learn how to save for some of those larger items. We do take time to remind everyone that we are a team, and we all need to chip in to make the house run. We also encourage the kids to think of donating some of those hard-earned dollars. When the war in Ukraine had just started, the two older boys used some of their money to purchase baby formula that was being shipped there. We also make a much more concerted effort around the holidays, when we often get caught up in our wish lists.
Wrap it Up
A quick review of what we talked about, asking if there are any questions or if anyone wants to say anything else, and an I love you all so much, and thanks for being part of our team!
Benefits
Since we started these meetings, we have noticed better overall communication, encouragement, improved understanding of everyone's role, facilitating the dynamic that we are a team, and working on problem-solving as a group. And on a fundamental level, it has been beneficial when the kids can predict what their week looks like, making transitions from school to extracurricular activities or lazy weekend mornings to afternoon social engagements a lot easier.
Encouragement and Tips to Start Your Own Family Meetings
Make it Worth It
If family meetings are only held when something negative happens, they won't be seen as a safe, warm, or encouraging experience. We chose the donut addition as it's perfect for our Sunday mornings (the day we can be most consistent). You want to set a fun, casual, but consistent vibe. I like the idea of during pizza night dinners, before movie nights, or even after a consistent weekly event where you can also sit together easily.
Location
We chose the kitchen table to limit access to toys, screens, or items that might compete with our ability to stay on task (remember, we want to keep these short and sweet, especially for the younger kids). Choose a spot that will keep everyone comfortable and engaged without distraction.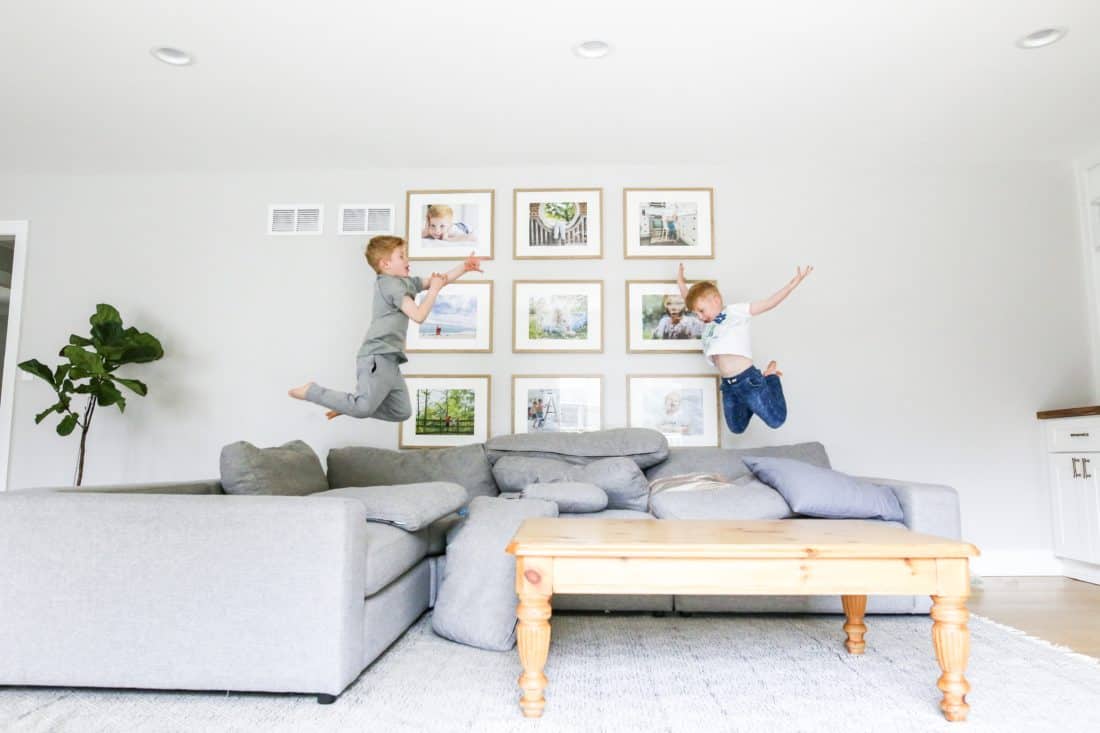 Ages
We started these meetings about a year and a half ago. Our oldest was 7, the middle was 5, and the youngest was 1! Parenting is a long game, and sowing the seeds now will make it easier as they age. I recommend starting at school-age, as they are beginning to have events, experiences, and feelings outside the home and can benefit from consistent communication. Also, please remember to adjust the time and your expectations depending on your children's ages.
Keeping Minutes
From whose turn it is to pick a movie for movie night or specific good successes we want to share, keeping a notebook has been helpful. You can easily keep things on the notes section of your phone if you're not in love with old-school pen and paper like me! It's a great way to refer back to past meeting minutes or share the progress made.
Who Runs the Meeting
If both parents are in a safe and healthy relationship, it's great to have the meeting run as a team- taking turns on each topic and even taking time before the meeting to get organized. However, if you are a single or divorced parent, these meetings are equally beneficial, and I would run them the same way!
It's also an option to ask when the older children if they'd like to take a turn to lead the meeting, keeping with the same or similar agenda. This would be a fantastic way to encourage confidence and independence.
Agenda
Keep the agenda simple and consistent; predictability creates safety and efficiency. Do what works for your family- including the most frequently discussed topics or issues you feel are the most important.
If you are just starting, give yourself and your family some grace. A new routine of any kind is difficult, let alone trying to create one with your whole family. Start small and start with something good. Take 5 minutes and share something you love about each person, something good you noticed over the week, or celebrate someone's accomplishment.
Please feel free to share techniques and tips you use with your families; I would love to hear them! Also, if you give family meetings a try, I would love to hear how they go in the comments below!