Did you look at that photo? Did you take a good long looooooook! This kinda makes your mouth water, doesn't it? And, guess what? It's paleo friendly and filled with squeaky clean ingredients.
Oh, and if you're on a Whole30, you should check out Paleo magazine it's filled with inspiring recipes that need a little, and often times no, adjusting. If you're going to make it through the entire program, you have to menu plan, grocery list prepare and make plenty of leftovers. I also looked at any events on the calendar and made a plan well beforehand on how to navigate the sitch. I mean, this time around I have skipped drinks at concerts (U2 and Neil Diamond), passed on cupcakes for a birthday, skipped beers at a fundraiser I cohosted at Revolution Brewing for AFCA, and gullllp, passed on frozen custard on my son's last day of school. And at one of Chicago's best, best, most delicious spots, too Scooters, but I digress.
Anyway, back to this beautiful sandwich! I found this recipe on one of my many evening scrolls through Pinterest. And the photo Stopped. Me. In. My. Tracks. Yes, I said. I need this in my life. And now, my life will never be the same and I will use this on rotation and for inspriation for other recipes! Okay, here's the deets. Thank you, FitMittenKitchen for the amazing recipe!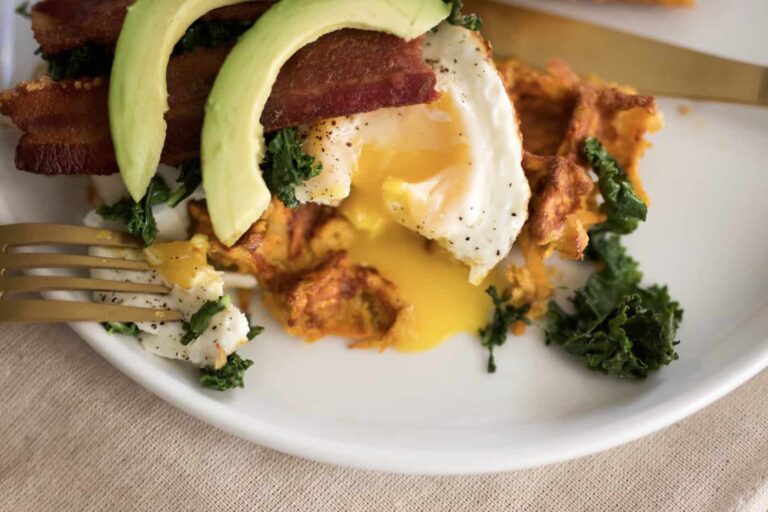 Ingredients
3

Eggs

1

Medium grated sweet potato (I used a box grater)

1/4

tsp

Cumin

1/8

tsp

Paprika

1/8

tsp

Garlic salt

1

tsp

Oil, plus more for waffle iron and frying pan

1

cup

Kale, chopped

1/2

Medium avocado, sliced

2

Slices booked Whole30 approved bacon

Salt & pepper, to taste
Instructions
Grate potatoes and combine 1 egg, cumin, paprika and garlic salt. Use a spatula to ensure the potatoes are well coated.

When your waffle iron is ready, pack mixture into the iron. Do your best to cover all four quadrants. Gently push down the iron. I left mine in for 5 minutes on lower setting. Just be sure to keep an eye on it.

While that delicious, life changing waffle is cooking, sauté the kale on medium heat, with some grease (I used the fat from my bacon), about 3-4 minutes. Remove from heat and place on your fixin's dish.

Fry up an egg(s) to your liking (I like mine a smidge runny), slice up avocado and place with kale and bacon.

When you remove the waffle, do it carefully. It's not going to be as stable as a normal waffle. I used a butterknife and gently nudged it out and then used a spatula to plate it.

And now your sandwich is ready to be assembled! Open-face was my preference. As any sandwich that warrants a fork and knife are kinda my jam.