Thanksgiving is my absolute favorite. It's an entire holiday dedicated to gratitude, family, friends and food! What's not to love?! I have been hosting Thanksgiving for the last five years, and have really learned a lot along the way. I thought it would be helpful to jot it all down, and share with you.
Below you will find my go-to recipes, the ones that have consistently made an appearance on our Thanksgiving table. None of these recipes are Whole30, Keto, low carb or paleo. And I'm totally here for it! Part of my food freedom is embracing the holidays with all their the rich, nostalgic and delicious goodness. I will say that as I have grown in my relationship with food, and learned what foods are "worth it," I have found a lot more balance. And as my grandmother would have said, "just a taste," so she could enjoy a little bit of everything.
If this is your first time, you've got this! And if it's your twentieth, you've got this! It's a big holiday, with a lot of moving parts. Give yourself some grace, and embrace that you are creating memories, feeding those you love, and celebrating all you have to be thankful for!
general tips:
Make your menu and grocery list the weekend before Thanksgiving, if not sooner

This is so you have time to finalize things, and ensure everything is on the list. There's nothing worse than being mid way through a recipe, and realizing you don't have a crucial ingredient.

Grocery shop on Monday or Tuesday

Having the freshest produce, means your food will taste even better. For survival purposes, you have to break up all the large tasks over the course of a couple days, or the week. If not, you'll be scrambling, and won't be able to thoroughly enjoy all your hard work.

Prepare everything but the Turkey on Wednesday

If it's feasible for you, plan to spend the day in the kitchen! Every year, my goal is to have all the dishes cooked and prepped, except for the Turkey, the day before. If everything is prepared and *mostly* cooked, all you have to do is warm/finish cooking, and you can give all your attention to the turkey and enjoying yourself. For the example, if the recipe recommends a cook time of 30 minutes, I will cook for 20, so it's *mostly* cooked, and then will finish on Thanksgiving Day for 20 more minutes – enough time to warm and finish the cooking process.

Also, if anyone brings something that may need to be rewarmed, you will need that space in the oven. Salads, deserts or similar may not hold up if prepared ahead of time, so at the very least, measure out all the necessary ingredients and set aside or refrigerate as needed. This way, it takes half the time to prepare.

Have a running master list

Jot things down as you think of them. I have a notepad on the counter (or phone) for about a week ahead of time, so I can start writing down things I will need to remember or prepare. If they're things that you could get done ahead of time, do it! Your future self will thank you.

Set the table a few days before

(if you can), or at the very least the night before. This is incredibly helpful, so you don't feel rushed. Especially, if you would like to dress up your table a little bit more than usual.

Don't be afraid to delegate

. People will often ask what they can bring, so have a ready made list. As lovely as it would be to do everything yourself, most people do not like to show up empty handed. If you know someone makes a great side dish, is fully capable of buying something delicious or even, just bringing something to drink, it's one more thing off your list! Win-win! Items I often delegate: dinner rolls, appetizer, salad, drinks (soda, wine, Lacroix, water bottles, beer, etc.), or even a pie/dessert.

Time the cooking order

. Remember, when there are multiple dishes in the oven, things take longer to cook.

Take-out containers

There is no reason that you should have to give out all your food storage, or have to ask guest to bring their own. I purchase

these

from Costco, and I am sure that places like Sam's, Walmart, and Target will have something similar. I also found

these

and

these

on Amazon. Bust out a sharpie, and during clean up, have everyone pack what they'd like, and write their name on the container. Easy-peasy!

Incorporate thankfulness

It is the reason for the holiday after all! Things like:

Thanksgiving Gratitude Game,

Free Thanksgiving Printables

M&M Thankfulness Game

and we have also done

Thankfulness Tree
If you're hosting kids, be sure they have an activity

There's nothing worse than bored kids. NOTHING (insert crying emoji) HAHAAHA! But seriously. Ideas: free coloring or activity print outs online, coloring headbands or placemats,

Thankfulness Tree

Activity Pack – including photo props

Hot Potato

Would you Rather – Thanksgiving Edition

Pin the Hat on the Turkey
Background Music

My go-to for any holiday is usually Dinner Party Radio on Pandora – think Dean Martin, Frank Sinatra- it's fun music that appeals to just about everyone. If that's not your cup of tea, something fun, but not too overpowering.

Think about next year

If this is your first time hosting, give yourself some grace. It's a big job, and takes some time to find your rhythm. Make notes as you go, and refer back to those notes next year. I actually have a Thanksgiving notes section saved on my phone. This is something I have done each year, and it has been so invaluable. Things like, next time I need to put the turkey in an hour earlier, or ease up the salt, or even such and such dish wasn't a big hit.

Less is often more

When it comes to setting the table, don't feel you have to do something Pinterest perfect. You can do something simple, and still make it feel lovely and welcoming. Just adding inexpensive cloth napkins (think World Market or Home Goods), and some fresh flowers- it does wonders! Wait for all those sales that happen after the holidays, and stock up on some cute stuff for next year.

Make sure you have a proper carving set, meat thermometer and cutting board
Brush up on how to cut a Turkey here
Make sure you have enough chairs, flatware and serving utensils
Think about any traditions you would like to start

Simple things like a morning walk/run, playing some football in the yard, or just having enough throw blankets for those who like to snooze after the meal, the options are, of course, endless.

Capture the details

Take a few snaps of the food prep, the table setting, everyone milling around, the kids playing … these simple, no fuss, in the moment, who cares about the lighting photos will make your future self (and family) so very happy!
Turkey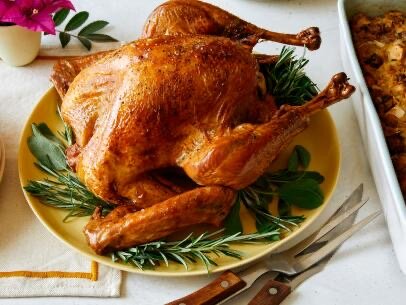 Photo by: The Food Network
Preparing a turkey can be very intimating. But I promise, if you do your homework, you'll be fine! It is recommended to have 1 1/2 to 2 lbs per person, so there's plenty for leftovers (which, if I'm not mistaken is 1000% why you cook this elaborate meal).
Tips:
This article from the Today Show has some great ones and here are few of my own:
Buy a fresh turkey if you can

If not, for the love of all things holy, be sure it's completely thawed by the time you need to cook it! There is nothing worse (one of my rookie hosting moves) than a partially frozen bird, when it' already takes hours to cook.

If you plan to stuff your turkey- you may need to adjust the cooking time.

Again, totally happened to me! Even throwing in too many garnishes (onion, herbs, lemon, etc.) can mess with the cook time. I usually prepare my dressing/stuffing as a side.

Invest in a meat thermometer

Turkeys often come with an internal thermometer, but they're not always as reliable.

Leave the turkey uncovered in the refrigerator over night

Yes, I know this seems crazy, but it ensures the most amazing crispy crust. See below for the recipe.

Your cook time varies

Depending on how many pounds the bird is, both your recipe and cook time with vary. Here's a handy

cook time calculator.
Baste, baste, baste

This helps ensure the turkey stays moist and flavorful. Also, please be sure to thoroughly seal with foil between basting sessions.

Rest, rest, rest

Give that turkey a minute! Ideally, 45 minutes. The reason for the resting, is so that all the juices get reabsorbed instead of left sitting on the platter! Also,

no need to tent with foil

this can cause the bird to continue cooking, which could end up in a dry meat.
Recipe I follow: Crispy Skinned Herb Roasted Turkey Recipe by Jeff Mauro
Gravy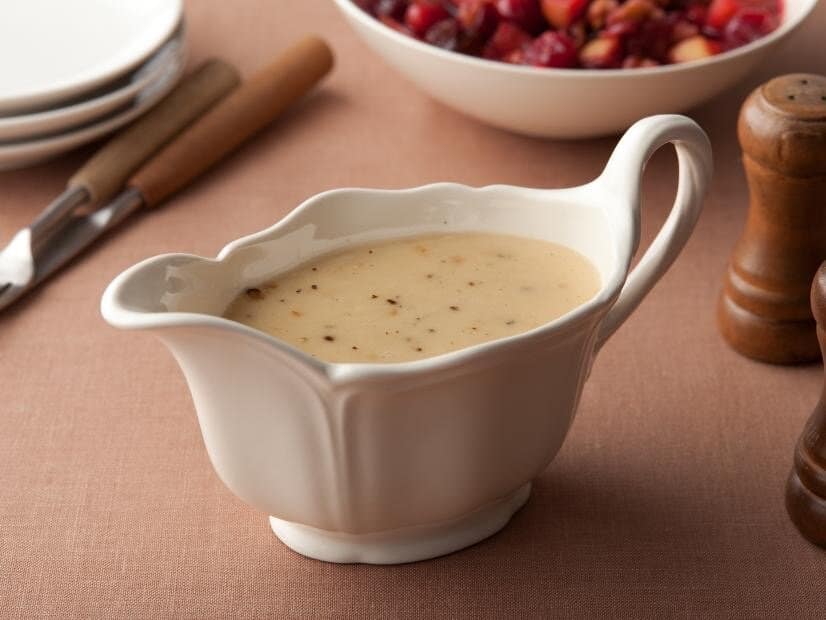 Gravy is such a crucial part of what makes Thanksgiving complete. It's the added flavor that pulls everything together. And don't get me started on all the ways to use it for savory breakfast goodness.
Tips:
It's best to make this while the turkey is resting

because you are going to need some of the drippings. However, there are also plenty of make-ahead gravies.

Prepare all the ingredients the night before

I usually have everything prepped, measured and stored in the refrigerator the night before- no one wants to be dicing onions as people are ringing the doorbell and your basting the ever loving mercy out of the turkey!

The recipe calls for cognac or brandy

If that's not your drink of choice, and don't want to shell out the money, ask someone to bring a some! It's only a tablespoon, but I promise, it makes a difference!

Be patient

It may take longer than the recipe suggests to thicken up. And if you feel you've really waited, you can always whisk in a sprinkle of flour, and go from there.

Unlike baking, cooking is not an exact science

Taste and season as you go. And don't be afraid of salt, it has a magical way of bringing out the flavors of any dish.
Recipe I follow: This recipe is the one that I have used since the first time I hosted Thanksgiving. It has never disappointed, except when I didn't have any for leftovers because we ate it all! Haha! Homemade Gravy by Ina Garten My guess is as soon as you saw Ina, you knew it was going to be good, amiright?! The answer is 1000% yes!
Mashed Potatoes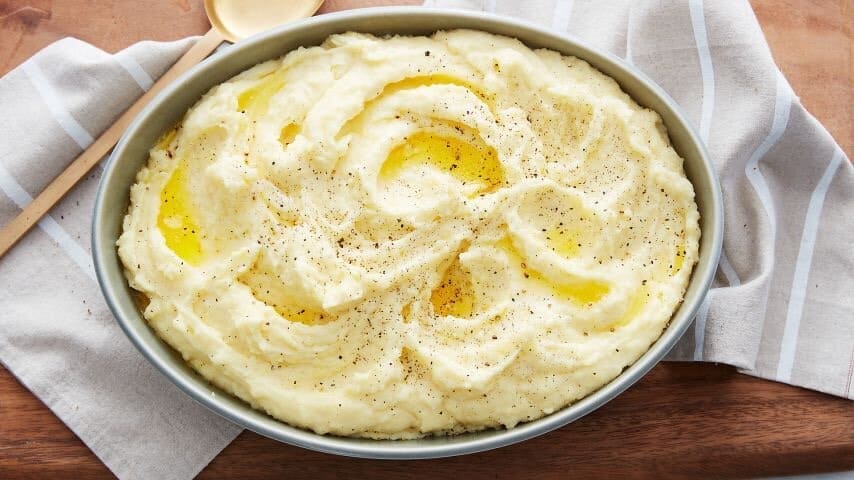 Photo by: The Food Network
Tips:
Choose the right potato

Yukon is the way to go.They have are denser and have a naturally buttery taste that only enhances the flavor.

Salt that water, baby (and only once that water is boiling)

Salting your water also enhances the flavor. And if you've heard about building flavor, this is the ideal way to start, at the very beginning of the cooking process.

Cut into large pieces when boiling

Boiling whole potatoes results in potatoes that may break, and end up holding more water. Also, start with colder water and bring them to a boil.

Melt your butter and warm up the rest of the ingredients before incorporating

Potatoes by there very nature hold a lot of fat, so be sure to slowly add and mix, add and mix, add and mix … this helps everything become fully incorporated and fluffy.

Don't over mash

You'll end up with very gummy potatoes.

Mash straight away after thoroughly draining

The heat helps bind things together and makes things fluffier.
Recipe I follow: Creamy Mashed Potatoes by Ree Drummond. I've also been known to add a teaspoon or two or garlic powder.
Green Bean Casserole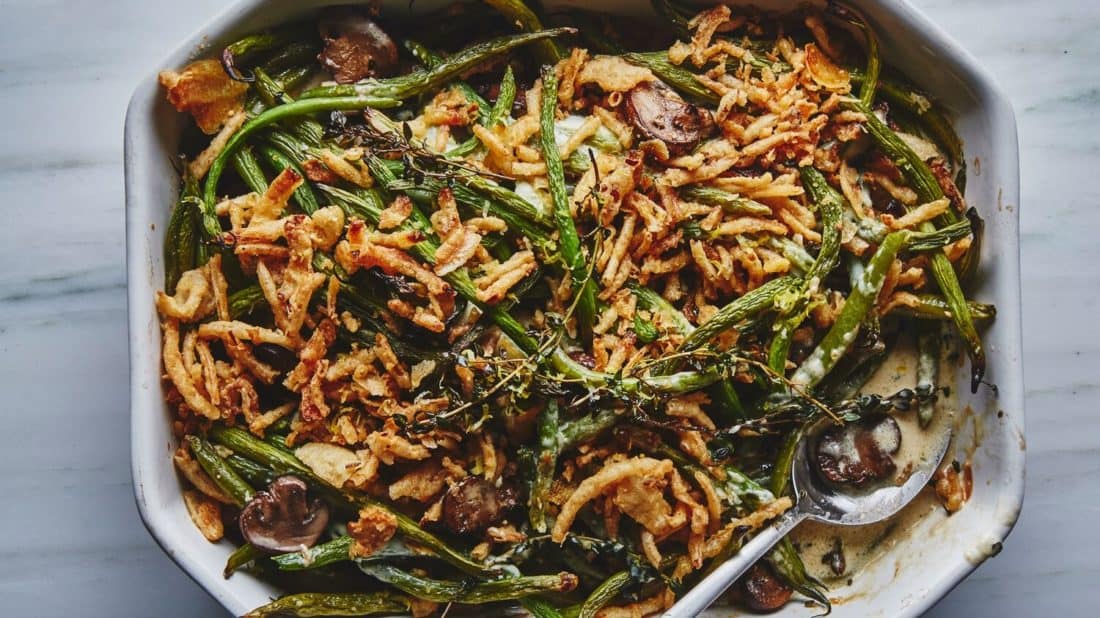 Photo by: Bon Appetit
Tips:
Skip the overcooked or canned beans

Seriously, nothing is going to be worse than over boiling, and ending up with dull and mushy beans.

I'll Follow the directions. No, seriously

When you do, you're going to end up with some seriously delicious homemade cream of mushroom that is going to give you the best green bean casserole of your life.

Embrace the French's onions.

You are welcome to make your own with some shallots, but I find French's nostalgic and delicious.
Recipe: I follow: BA's Best Green Bean Casserole I found this recipe in 2016, and haven't looked back! This recipe is full of so much freshness, flavor and even the traditional feel with the French's onions. It's a huge win!
Sweet Potatoes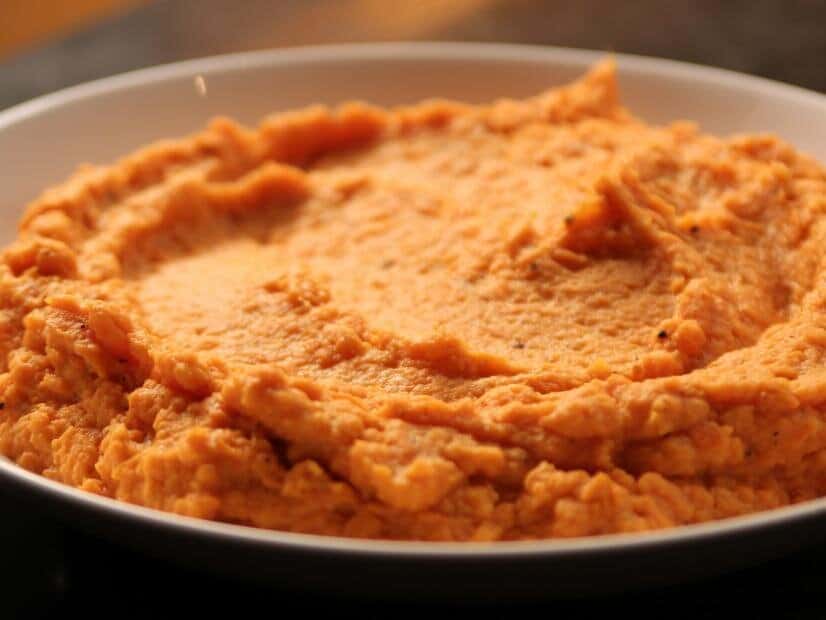 Photo by: The Food Network
Tips:
Do you know the difference between sweet potatoes and yams?

Well, let me tell you! A real yam is a huge starchy root veggie found in places like Africa and South America. What Americans often refer to as a yam, is in fact, just another variety sweet potato.
Recipe: Smashed Sweet Potatoes by Ina Garten My mom will often bring this side, and she isn't one to measure, but I have made this one many times, and they don't disappoint. Oh! my mom will also sprinkle on with a few marshmallows for old time sake!
Stuffing/Dressing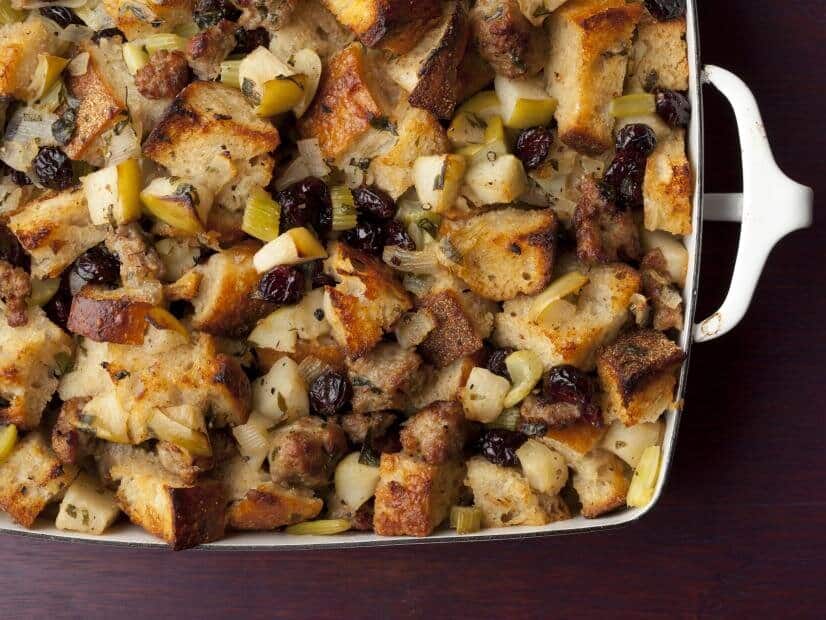 Photo by: The Food Network
Do you know the difference between the two? The answer is: the way they're prepared. As I'm sure you can guess, stuffing is usually cooked inside of something (like the turkey), while dressing is cooked on its own. Personally, I prefer dressing, as cook time changes for both when stuffed into a turkey.
Tips:
Cut the bread into bite size pieces

This ensures everything is evenly distributed, not too dry, and no one need to use a knife! The recipe calls for either white or sourdough, I prefer sourdough. I feel like it holds up better.

Think about the spice of the sausage

If it was up to me, I would have spicy all day, but alas, I have to think of others! Haha! I use mild, and I feel like the recipe is still equally delicious.
Recipe: Sausage and Herb Stuffing by Ina Garten I have been using this recipe since hosting my very first Thanksgiving. Truly, this is somehow a showstopper! Roger never really ate stuffing/dressing, and often complained it was a waste of valuable space (in his stomach), when he could fill it with things like mashed potatoes or pumpkin pie! Haha! However, this was a total game-changer! He now looks forward to this dish, and I look forward to the leftovers (which, you'll want to tune in to Instagram stories for what I do with them).
While I have most likely broken every blog rule about length of a post, amount of content, etc. I know this information is valuable, and I wanted to be sure to store it in one spot! Please feel free to comment with additional ideas or suggestions on how to become an ultimate Thanksgiving host! I love learning more tips and tricks.
Happy Thanksgiving, friends!
Enjoy,
Karin