Whole30, paleo, and totally delicious, this broiled lobster tail recipe is the perfect recipe to impress your guests or enjoy a date night in!
Do you love lobster tail but are too intimidated to attempt cooking it on your own? Let me let you in on a little secret! Just don't tell anyone else, okay? The truth is, lobster tail is insanely easy to prepare. No, really. I promise! In fact, when you realize just how simple it is to make, you're going to feel all kinds of happy, and hungry. Definitely hungry.
If you're hosting a fancy dinner or want to impress your date, this will be your new go-to recipe. Similarly, I love to pull this recipe out for special occasions such as Valentine's Day. Simply set the table, add some candles, and presto chango, you have the perfect romantic dinner. Plus, if you're feeling all kinds of extra, you can also make the Perfect Whole30 Steak, for a little turf to go along with your surf.
How to Butterfly a Lobster Tail:
It may look fancy and difficult, but butterflying a lobster tail is a painless task. To start, use kitchen shears and cut the shell all the way down. Be careful to stop at the tail! Then, gently pull the lobster meat away from the shell. While performing this step, be careful to keep the meat closest to the tail, attached. You do not want it to fully separate from the shell as it will not result in the pretty butterfly effect we're aiming to achieve. Once you have pulled the meat from the tail, lift it up, and fold the shell underneath. When done properly, the meat will be rest on top of the shell. Don't stress if you cut the meat while cutting the shell, it won't change the taste one bit. And voilá! You'll have a beautifully butterflied lobster tail that will look super impressive.
Now that you've butterflied your lobster tail, set your oven to broil. Then, line a baking sheet with tin foil, and place your oven rack roughly 6 inches away from the broiler.
In the meantime, whisk together the garlic, melted ghee, lemon juice, paprika, and cayenne. Then, liberally brush the lobster tails with the mixture. Make sure each tail is evenly coated. Next, place the lobster tails in the oven. You'll want to cook each tail for one minute per ounce. For example, 5 ounces of lobster would cook for 5 minutes. When fully cooked, the meat will turn a white, opaque color. Finally, serve the tails with freshly squeezed lemon, fresh parsley, and more ghee! YUM!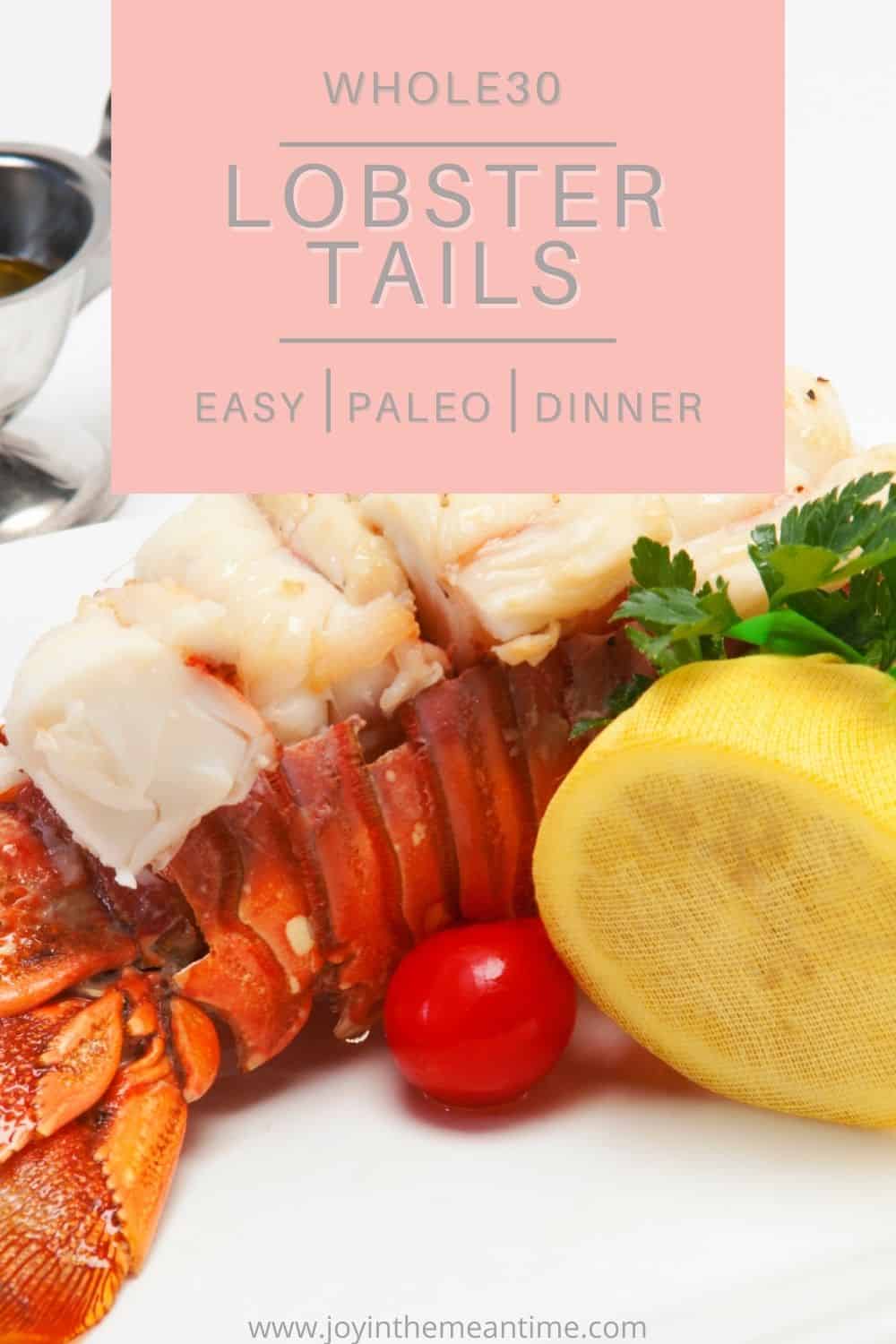 Tips for Preparing Lobster Tail:
Lobster (seafood and shellfish in general) is something you want to serve as soon as it's ready. If you want to do a little prep work, you can measure out the ingredients, and cut the lobster, so then everything should come together in about 10 minutes. Yup, seriously.
In addition, this same recipe can also be used on the grill. Just follow the same steps, and let me tell you, it's amazing!
What should I serve with butterflied lobster tails? 
Butterflied lobster tail goes great with nearly any side dish! From side salads to pasta, and everything in between, you really can't go wrong. Personally, my favorite ways to serve this recipe is with u003ca href=u0022https://joyinthemeantime.com/rosemary-garlic-roasted-potatoes/u0022u003eRosemary Garlic Roasted Potatoesu003c/au003e or u003ca href=u0022https://joyinthemeantime.com/smashed-brussels-sprouts-whole30-paleo-keto/u0022u003eSmashed Sproutsu003c/au003e. 
u003cbru003eCan the ghee in lobster tail recipes be substituted? 
If you aren't following strict Whole30 or Paleo diet regulations, the ghee in this recipe can absolutely be substituted. Ghee is a form of clarified butter originating in India. While ghee has nearly identical nutrition facts to butter, it does lack butter. Therefore, it is an ideal swap for any dairy-free needs. However, feel free to use butter for this recipe instead. If interested, take a look at u003ca href=u0022https://recipemarker.com/ghee-substitute/u0022 target=u0022_blanku0022 rel=u0022noreferrer noopeneru0022u003ethis u003c/au003earticle to learn more about ghee, it uses, and easy alternatives! 
u003cbru003eWhat are the best tasting lobster tails? 
Unfortunately, in many areas, consumers don't have much variety when it comes to storebought lobster tails. However, if you can find it, cold water lobsters are widely considered to taste the best, specifically those from Maine. Surprisingly, there are many lobster variations available for consumption, and factors such as the water in their environment, the season, and more impact their taste. Learn more, and find the best available lobster any time of year u003ca href=u0022https://robustkitchen.com/types-of-lobsters/u0022 target=u0022_blanku0022 rel=u0022noreferrer noopeneru0022u003ehereu003c/au003e! 
u003cbru003eWhen should I thaw my lobster tail?
To achieve the best quality and to practice appropriate food safety measures, you should not thaw your lobster tails anymore than a day in advance before cooking. To thaw lobster tails overnight, simply remove the meat from the oven and place it in the refrigerator until ready for use. Or, if you're looking for a faster cooking method, place the frozen tail or tails in a sealed bag. Then, submerge the bag in cold water making sure the tails are completely covered. Drain and refill the water every 15 minutes until the lobster tails are completely thawed. This process can take anywhere from 1 to 1.5 hours. Regardless of which method you use, the lobster tails should be fully defrosted before you attempt this recipe!
Is your mouth watering yet? I know mine is! This recipe is a favorite of mine, and I hope you love it, too. If you do make this recipe, be sure to tag me on Instagram: I would love to see all your fancy lobster creations!
In the meantime, enjoy!
Karin
Recipe inspired by: Wholesome Yum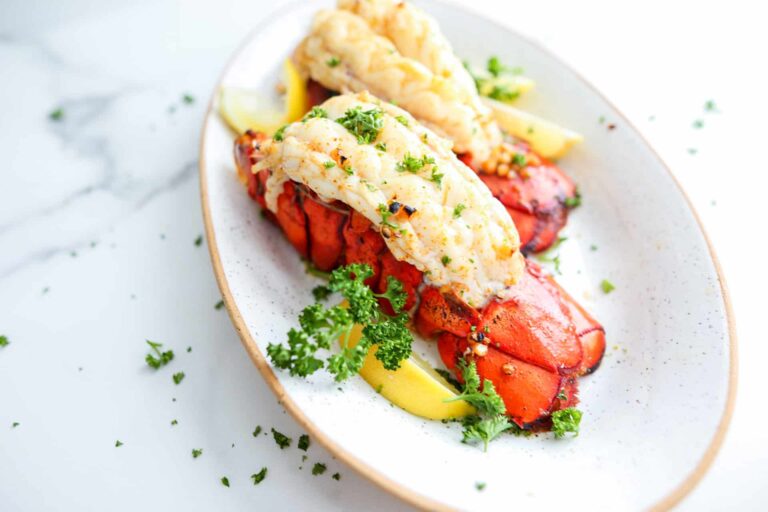 Ingredients
2

Lobster tails

uncooked

1/4

cup

ghee

melted + divided

2

cloved garlic

minced

2

tsp

lemon juice

freshly squeezed is best

1/2

tsp

smoked paprika

pinch

cayenne pepper
Instructions
Butterfly two defrosted lobster tails- see directions above

Set your oven to broil, and place butterflied lobster tails on foil lined baking sheet. Rack should be 6 inches away from broiler

Whisk together all the garlic, melted ghee, lemon juice, paprika and cayenne

Liberally brush the lobster tails with the ghee mixture, ensuring it is evenly covered

Place the lobster tails in the oven for one minute per ounce. For example, a 5 oz. lobster would be 5 mintues. The meat should be opaque when cooked

Serve immediatly with freshly squeezed lemon, fresh parsley and more melted ghee (if desired)