Foolproof Salmon with Avocado Salsa
Made with simple ingredients and served with a delicious homemade avocado salsa, this Foolproof Salmon is a crow-pleasing, easy dinner recipe. Serve it with rice or cauliflower rice and veggies for a healthy meal!
If you've been around awhile or follow my Meal Planning posts, you'll know that I love seafood recipes. Not only are they delicious, they're such a great way to introduce new foods and flavors to my little ones' palettes. Not to mention, fish like salmon are full of healthy fats that keep you full. In my opinion, it's the perfect food to keep you satisfied on a Whole30 or Paleo diet.
With recipes like Pan Seared Salmon, Foolproof Baked Salmon, and Cucumber Salmon Roll-Ups, I'm not new to creating fish recipes. While these recipes are all great and on frequent rotation in my home, I'm always for ways to make dinner new and exciting. So, when I found myself in my kitchen with several salmon filets, I took it as a sign.
What resulted was this low carb, Whole30 Foolproof Salmon recipe with homemade Avocado Salsa! Not to toot my own horn on this one, but it might be my favorite salmon recipe ever. It came together with simple ingredients I had on hand and was ready in about 20 minutes. The best part? My boys loved it, too!
So, are you ready to get cooking? I thought so.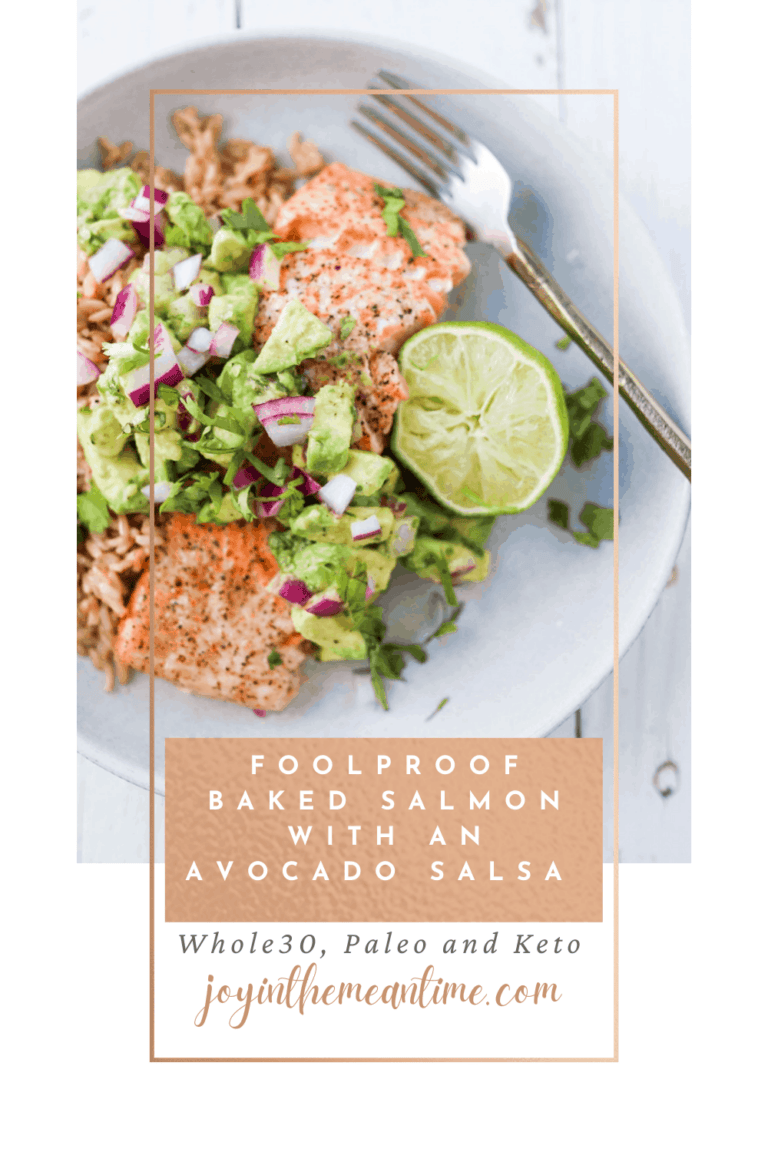 Healthy Ingredients & Alternatives
To keep things Whole30-friendly, I used a variety of healthy fats. For the salmon, I chose to use ghee. Of course, you can use another fat source such as olive oil, avocado oil, or butter. However, I personally prefer to use ghee due to its taste and high heat point. While the original recipe calls for salt and pepper, I also like to add Primal Palate's Seafood Seasoning. Feel free to experiment with your favorite seasonings and flavor combinations!
When it comes to the avocado salsa recipe, I stuck with avocado, red onion, cilantro, lime juice, salt, and pepper for a super quick topping. I do give amount recommendations, but you can add as much or as little of each ingredient as you want. For example, for a hint of sweetness, mango is a great food to add. Or, if you want to elevate the heat, toss in some chopped jalapeño. Just be sure to fully remove the seeds!
Cooking Tips for this Foolproof Salmon Recipe
The great thing about this Whole30 salmon recipe is how quickly it comes together! Ready in under 20 minutes with just 6 steps, dinner really doesn't get much better than that.
To get started, preheat your oven to 400 degrees Fahrenheit, and line a baking sheet with parchment paper. Brush 2 tablespoons of ghee (or your fat source of choice) on the paper, and place the salmon on top before adding seasonings.
Bake the salmon for 12-14 minutes. You'll know it is ready when the salmon turns opaque and starts to flake. You do not want it to completely fall apart, though! This means it is overcooked.
While the salmon is baking, prepare the homemade avocado salsa by dicing the ingredients and combining them in a bowl.
Once cooked, use a fish spatula to remove it from the baking sheet, top it with the salsa and a dash of lime juice, and enjoy!
What to Serve with Salmon and Avocado Salsa
In all honesty, this recipe is fantastic all on its own. I like to eat it for a light lunch from time to time. However, if you're looking to make a full meal out of it, there's really no way you can go wrong! For example, we have eaten this recipe over cauliflower rice, served with cilantro lime rice, on a bed of greens for salads, and stuffed in crispy grain-free tortilla shells for fish tacos. You could even chop the fish up and make salmon nachos!
Once you've found your favorite grain or grain-free alternative, prepare a dish like roasted asparagus or steamed broccoli for even more added health benefits and fiber.
How to Store & Reheat Baked Salmon
One of the most common questions I get with any recipe is whether or not it is meal prep friendly, and the answer is, yes! If safely stored in an airtight container cooked salmon will last up to 3 days in the fridge.
Then, to reheat it be sure to check out these 5 tips, and pop it in the oven for a few minutes. Or, simply eat it cold over my Easy-Peasy House Salad or in lettuce wraps!
Health Benefits of Avocado
I'm all about serving foods that are not only tasty but also good for you, too. I covered the health benefits of salmon in this post. So, let's talk about avocado! Did you know they're actually a fruit? Plus, they're full of nutrients like vitamin K, Folate, vitamin C, vitamin B5, and more. In fact, one avocado has more Potassium than a banana.
In addition, avocados are packed full of healthy fats and fiber. As a result, they can help lower cholesterol, help you absorb nutrients, can improve your eyesight, relieve symptoms of arthritis, and more. To learn more about avocados and why you should include them in your diet, be sure to take a look here.
There you have it, the easiest 20-minute dinner you'll ever make! I would love to know what ingredients you added or how to serve this recipe. Let me know in the comments below, and let's chat!
Of course, if you make this or any of my other recipes, please tag me on Instagram! I'd love to see your creations, connect, and share your page. I hope you love this recipe as much as I do. Stay tuned for new recipes, easy meal plans, decoration tips, and more every week!
In the meantime, enjoy!
Karin
Ingredients
Desired number of salmon portions

I use 6 oz fillets

Salt and pepper

2

Tbsp

Ghee

1

avocado diced

¼

cup

red onion diced

Juice of ½ lime

2

Tsp

cilantro diced

Salt and pepper to taste
Instructions
Set oven to 450 degrees F

Line baking sheet with parchment paper and brush 2T ghee on the parchment paper

Place salmon on top of ghee, season with salt and pepper

Bake for 12-14 minutes You want the meat to look opaque and start to flake, but not be falling apart

While the Salmon is baking, prepare the salsa by adding together all the ingredients and gently mixing with a spatula, set aside

Using a fish spatula remove, and plate the salmon, topping with avocado salsa and squeeze of lime
P.S. This page may contain affiliate links. Of course, you're not obligated to use them, but I appreciate the love if you do!