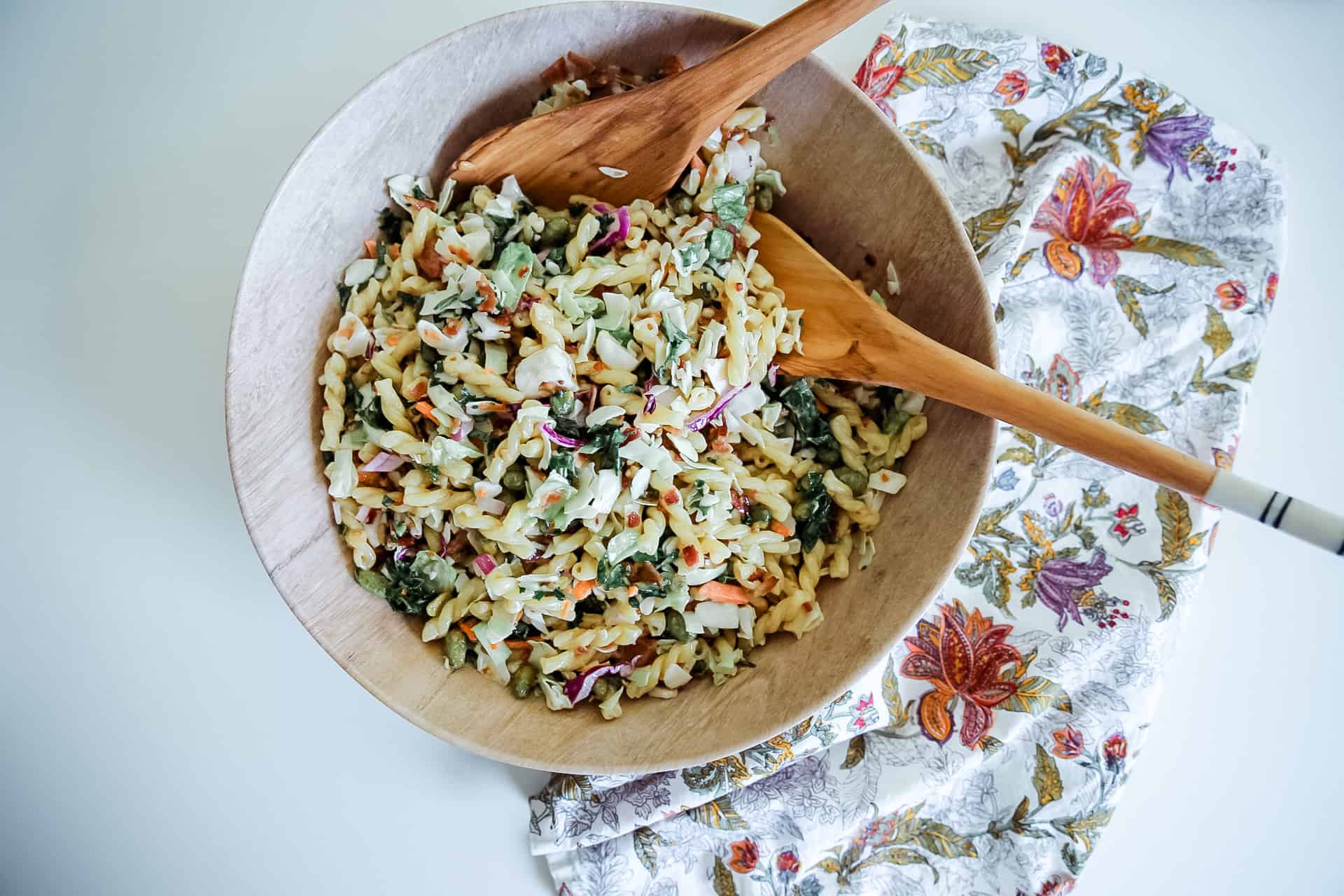 Made with 6 simple and healthy ingredients, this easy pasta salad recipe will be your new go-to side dish for every occasion. Make it ahead of time for barbecues, lunches, and more! 
The Best Pasta Salad for Every Occasion
When it comes to cooking you guys know I'm all about healthy and delicious meals that don't take hours to prepare. However, I also try to create and serve recipes that everyone including the kids love. This can sometimes be a challenge when it comes to veggies and side dishes except for when it comes to salad. Whether you're making an Easy-Peasy House Salad, a savory Broccoli Bacon Salad, or even a Whole30 Egg Salad, you can't go wrong! 
This is especially true when it comes to this recipe for Deana's Pasta Salad. I can pretty much guarantee this recipe will be the last pasta salad you'll ever want, need, or crave! It's been a staple in my household for years, but I can't take all the credit. I actually first got it from my cousin Deana (hence the name). She's been bringing it to every family get together for as long as I can remember, and we wouldn't have it any other way! Even though she's a wonderfully talented cook, it's all we ask her to bring. Seriously, it's that good.
So, naturally, I eventually cracked and asked her for her top-secret recipe. Given how tasty the pasta salad is, I was prepared for a long list of ingredients and elaborate instructions. Yet, to my surprise, Deana listed only 6 items, and the instructions were so brief I thought I missed some. You could imagine my excitement when I learned that I had, indeed, received the full recipe. I got in the kitchen right away, and this dish was ready in minutes with very little clean-up needed. I mean, does life get any better than that?
I know it all sounds too good to be true so keep reading to see how easy this recipe is for yourself!
Ingredients You'll Need
This pasta salad is so easy, you likely already have most of the ingredients you need waiting for you in your kitchen.
Salad – Technically any salad mix you have on hand will work, but for the best flavor I recommend using a Sunflower Crisp Salad Kit. My favorite is from the Fresh Express brand!
*Note: Omit the dressing packets that come with the mix.
Pasta – I used Gemelli-shaped pasta, but feel free to use whatever you have on hand! You could even use a high-protein, gluten-free, or veggie-filled pasta to meet your specific dietary needs. 
Red Onion – Given the bold flavor provided with red onions, I do not recommend swapping them out for yellow or white onions instead.
Bacon – If you don't want to use bacon, choose turkey bacon or tempeh instead.
Lemon Vinegar – Lemon vinegar is somewhat of a secret ingredient in this recipe because it isn't super easy to find at your local grocery store. So, to save you some trouble, I buy mine here. However, you can also find it here, or at a local specialty shop if you have one. 

Lemon Olive Oil – Standard to most grocery stores, lemon olive oil is everything you love about olive oil with a refreshing hint of lemon that makes for an irresistible salad dressing.
Optional Add-Ins
In all honesty, this recipe is pretty loaded and super filling all on its own. However, if you want to bulk it up even more and make more of a complete meal rather than a side dish out of it, try adding a few ingredients like those listed below.
Chicken – Adding shreds of baked or grilled chicken is an easy way to increase the protein content for a filling lunch or dinner.
Shrimp – Similar to chicken, shrimp are light enough in flavor that they won't overpower the rest of the dish.
Olives – If you're an olive fan, go ahead and toss a handful or two in for healthy fats and a slight Mediterranean twist.


 Cheese – I recommend using feta or goat cheese crumbles for a creamier taste.
How to Make the Best Pasta Salad
Can you believe this recipe comes together in just 3 easy steps? No, really! All you have to do is boil the pasta.
Then, whisk together the dressing packets from the salad kit, vinegar, and olive oil in a small bowl.
Next, add the greens, bacon, onion, pasta, included salad crunchies, and top it all with the oil and vinegar. Make sure the salad is evenly coated, and enjoy! 
Pasta Cooking Tips
I know cooking pasta seems super simple, but when it comes to preparing a cold pasta salad there are a couple tips to make your dish even tastier.
First, add a generous amount of salt to the water to help keep the noodles flavorful after cooking.
Second, rinse the pasta! This will remove any lingering starch and will help stop the cooking process ensuring your pasta stays the perfect consistency.
Third, cook the pasta al dente. You want it to hold up and have a bit of bite rather than being super limp. To do this, test your pasta a minute or two before the package instructions recommend. You want it to be slightly spongy. 
Can I Freeze Pasta Salad? 
Yes, when stored in an airtight container pasta salad recipes can easily be frozen. If you want to store all of the ingredients combined, this recipe can be kept in the freezer for up to a week.
Or, you can separate the dressing and remaining ingredients. To do this, store the dressing in an ice cube tray, and add all of the ingredients except for the lettuce to an airtight container. This storage method will keep the ingredients fresh for up to 3 months. To serve, all you have to do is defrost the ingredients, and combine them all when ready to eat! 
How Long Does This Recipe Last?
This recipe is best if served immediately. Yet, when stored in an airtight container in the fridge, it will stay fresh for 3-4 days. If you want to give it a fresh flavor boost after storing, try adding another tablespoon of the lemon vinegar!
There ya have it, friends. The world's easiest and tastiest pasta salad recipes! I'm certain you'll love it as much as we do.
Of course, if you make this or any of my other recipes, please tag me on Instagram! I'd love to see your creations, connect, and share your page. I hope you love this recipe as much as I do. Stay tuned for new recipes, easy meal plans, decoration tips, and more every week!
What is your favorite recipe to bring to family gatherings? Let me know in the comments below.
In the meantime, enjoy!
Karin
Ingredients
2

bags

Sunflower Crisp Salad Kit

I use the Fresh Express brand

3

cups

pasta

cooked; I use the gemelli shape

1/2

red onion

diced

1

lb

bacon

cooked until crispy, chopped

3

tbsp

lemon vinegar

2

tbsp

lemon olive oil
Instructions
In a small bowl, whisk together the dressing packets, vinegar, and olive oil, set aside

In a large bowl, add the greens from the salad kit, bacon, onions, pasta, included crunchies, and then top with all of the dressing, ensuring you mix thoroughly

This salad is best if prepared just before serving. However, it can keep refrigerated for up to 2 days, but may need another tablespoon of lemon vinegar to give it a little oomph!
P.S. This page may contain affiliate links. Of course, you're not obligated to use them, but I appreciate the love if you do!