Made with fresh produce and warm fall flavors, this Paleo Butternut Squash Soup recipe is topped with crispy pork for a tasty comfort food recipe perfect for weeknight dinners! Omit the pork for a vegetarian option.
Soups Galore!
While I would be lying if I said I didn't love pumpkin spice as much as the next person, truly one of my favorite things about fall is all the cozy soups! One of my all-time favorites is my Whole30 Minestrone. However, I realized that I don't have a lot if any, other original go-to recipes. Of course, there are classics like Chicken Noodle and Tomato soup, but I wanted something different.
So, after a big haul from the grocery store featuring a whole bunch of seasonal produce, I figured why not try my hand at making something new! Drawing inspiration from my favorite winter squash, I combined ingredients and mixed and matched flavors until I had created the most perfect Paleo Butternut Squash Soup recipe. Then, I took it one step further and added crispy pork on top for a delightful sweet and savory meal perfect for cool weather.
Plus, this recipe is super customizable to fit everyone's needs and perfect for meal prep! Even better, my kids loved it, and I love knowing they're getting a full serving of both fruits and veggies in their meal. Whether you're looking for a quick lunch to bring to the office or an easy family dinner, I guarantee this recipe is perfect for you! I'll let you be the judge of that, though. Let's get in the kitchen!
Ingredients for Creamy Butternut Squash Soup
While some butternut squash soup recipes can call for a wide variety of strange ingredients, this version keeps things as simple as possible. Instead of going out and buying random spices I'll never use again, I gathered a few of my pantry staples for a super approachable soup recipe you can whip up in minutes. Take a look below to find the primary ingredients you'll need:
Butternut Squash – The larger butternut squash the better! For a shortcut, you can even find pre-chopped options in the refrigerated section of your grocery store.
Carrots – While you can technically use baby carrots, I recommend opting for whole carrots in order to make the process easier. Just be sure to peel them first!
Onion – Yellow onions work the best in this creamy butternut squash soup, but white onions can be used as well.
Apple – I like granny smith apples in order to even out the sweetness of the butternut squash, but if you prefer a sweeter flavor red apples can be used as well.
Stock – I used chicken stock, but if you prefer, vegetable stock can be used in its place for a vegetarian option.
Coconut Milk – Coconut milk is an excellent addition to create a layer of creaminess without the need for dairy. However, I also like to include Nut Pods in its place!
Herbs & Seasonings – Herbs and seasonings are key to elevate the taste of this soup. I used cloves, thyme, bay leaves, salt, and pepper, but feel free to experiment with your favorite additions as well!
Pork – For easy "crumbles" I highly recommend using ground pork instead of pork chops or other varieties often containing bones. Or, omit the pork altogether!
How to Make the Best Paleo Butternut Squash Soup with Crispy Pork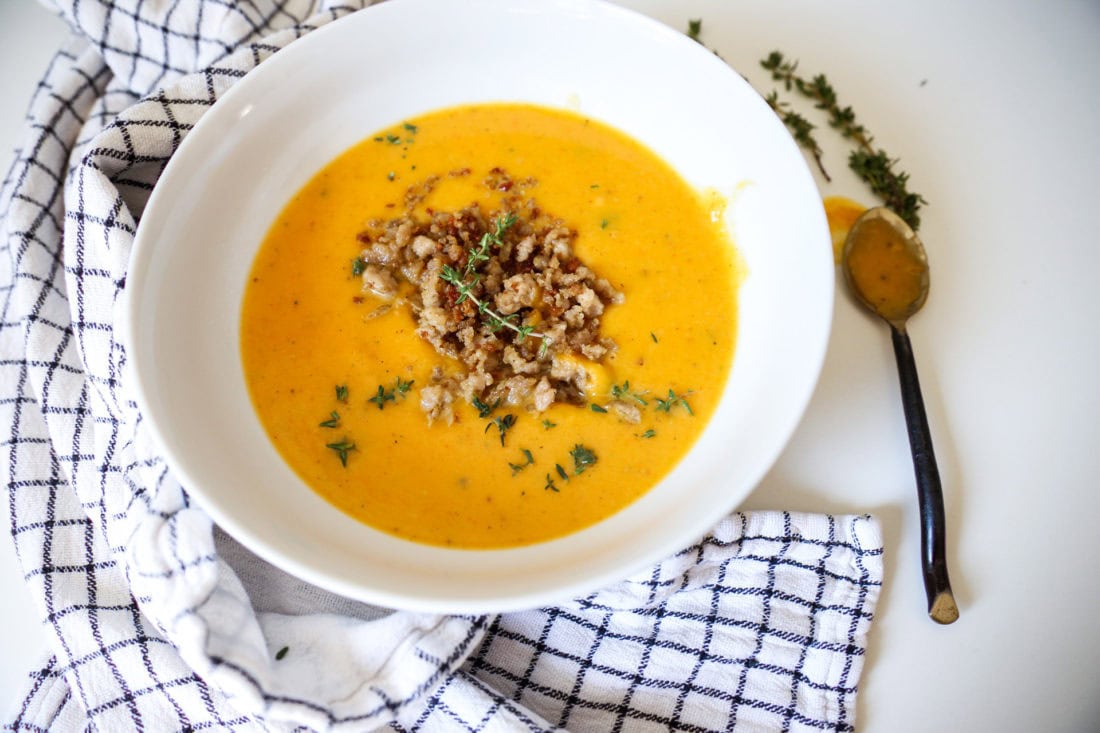 My favorite thing about this recipe is how simple it is to make! With just a few easy steps, you can get out of the kitchen and back to the dinner table.
Preheat. To start, preheat the oven to 425 degrees Fahrenheit, and line a baking sheet with parchment paper.
Prepare the Vegetables. Once peeled and chopped, drizzle 2 tablespoons of olive oil over the carrots and butternut squash along with a pinch of salt and pepper, and use your hands to make sure the vegetables are well-coated.
Roast. Place the baking sheet with the carrots and squash in the oven for 45-50 minutes or until the veggies are browned and tender.
Heat a Pot. While the veggies are roasting, heat a large pot or Dutch oven over medium-high heat, add 1 tablespoon of olive oil, the pork, salt, and pepper. Let the meat cook, stirring frequently, until it is brown and crispy, and set it aside in a bowl.
*If the fat renders too quickly, add another tablespoon of oil to assist with the crisping process.
Add Ingredients and Boil. In the same pot or Dutch oven, add another tablespoon of oil, onion, and apple. Stir the ingredients until they are tender and the onions have caramelized. Then, add the garlic, thyme, and cook until the garlic is fragrant, stirring continuously. Next, add the stock and bay leaf, and bring the ingredients to a boil.
Simmer. Reduce the heat to low, and let the ingredients simmer for about 15 minutes, and remove the bay leaf.
Blend. Add the squash and carrots, and use an immersion blender or high-pressure blender to combine the ingredients until a smooth texture is achieved.
Stir in Milk. Once the soup is smooth, stir in the coconut milk until it is fully incorporated, and add salt and pepper to taste. To finish, ladle the soup in bowls, top them with the crispy pork, and enjoy!
Topping Alternatives
If you don't want to serve this Paleo Butternut Squash Soup with the crispy pork, don't worry! It's great with pretty much any toppings you want to add. Some of my favorite additions include:
Roasted Pumpkin Seeds
Blue Cheese
Chopped Nuts
Chopped Apples
How to Store Creamy Butternut Squash Soup
For easy meals, I recommend making a big batch of this Paleo Butternut Squash Soup ahead of time, and store it in the fridge or freezer to reheat when needed.
Fridge: Stored in an airtight container, this recipe will keep in the fridge for up to 3 days.
Freezer: If covered and stored in an airtight container, this soup will last in the freezer for up to 2 months.
More Comfort Food Recipes You'll Love
This might be one of my favorite soups ever. It's perfect for a light lunch or filling meal, and I love switching up the toppings! What would you pair it with? Let me know in the comments below!
Of course, if you make this or any of my other recipes, please tag me on Instagram! I'd love to see your creations, connect, and share your page. I hope you love this recipe as much as I do. Stay tuned for new recipes, easy meal plans, decoration tips, and more every week!
In the meantime, enjoy!
Karin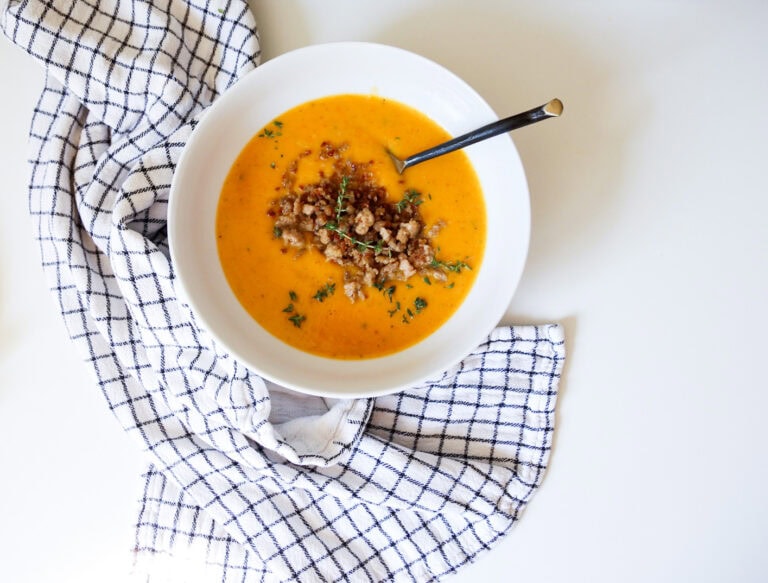 Ingredients
For the Soup:
1

large butternut squash peeled

seeded and diced into 1.5 inch cubes

2

large carrots

peeled and cut into 1.5 inch cubes

3

Tablespoon

extra virgin olive oil

divided

2

Tablespoon

ghee or avocado oil

1

large yellow onion cut into ½ inch pieces

1

large granny smith apple cut into ½ pieces

3

garlic cloves

minced

2

Tablespoons

fresh thyme

4

cup

chicken stock

1

bay leaf

1

cup

coconut milk or Nutpods

unsweetened *see notes

Salt and pepper to taste
For the Pork:
1

pound

ground pork

1

Tablespoon

olive oil + more if needed

1

teaspoon

salt

½

teaspoon

black pepper
Instructions
Preheat oven to 425 degrees F

Line a baking sheet with parchment paper and then place the carrots and squash on top. Drizzle with 2 Tbs olive oil, pinch of salt and pepper, using your hands to ensure everything is evenly coated. Roast about 45-50 minutes until the vegetables are browned and fork tender

Heat a large pot or Dutch oven, over medium heat, then add 1 Tbsp olive oil and the ground pork, salt and pepper, cooking until brown and crispy. If the fat renders too quickly, you can add another 1 Tbs olive oil to assist in the crisping process, remove and set aside on a paper towel lined plate

In the same pot or Dutch oven, add 1 Tbs olive oil, onion and apple, and cook, stirring until fork tender, and the onions have caramelized. Add the garlic, thyme and cook, stirring frequently, so they garlic doesn't bur. Add the stock and bay leaf, bring to a boil. Reduce to a simmer for about 15 minutes, then remove and discard bay leaf

Carefully add the squash and carrots to pot, using an emersion blender to blend until smooth. If you don't have an emersion blender, you can work in batched blending in a high-pressure blender. Once smooth, stir in coconut cream until fully incorporated. Salt and pepper to taste

Ladle the soup into bowls and top with the crispy pork and fresh thyme

Enjoy