This Whole30 Cauliflower Fried Rice recipe is full of vegetables and ready in minutes for a budget-friendly meal the whole family will love! Prep it ahead of time for healthy packed lunches or easy dinners!
Better than Takeout Cauliflower Fried Rice
Who doesn't love good takeout? I know I do! There's just something so special about ordering Chinese food after a long week, isn't there? I mean, it's always warm, super quick, and completely delicious. However, it's not always Whole30 friendly and definitely not what I would consider being healthy. Of course, it's great for a treat every now and then, but more often than not, I do my best to serve my family healthy, nutrient-packed recipes.
So, when a craving struck, I took to the kitchen to see if I could come up with a good-for-you cauliflower fried rice recipe. After all, with recipes like The Perfect Burger, Whole30 Baked Chicken Fajitas, and my Taco Bowl with Jalapeño Cilantro Sauce, I'm not new to making my favorite foods a little bit healthier. Luckily, this cauliflower fried rice remake went just as well! Even better, it's super simple to make and comes together in minutes.
My boys were obsessed, and I'm thrilled to see them so excited to eat vegetables. All this to say, this recipe will definitely be on repeat in our kitchen! Plus, it's super versatile so I know we won't be getting tired of it anytime soon. I promise, once you taste it, you'll add it to your list of recipes to make too!
So, let's get cooking!
Ingredients for Whole30 Cauliflower Fried Rice
To keep this recipe super easy and extremely budget-friendly, I stuck with simple and convenient ingredients that you likely already have on hand. If not, they can be found at your local grocery store without a problem! To make this recipe you'll need:
Cauliflower Rice – Any riced veggie will work for this recipe, but I prefer cauliflower as it adopts the flavor of the seasonings nicely. Of course, if you aren't following a Whole30 or low carb diet, feel free to use regular rice instead.
Green Peas – For convenience, I opted for frozen peas.
Yellow Onion – I do not recommend swapping out yellow onions for any other type such as red as the flavor will be totally different.
Carrots – Opt for whole carrots or buy pre-shredded bags for super easy cooking.
Coconut Aminos – Coconut aminos act as a Whole30 friendly soy sauce, but soy sauce works just as well.
Ginger – Both fresh and ground ginger work for this cauliflower fried rice.
Garlic Powder – If you prefer, use crushed garlic cloves instead of powder. Just be careful not to let them burn!
Avocado Oil – Any oil you have on hand will work. I prefer avocado oil as it has a mild taste and is full of healthy fats.
Eggs – Eggs are a great source of healthy fats, protein, and flavor in this recipe. Therefore, I do not recommend swapping them out for egg whites, but it can be done. The flavors of the dish just won't be quite as strong.
Optional Ingredient Add-Ins
Clearly, this cauliflower fried rice recipe is loaded with healthy ingredients, but there's always room for more! If you want to spruce this recipe up even more, feel free to add whatever you like. Some of my favorite additions include mushrooms, bell peppers, chicken, shrimp, tofu, and pineapple. Then, I sometimes add a dash of sriracha, red chili flakes, or green onions on top to spice things up.
Of course, you can always remove ingredients, too. All of the veggies can easily be taken out of this recipe, and the flavors won't change.
How to make Whole30 Cauliflower Fried Rice
This cauliflower fried rice recipe truly can't get much easier. However, to make sure your meal turns out perfectly every time, I'm giving you a few of my best cooking tips below.
Coat your skillet or wok evenly with oil. Or, liberally spray a nonstick pan with cooking spray.
Make sure your cauliflower rice is spread evenly across the pan and not clumped together. Otherwise, it won't cook all the way through, and some pieces might burn!
Whisk your eggs in a separate bowl before adding them to the pan, and stir continuously until they are cooked through to ensure they are incorporated throughout the dish.
Fresh vs Frozen Vegetables
For this cauliflower fried rice recipe, I used a combination of both fresh and frozen vegetables. Honestly, either work! Nutritionally, they are both full of vitamins and nutrients. In fact, frozen produce is picked at the peak of ripeness and may even contain more benefits. If you do change the ingredients, alter the cooking times accordingly as they may take more or less time. The key is to wait until your veggies are soft without burning them.
How Long Does Cauliflower Rice Last in the Fridge?
If stored in an airtight container, cauliflower fried rice will last up to 4 days in the fridge.
Can I Freeze Cauliflower Fried Rice?
Yes! Cauliflower fried rice will keep up to 4 months in the freezer.
How Should I Reheat Cauliflower Fried Rice?
For the best results, I recommend reheating your cauliflower fried rice on a skillet, stirring frequently until warmed through. Or, in a pinch, you can pop it in the microwave for a minute or two.
More veggie filled recipes
If you make this recipe, I would love to know if you used any add-ins! Let me know in the comments below.
Of course, if you make this or any of my other recipes, please tag me on Instagram! I'd love to see your creations, connect, and share your page. I hope you love this recipe as much as I do. Stay tuned for new recipes, easy meal plans, decoration tips, and more every week!
In the meantime, enjoy!
Karin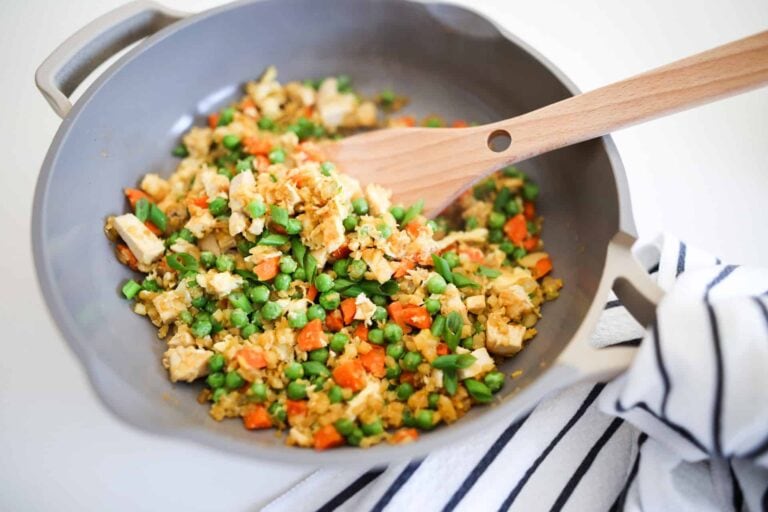 Ingredients
2

cups

cauliflower rice

frozen

1/2

cup

green peas

frozen

1/4

cup

yellow onion

diced

1/4

cup

carrots

diced

2

tbsp

coconut aminos

1/4

tsp

dried ginger

or 1 tbsp fresh- grated

1/2

tsp

garlic powder

2

tbsp

avocado oil

2

eggs

whisked

salt and pepper to taste
Instructions
Heat skillet or wok over medium heat, adding in oil, swirling around to coat evenly (you can also use a nonstick pan and cooking spray, if you prefer)

Add the carrots, onions, pinch of salt, and garlic powder, sauteing for 2-3 minutes, or until the onions are translucent and the carrots begin to soften

Add the cauliflower rice, ensuring it is evenly covering the pan, and not clumped on top of each other. Leave untouched for 2-3 minutes, you want the moisture to evaporate, this is what helps create a rice like texture, add another pinch of salt, and the ginger, gently mixing

Add in the peas and coconut aminos, allowing the peas to heat through, about 2-3 minutes, once warmed through, push to one side of the pan, spray with cooking spray, and add the whisked egg

Using a spatual, gently begin to stir the eggs to cook, then pull into the fried rice to continue cooking, top with another pinch of salt and sliced green onions if desired
P.S. This page may contain affiliate links. Of course, you're not obligated to use them, but I appreciate the love if you do!