Made with fresh and healthy ingredients, this Whole30 Taco Bowl is the easiest low-carb meal prep recipe your whole family will love!  
Is there a more perfect food than tacos? Whether you're celebrating Taco Tuesday, looking for a quick and easy dinner, or need to feed a crowd, there's definitely a recipe for you.
However, when following a Whole30 or Paleo diet, traditional recipes don't typically meet your needs. Luckily, I've taken your favorite beef tacos and created this healthy taco bowl recipe to satisfy your cravings without breaking your diet!
Using simple, real-food ingredients, this taco bowl comes together in 5 minutes using just two skillets. I promise it's going to become a dinner time and meal prep staple in your household! 
Taco Bowl Ingredients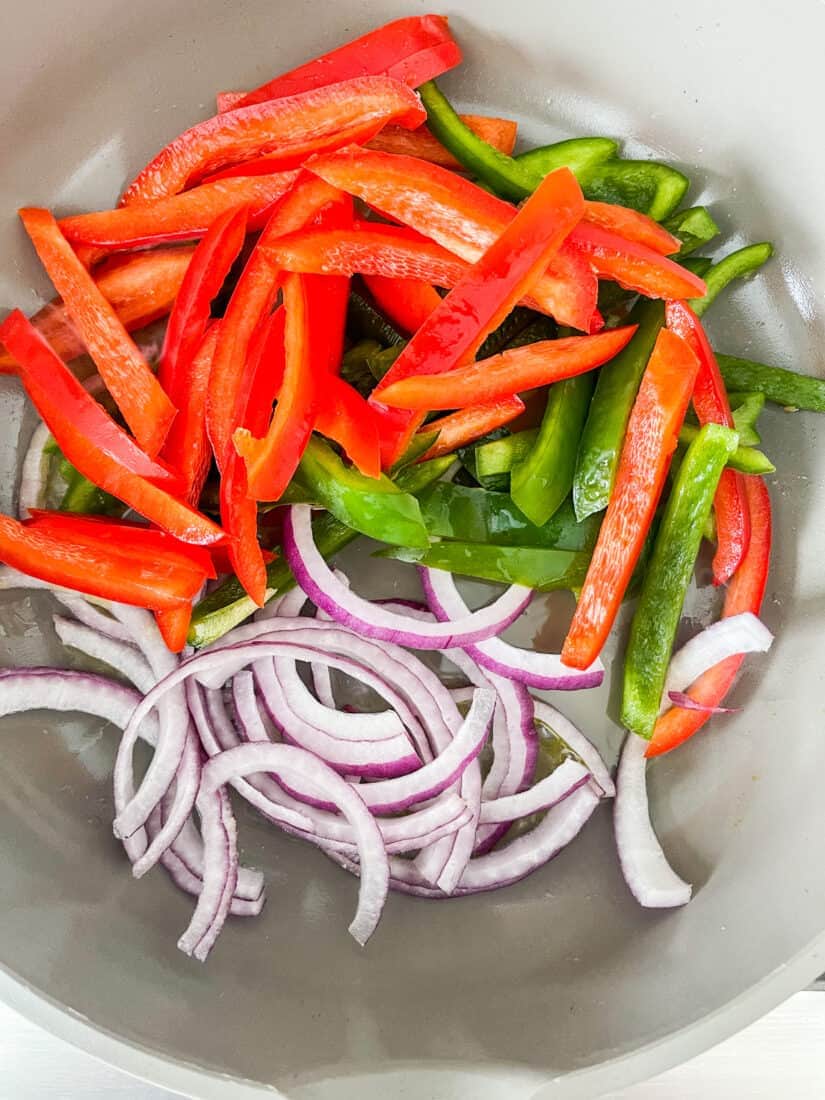 For this Taco Bowl recipe, I wanted to keep things as simple and healthy as possible. So, I chose to create my own taco seasoning using ingredients I had on hand. However, if you want to save a few minutes you could opt for a pre-made mix as well. I like the Siete Foods Mild Taco Seasoning mix! It's Whole30 and Paleo, but any seasoning blend you prefer would work just as well. Or, add this Homemade Taco Seasoning to your meal prep, and keep it on hand for quick recipes. To assemble delicious tacos bowls you will need the following ingredients.
Ground turkey


Taco seasonings


Diced tomatoes


Green chilis


Cilantro


Green bell pepper


Red bell pepper


Onion


Radishes


Lime


Lettuce

Taco Bowl Recipe Instructions
This meal comes together in two parts and features deliciously sautéed peppers. Full of healthy nutrients like vitamin A, vitamin C, potassium, folic acid, fiber, and more, all varieties of bell peppers are a great addition to any meal! Plus, they add a delicious crunchy texture. 
Directions for the Peppers:
 Heat skillet. Place a skillet over medium heat, and add 1 tablespoon of olive oil.


 Cook. Once heated, add your sliced peppers (and onions). Let the veggies cook, tossing occasionally until the desired texture is reached.
Directions for the Taco Bowl Meat and Assembly:
Heat skillet. Place a large skillet over medium-high heat, and add 1 tablespoon of oil.


Brown meat. Once the oil has heated, add your ground turkey and seasonings to the skillet. Cook the meat, making sure to break it into pieces.


Add ingredients. After the meat has cooked, add in your tomatoes and chilis. Stir frequently, and cook the mixture until the liquid has absorbed. This step takes about 3-5 minutes.


Assemble and enjoy! When fully cooked, remove the taco meat mixture from the heat, assemble your taco bowl, and enjoy!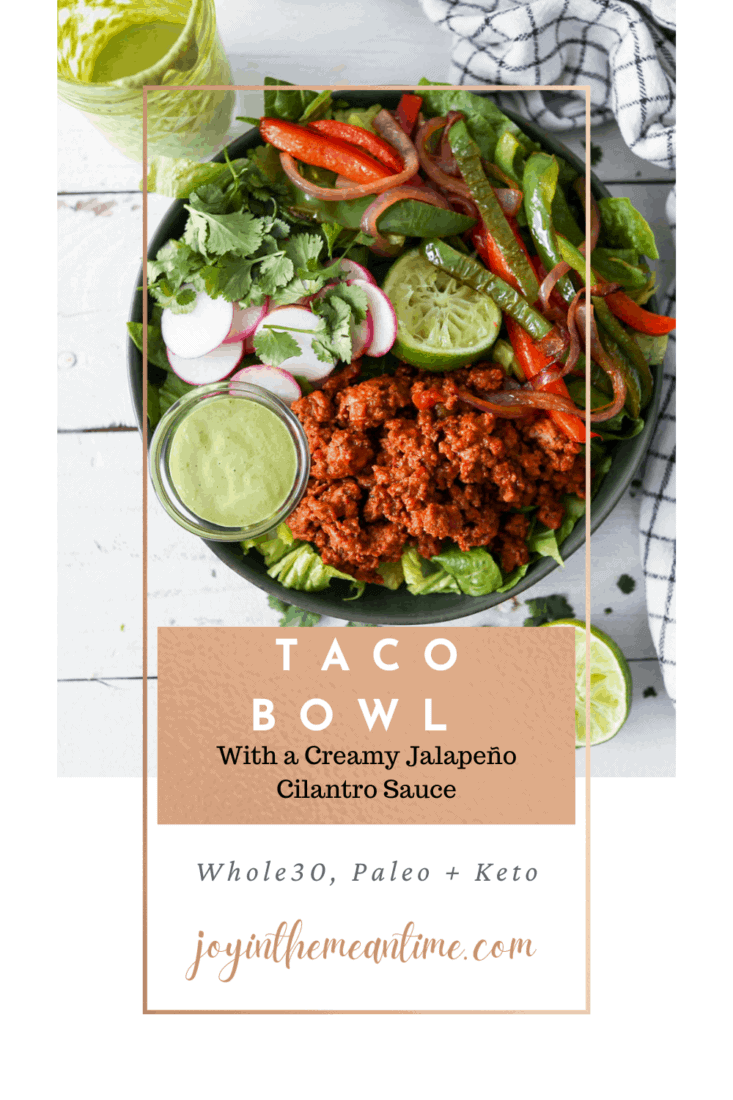 Topping Suggestions for Healthy Taco Bowls
These bowls are great all on their own. However, if you want to spice things up, feel free to experiment with fun toppings and additions! Here are some of my favorite additions: 
Avocado


Pico de gallo


Corn (omit for Whole30)


Cheese (omit for Whole30)


Limes


Sour cream


Serving Suggestions
One thing I love about this recipe is how versatile it can be! As it, it's a super yummy and filling salad. However, if you want to get creative and mix up meal time, you can also use the ingredients to create the following: 
Traditional tacos


Nachos


Rice bowls


Quesadillas


Loaded fries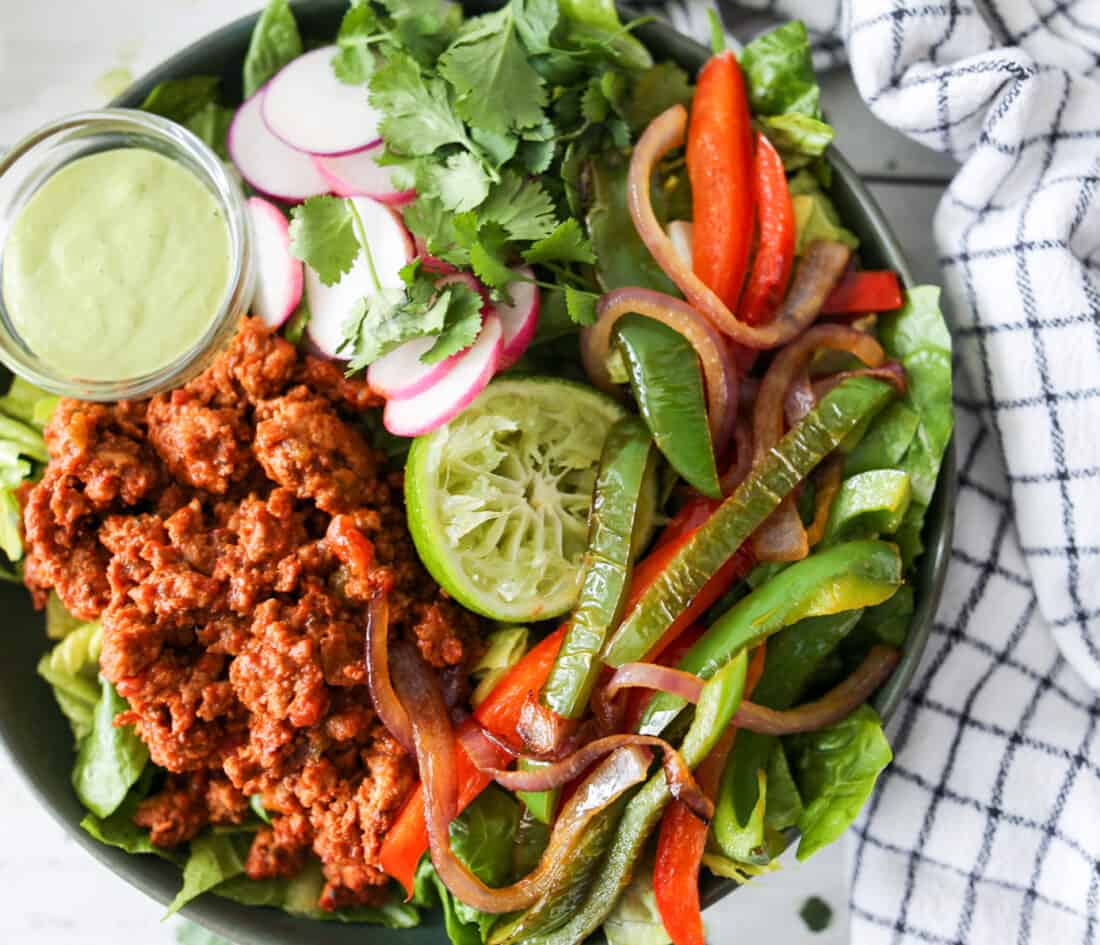 Frequently Asked Questions
u003cbru003eCan I use meat other than turkey for Taco Bowls?
Yes, any meat source you prefer will work with this Taco Bowl recipe!
u003cbru003eHow long will Taco Bowls last?
When stored in the refrigerator in an airtight container, taco bowl meat will stay fresh for 3-4 days. 
u003cbru003eCan I make meat for Taco Bowls in the oven? 
While this recipe works best in the skillet, you could make it in the oven as well. If using this method, I recommend opting for a meat source like chicken that is easy to bake. 
u003cbru003eWhat should I serve with Taco Bowls?
These taco bowls are a filling and complete meal all on their own. However, if you're looking for sides or appetizers, you could always serve chips and salsa or guacamole or more roasted vegetables! 
There ya go, friends! This is the easiest weeknight dinner recipe ever! How are you planning to serve it? Let me know in the comments below! I'm always looking for new inspiration and fun ways to make healthy food exciting for my boys. 
Also, if you make this or any of my other recipes, please tag me on Instagram! I'd love to see your creations, connect, and share your page. I hope you love this recipe as much as I do. Stay tuned for new recipes, easy meal plans, decoration tips, and more every week! 
In the meantime, enjoy!
Karin
Ingredients
1

lb

ground turkey

1

tsp

salt

2

tbsp

extra virgin olive oil

divided

1

tbsp

chili powder

1

tsp

ground cumin

1

tsp

garlic powder

½

tsp

dried oregano

1/4

tsp

ground black pepper

1

10 oz can diced tomatoes

1

4 oz can diced green chilis

2

tbsp

finely chopped cilantro

1

medium green bell pepper

cored and sliced

1

medium red pepper

cored and sliced

Half onion

sliced

Radishes

sliced

Lime

Romaine lettuce

chopped

Cilantro Jalapeño Sauce
Instructions
Directions for the Peppers (and Onions)
Heat skillet over medium heat, add 1 tbsp olive oil, and add peppers and onions.

Cook tossing occasionally. I prefer them tender, but still slightly crunchy- adds a great texture
Directions for Taco Meat & Assembly
Heat large skillet over medium-high heat, add 1 tbsp oil, then add ground turkey, and all the seasonings, as well as the remaining salt.

Brown the meat, be sure to break it up.

Once the meat is cooked through, add the tomatoes and chilis.

Cook until the liquid has absorbed- about 3-5 minutes, remove from heat

To assemble, add Romaine to a bowl, top with taco meat, pepper and onions, and garnish as desired
P.S. This page may contain affiliate links. Of course, you're not obligated to use them, but I appreciate the love if you do!