Patatas Bravas (Whole30 + Paleo)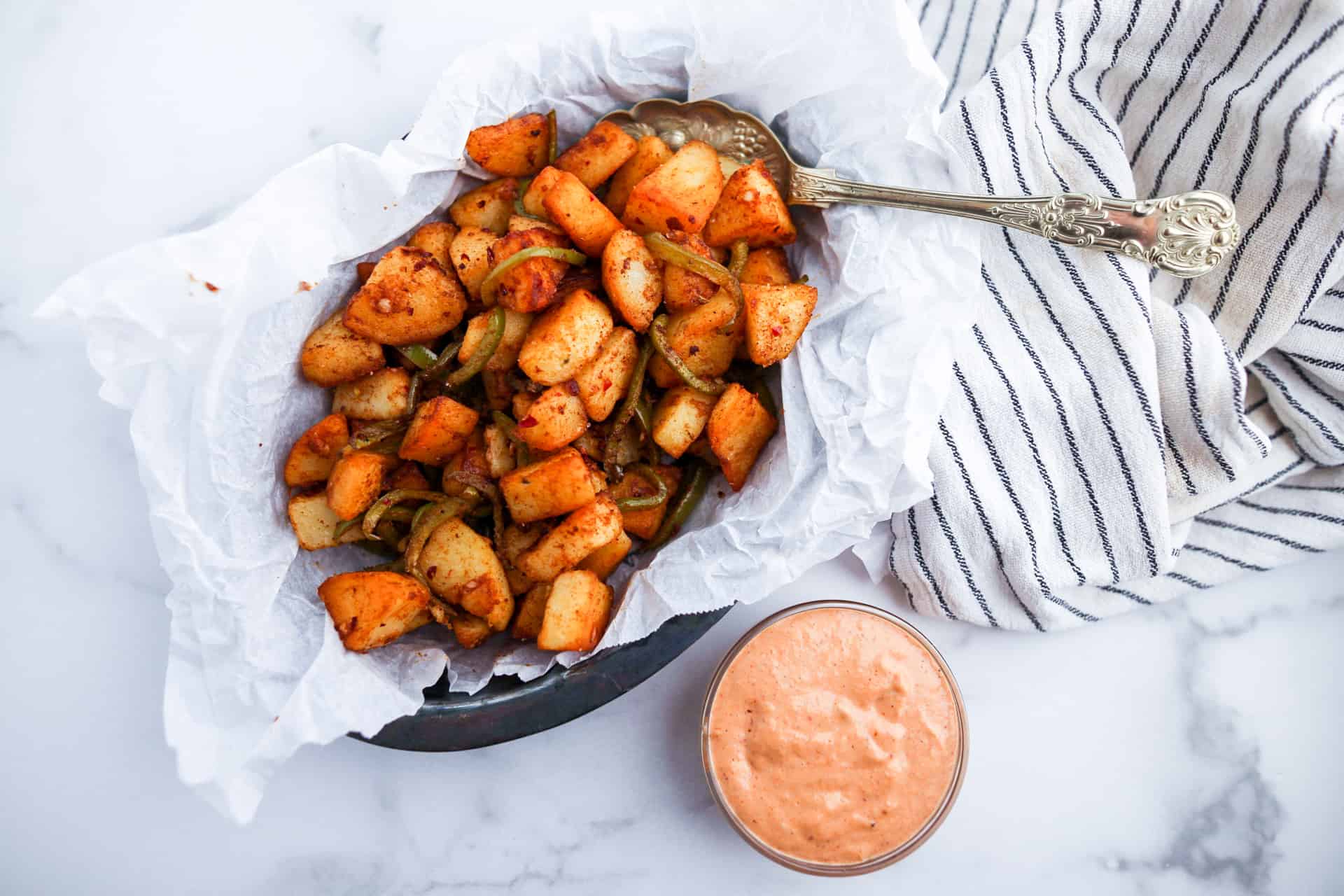 Made in less than 30 minutes, these Patatas Bravas are made with simple and easy ingredients for a delicious appetizer, side dish, or snack that is Whole30, paleo, and kid-friendly to meet all your needs. Make them ahead of time for the perfect addition to any meal!
This recipe is the result of a trip our family took to Chicago this year in order to celebrate our boys' birthdays. We live in the burbs so excursions to the city are sort of a big deal for us and the kids. Admittedly, we didn't get to see much more than our hotel and the pool while away. However, we did manage to enjoy some Chicago-style deep-dish pizza and a family movie night with a much cozier view. No complaints here. 
Yet, while the kids were asleep, Roger and I did get to enjoy the city scenes from our window and spend a few evenings reminiscing our old favorite food memories. Yes, food memories. Haha! It's a thing. One of the dishes we both fondly remember is the Patatas Bravas at Café Ba-Ba-Reeba. This tapas spot was one we went to regularly when we lived in the city whether we were celebrating a friend's birthday or just enjoying their sangria by the pitcher-full. It was the place to be. (If you're not aware, tapas are a snack or appetizer that can be made into an entire meal with multiple small dishes). No matter the occasion, one thing that remained the same was that we had to order the patatas bravas. 
I hadn't thought about this dish in years, but once the memory was planted in my brain I just couldn't shake it. Soon, the cravings hit, and I knew I needed another taste of these potatoes. Plus, with recipes like Rosemary Garlic Roasted Potatoes, Whole30 Smashed Potatoes, and my Spinach and Prosciutto Quiche with a Sweet Potato Crust, I'm no newbie when it comes to potatoes. So, I decided to tackle this recipe myself, and the results did not disappoint!
Keep reading to find out how to make this perfect side dish.
What are Patatas Bravas
You're probably wondering, "What are Patatas Bravas, anyway?" The dish means spicy potatoes and is a common recipe in Spain. Typically, it is made of white potatoes that have been cut into cubes, fried, and served with a special sauce. Traditionally, the sauce is made out of tomato sauce, vinegar, and cayenne pepper, and the whole dish is served very hot. However, over the years, different variations have emerged. For example, some sauces have been created using olive oil, Sauté chili, paprika, and more. Or, other times, the fried potatoes are served with something altogether such as a garlic aioli sauce. No matter how you serve them, the dish is always tasty and readily available in Spain. 
How to Make Patatas Bravas Whole30
To get started with this Patatas Bravas recipe, you'll need to gather a few staple ingredients. Of course, you can always buy a hot sauce or ketchup, but I've tried to recreate the original version using as many traditional flavors as possible. However, feel free to adjust the seasoning amounts, remove ingredients, and adjust spices to fit your needs. Also, the recipe calls for dried chilis, but red chili pepper flakes work as well. 
How to Make Patatas Bravas
While most potato recipes can take well over an hour to make, this dish comes together in less than 30 minutes so you can get to eating!
To start, heat a skillet over medium-high heat, and add your oil, onion, and garlic. Sauté the mixture for 3-5 minutes making sure to stir frequently in order to prevent the garlic from burning. When the garlic has softened, add in the paprika, and let them cool.
In the meantime, toss all the ingredients for the sauce in a food processor or a high-speed blender, and season it with salt and pepper to taste. Then, let it refrigerate, and begin preparing the potatoes by bringing a larger pot of water to a boil.
While waiting for the water to boil, add the garlic, chilis, cumin, paprika, and red wine vinegar to a bowl, and combine until a paste is formed.
Once the water is boiling, add a large pinch of salt and the potatoes. Cook 8-10 minutes or until they are fork-tender making sure not to overcook them. Next, drain the potatoes, and add the potatoes to a hot skillet for another 8-10 minutes, turning them frequently.
Next, add the paste and green pepper, and cook for another 2-3 minutes making sure the potatoes are well-coated. To finish, add sea salt, and serve with the sauce. 
Frequently Asked Questions
Are Patatas Bravas Vegan? 
Yes! This Patatas Bravas recipe is made with all-natural, Vegan ingredients to suit all your dietary needs. 

Are Patatas Bravas Gluten-Free? 
Yes, potatoes, in general, are naturally gluten-free, and this recipe does not call for any gluten-containing add-ins. 

What SHOULD I SERVE WITH Patata Bravas?
No matter how you choose to eat them, hot, cold, as a snack, in a meal, and everything in between, these Patatas Bravas will always be amazing!
Of course, if you make these Patatas Bravas or any of my other recipes, please tag me on Instagram! I'd love to see your creations, connect, and share your page. I hope you love this recipe as much as I do. Stay tuned for new recipes, easy meal plans, decoration tips, and more every week!
In the meantime, enjoy!
Karin
Ingredients
Ingredients for Patatas
3

medium Russet potatoes peeled and large dice* see below for example

3

Tbsp

EVOO

3

garlic cloves

minced

3

dried chilis seeded

finely diced

½

tsp

cumin

2

tsp

paprika

2

tbsp

red wine vinegar

1

small green pepper

thinly sliced

Sea salt and freshly ground pepper to taste
Ingredients for Sauce
2

tbsp

evoo

½

small onion

finely diced

3

cloves

garlic

diced

1

tbsp

paprika

½

cup

mayo

check your labels to remain whole30 or Paleo

1

tsp

tomato paste

1

tbsp

hot sauce

I used Cholula

1

tbsp

red wine vinegar

Large pinch of salt and a few grinds of black pepper
Instructions
Heat a skillet over medium high heat, add 2 tbsp olive oil, add in onion and garlic, stirring frequently to prevent garlic from burning. Sauté for 3-5 minutes, until soften, then add in paprika and allow to cool. In a food processor or high-powered blender, add all the ingredients for the sauce, and season with salt and pepper to taste. Place in a bowl and refrigerate while you prepare the potatoes

In a medium to large pot, bring water to a boil, while you are waiting for the water to boil, make the paste. In a small bowl or measuring cup, add the garlic, chilis, cumin, paprika, red wine vinegar until you form a paste, set aside

Once the water is boiling, add large pinch of salt, and the potatoes, cooking until just fork tender, about 8-10 minutes. Be sure not to overcook, as they can more easily break. Drain and allow to cool

Heat a skillet over medium-high heat, add the oil, and carefully add the potatoes, turning them frequently, until golden- about 8-10 minutes

Add the paste, and green pepper, carefully mixing, ensuring everything is evenly coated, cook for another 2-3 minutes, add course sea salt to taste

Serve potatoes with sauce
P.S. This page may contain affiliate links. Of course, you're not obligated to use them, but I appreciate the love if you do!