I am passionate about taking simple moments, like movie nights, and making them more magical. In my opinion, it's the best way to create long-lasting memories our boys can carry into adulthood. However, what is movie night without snacks? On these special nights, I do my best to incorporate healthier snack options that are not only tasty but also fun for everyone. Lately, our popcorn mixes have really been a hit, and it's been a fun push for me to get creative based on what movie we're watching. Most recently, we have been working our way through the Star Wars series so I knew I needed something fun to munch on while we watched the epic lightsaber battle!
Traditionally, movie nights involve popcorn, am I right? So, not wanting to deviate too far from tradition, I decided not to get rid of the same old popcorn my family loves but to simply make it even better. But, how do you make buttered popcorn Star Wars themed? Of course, you could experiment with different food colorings and add-ins, but I settled on pretzels, chocolate, and marshmallows!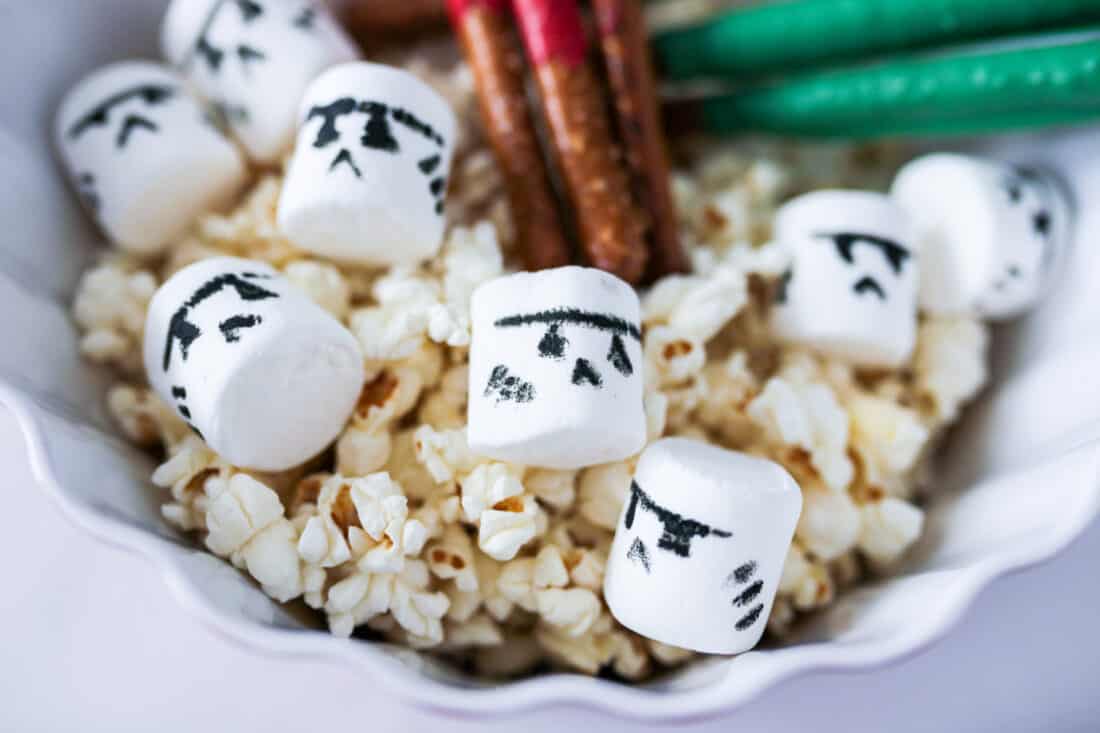 What You'll Need to Create Star Wars Popcorn:
Blue and red chocolate melts
Popcorn
Large pretzel rods
Large marshmallows
Edible color marker
To start, meltdown blue and red-colored chocolate in separate bowls according to the package instructions. Then, lay the pretzel rods down on parchment paper. Swirl the chocolate over the rods using one color at a time. Be sure to turn and roll the pretzels in order to ensure that every inch is covered in chocolate. Be sure to leave enough room for the "handle." Repeat this step alternating chocolate colors until all the chocolate has been used. When the chocolate has dried, it will be solid, and the pretzels will resemble lightsabers. (It's up to you whether or not you encourage "lightsaber" pretzel fights, but it may be unavoidable).
Next, using an edible marker pen, draw the face of the stormtrooper on each marshmallow following the pictures and instructions below for guidance.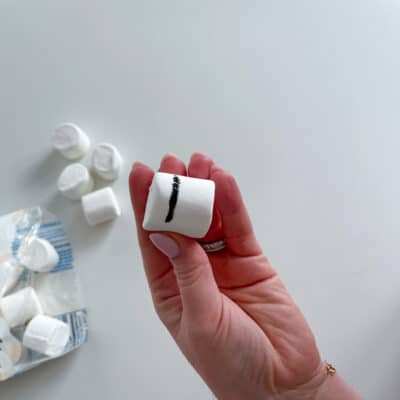 First, make a solid horizontal line across the top of the marshmallow. You want this line to be fairly thick.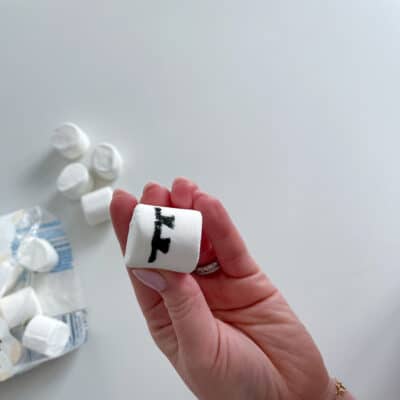 Second, draw the stormtrooper's eyes by creating triangle shapes. Make sure the tip of the triangle is hidden in the first horizontal line.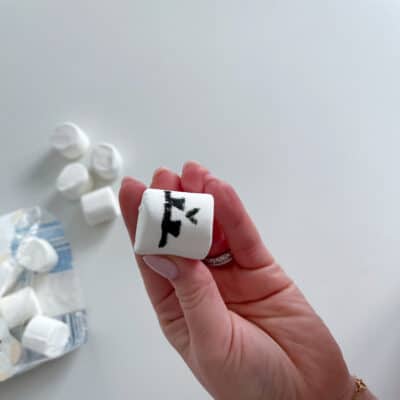 Then, draw three dots on each side of the marshmallow to represent the stormtrooper's helmet.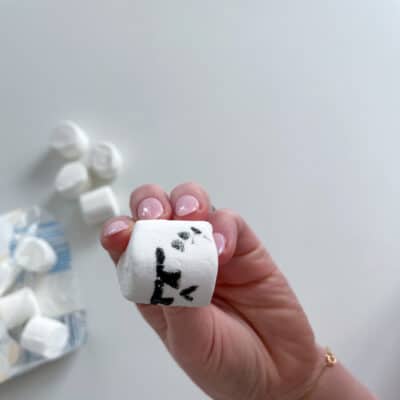 Finally, using the aforementioned three dots as guidance, extend three lines in an upward motion stopping about halfway up the marshmallow.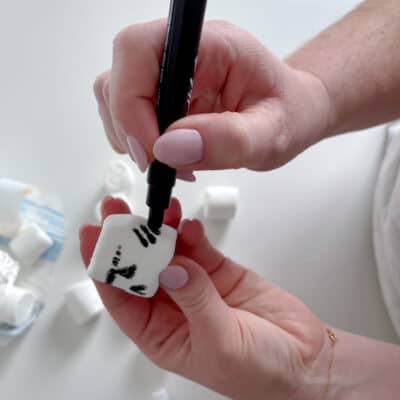 Now, pop your popcorn according to the instructions, and in your pretzel lightsabers, and toss in the stormtrooper marshmallows to create an epic movie night snack your whole family will love!
Tips for Making and Serving Star Wars Popcorn:
If you can't find chocolate that has already been colored, you can use white chocolate and food coloring. In order to achieve the red and blue colors, just melt the chocolate according to instructions. Then, add in food coloring a bit at a time, stirring until your desired color is achieved.
To melt the chocolate, I personally find using the microwave is easiest. However, you can absolutely melt your chocolate using a stovetop. Of course, as previously stated, the package should include instructions for how the best method for melting.
When it comes to pretzels, you want to be sure to use thick rods. Other shapes won't yield a fun lightsaber effect, and the small rods are not usually thick enough to hold the weight of the chocolate. Plus, they don't leave much room for a handle which leads to messy hands.
If you can't find edible markers at your local grocery or craft stores, you can purchase them here or here.
This recipe is the perfect way to get the kids involved in the kitchen! Have them help dip pretzel rods, let them create their own stormtroopers, or buy a fun popcorn such as Jiffy Pop that can be heated on the stove, and watch their excitement as they witness the kernels popping.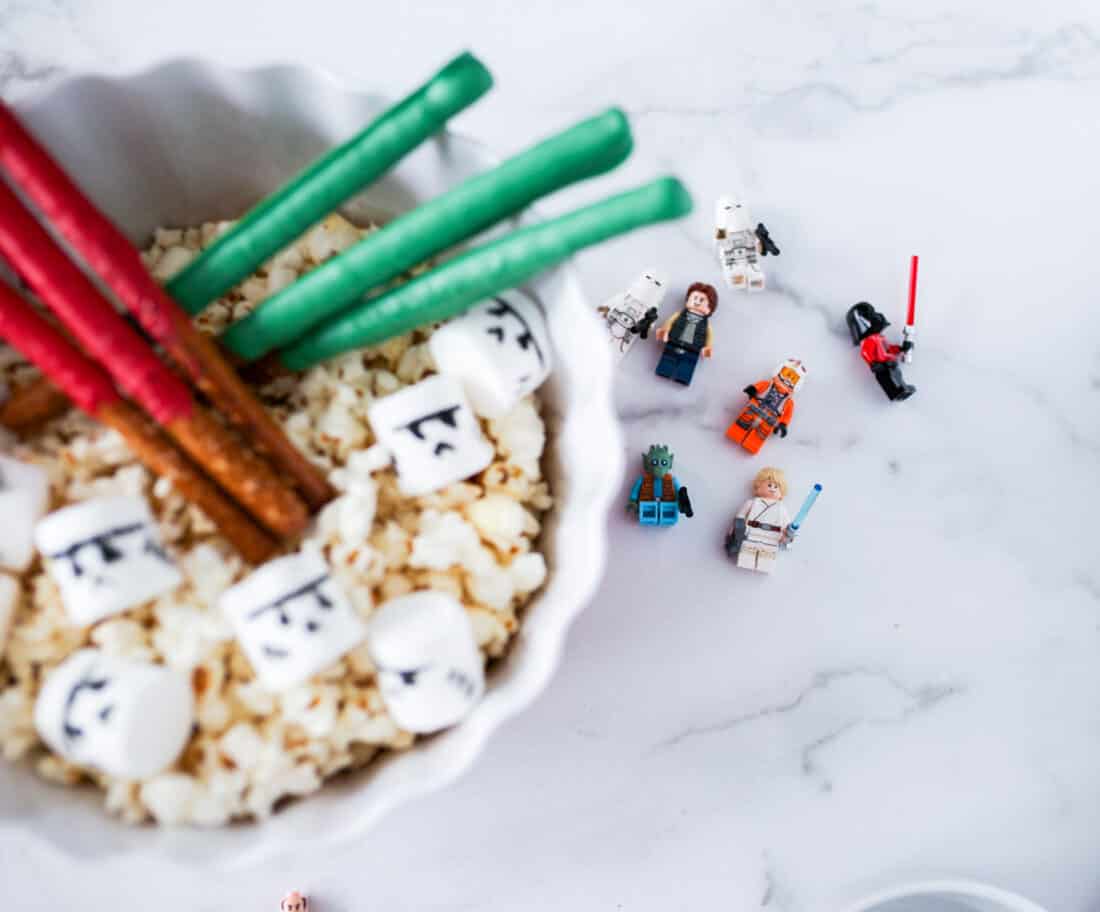 Looking for More Movie Night Snacks and Kid-Friendly Recipes?
For more fun popcorn mixes and family-friendly movies check out this article! However, while we sometimes may want to, we can't live on nothing but popcorn and chocolates. Getting kids to eat healthy meals can be a challenge. Yet, throughout the years and with much trial and error, I've come up with a few foolproof recipes my kids actually request! For example, these Easy, Paleo, Kiddie Corn Dogs are a fun take on a carnival classic. Or, these Zucchini & Carrot Fritters are the easiest way to get your kids eating veggies! If you make any of these meals, be sure to tag me on Instagram. I'd love to see your creations!
Do you have any special traditions you're creating with your kids? Let's swap stories, share ideas, and connect in the comments below!
In the meantime, enjoy!
Karin
P.S. This page may contain affiliate links. Of course, you're not obligated to use them, but I appreciate the love if you do!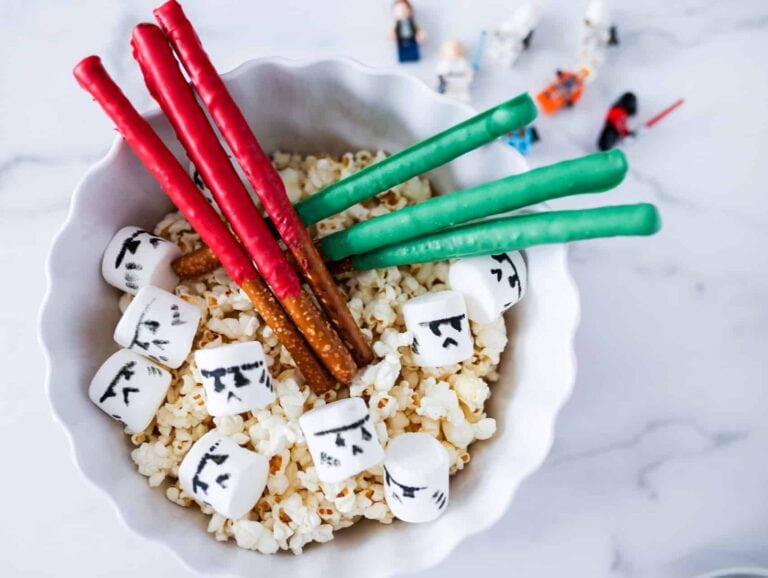 Ingredients
Blue and red chocolate melts

Popcorn

Large pretzel rods

Edible color marker
Instructions
Melt chocolate per the package recommendations.

Lay pretzel rods on parchment paper and drizzle melted chocolate over top- turning and rolling in order to cover all the way around the pretzel rod, ensuring you leave sufficient room for the "handle". Allow to dry completely.

Using the black edible marker, create the Stormtrooper (see photos above).

Place popcorn in a large bowl, and top with lightsabers and stormtroopers.