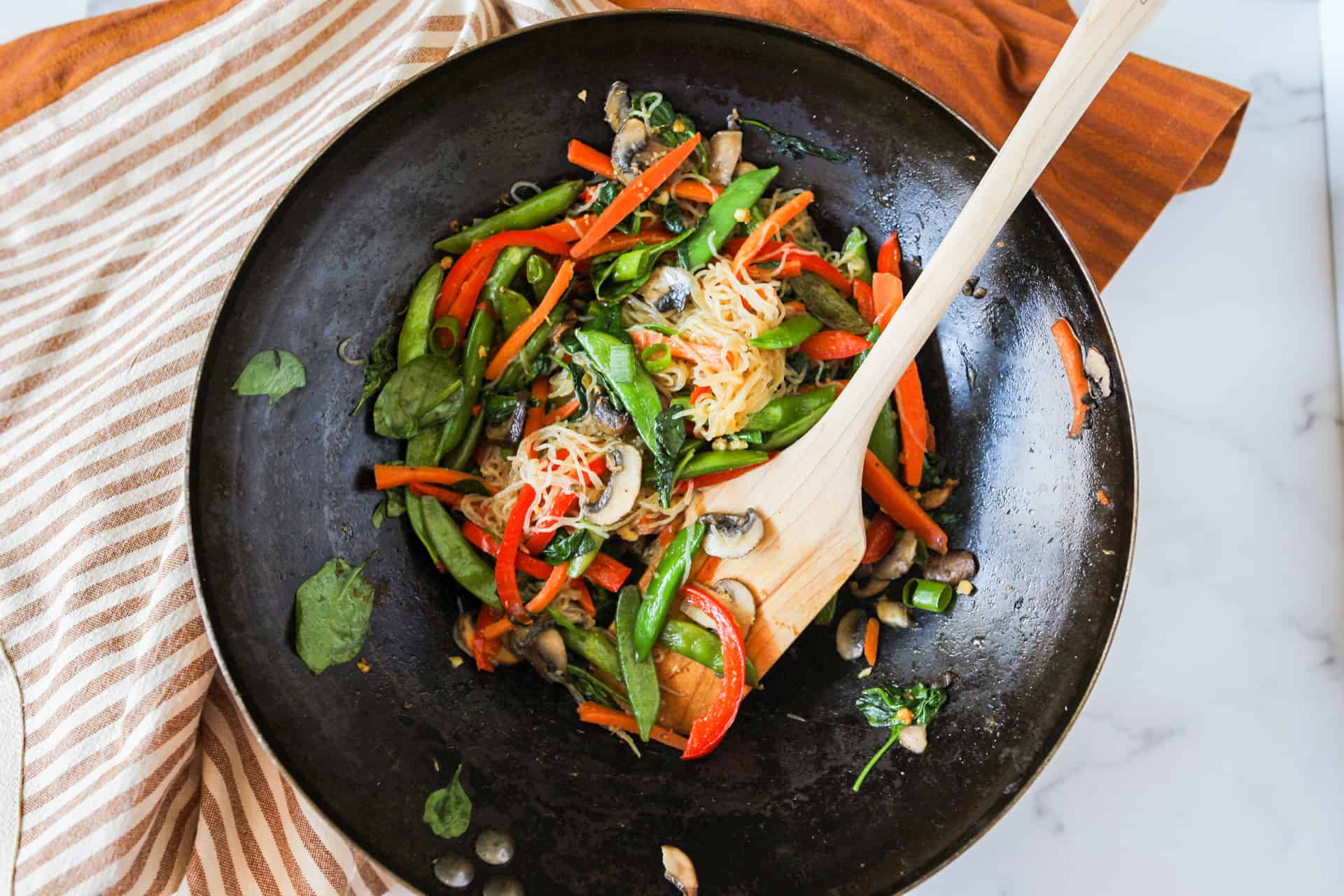 Made with fresh vegetables and a simple homemade sauce, this Whole30 Lo Mein recipe is the perfect healthy alternative to your favorite takeout meal!
What's better than ordering takeout for dinner? Making a healthy alternative that is Whole30 and every bit as delicious as your favorite restaurant's version!
I don't know about you, but I love lo mein recipes. On busy nights or weekends, it's sometimes impossible to resist picking up the phone and ordering this crazy good comfort food from our local restaurant. Packed with yummy noodles and that incredible sauce, lo mein is definitely one of my favorite indulgences.
However, what I don't love is how I feel after eating. It's no secret that takeout is packed with unhealthy ingredients like MSG and saturated fats that leave us feeling icky. So, I set out to develop the perfect lo mein recipe to cure my cravings while sticking to my diet and fueling my body with foods I know will make me feel great. As a result, I created this Better for You Lo Mein with fresh vegetables, nutritious spices, and healthy oils for a "takeout" dinner your whole family is going to love! I recommend you make the sauce in bulk, and use it for all your condiment or stir-fry needs for incredible tasting meals in minutes.
If you're looking for more dinner recipes for healthier alternatives to your favorite restaurant meals, take a look at this Paleo Prosciutto and Arugula Pizza, the Perfect Burger with Seriously Good Sauce, Whole30 Baked Chicken Fajitas, or my favorite Taco Stuffed Mini Peppers with a Cilantro Jalapeño Sauce. Like this Lo Mein recipe, they're all Whole30 and Paleo friendly and packed with nutrient-dense ingredients for meals that taste so good your little ones won't even realize they're healthy!
To make the experience even more special, get your kids involved in the kitchen where they can learn about different cooking techniques and be introduced to foods to peak their curiosity and expand their palate. Start with this Lo Mein having them prep veggies, stir noodles, or mix the sauce!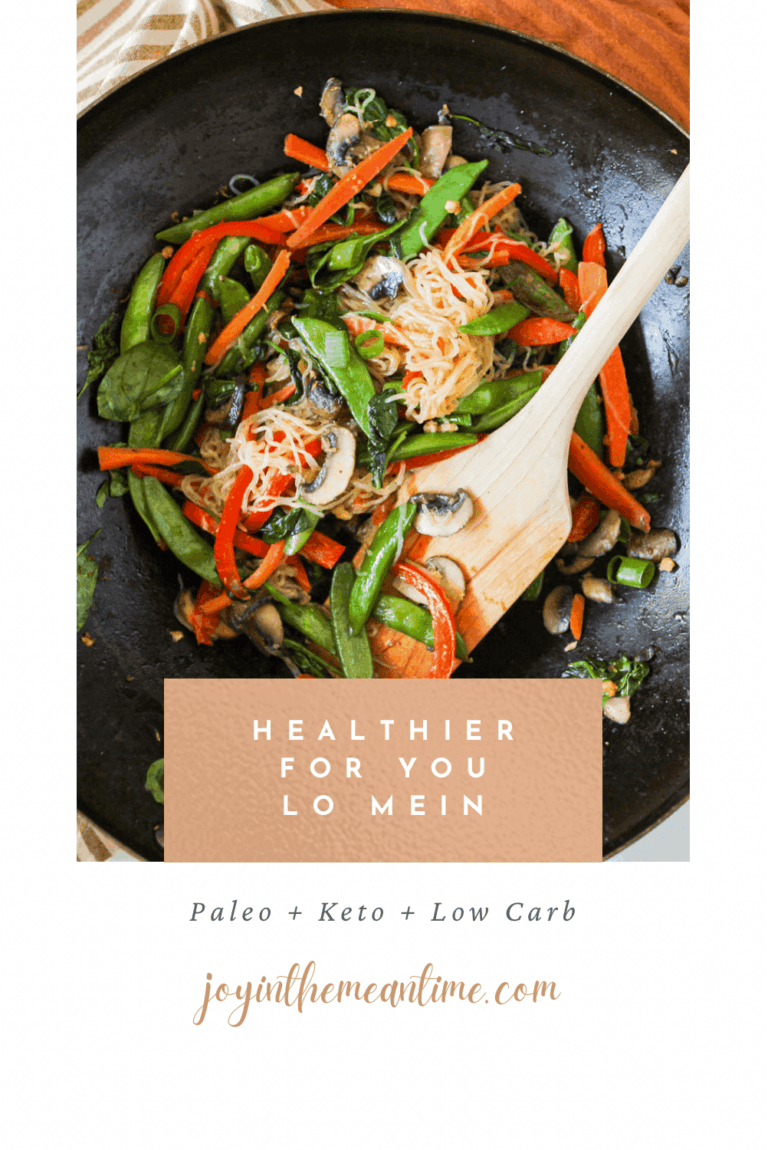 How to Make Homemade Lo Mein
Made in just 5 steps with simple ingredients, this Lo Mein is even faster than takeout!
To get started, prepare your vegetables by washing, slicing, and julienning them. Then, whisk all of your sauce ingredients in a small bowl, and set it aside for later.
Next, drain your Shirataki noodles according to the package instructions.
Then, heat your olive oil in your favorite skillet or wok over medium heat. Once hot, add in your mushrooms, carrots, and peppers. Cook your veggies until tender making sure to stir frequently. This should take roughly 3-4 minutes. Now, add in your peas and garlic, and continue to stir for another 2-3 minutes or until soft before adding your spinach.
Gently add your drained noodles to the sauce, and toss them until evenly coated. Add in your veggies, give it a stir, garnish with green onions, and enjoy!
What Are Shirataki Noodles
Also, known as "Miracle Noodles," Shirataki noodles are super low-carb and low-calorie noodle alternatives made out of Glucomannan which is a type of fiber found in the roots of Konjac plants. The fiber is turned into a form of flour that is then mixed with water and a bit of lime juice in order to shape long white or translucent noodles. As a result, the noodles are 97 percent water and have no digestible carbs. They have virtually no taste making them perfect for recipes like lo mein as they easily absorb the flavor of the sauce! If you want to learn even more about Shirataki noodles, be sure to take a look at this article.
Lo Mein Noodle Alternatives
Traditional Lo Mein recipes are made with egg noodles. While egg noodles are delicious, they're not the most nutrient-dense food in the world. So, in an attempt to make this dish a little more calorie-friendly as well as Whole30 and Paleo, I used Shirataki noodles instead. However, you could also use zoodles (zucchini noodles), coodles (carrot noodles), or even heart of palm instead! Full disclosure, if you're following a Whole30, Paleo, or another specific diet protocol, swapping out the noodles may alter this recipe's compliance with your needs.
Alternative Healthy Lo Mein Recipe Ingredients
This Lo Mein recipe is a great way to use up any leftovers you have in the fridge! Feel free to swap out the vegetables for any you have on-hand. Or, add even more to this meal, if you like. Also, adding a protein source like chicken or shrimp is an easy way to bulk up this meal with healthy protein to keep you full. If you're looking for inspiration, a few ingredient add-ins include:
Bok Choy


Water Chestnuts


Cabbage


Water Chestnuts


Baby Corn


Bamboo Shoots
Meal Prep & Storage
Lo Mein makes an incredible meal prep recipe! All you have to do is prep it ahead of time, place it in an airtight container, and store it in the container for 3-4 days. Then, just reheat it on a skillet, or pop your lo mein in the microwave to reheat.
Alternately, you can make this Lo Mein recipe in bulk, and store it in the freezer for 2-3 months for easy, healthy meals in a pinch. Simple thaw it out ahead of time, reheat, and enjoy!
My family loves this recipe for fun weekend dinners or weeknight meals in a pinch, and we hope you do, too.
Of course, if you make Lo Mein or any of my other recipes, please tag me on Instagram! I'd love to see your creations, connect, and share your page. I hope you love this recipe as much as I do. Stay tuned for new recipes, easy meal plans, decoration tips, and more every week!
In the meantime, enjoy!
Karin
Ingredients
2

7oz packages of Shirataki noodles* additional noodle options below

2

Tbsp

EVOO

3

garlic cloves

minced

2

cups

mushrooms

sliced

1

red bell pepper

julienned

1

carrot

julienned

½

cup

snow or snap peas

3

cups

baby spinach

Green onions

sliced for garnish

3

Tbsp

coconut aminos

1

tsp

sesame oil

1

tbsp

fresh ginger

minced (or sub ½ tsp ground ginger)

1

tsp

hot sauce

I use Cholula

2

cloves

garlic

minced
Instructions
Whisk together the sauce ingredients and set aside

Drain shirataki noodle according to packaging

Heat olive oil in a skillet or wok and add mushroom, carrots and pepper. Cook stirring frequently, until tender 3-4 minutes. Add in peas and garlic, continuing to stir for 2-3 more minutes, add the spinach, stir until wilted

Gently add in the noodles and sauce, tossing to combine

Garnish with green onions and serve immediately
P.S. This page may contain affiliate links. Of course, you're not obligated to use them, but I appreciate the love if you do!