Made with simple and fresh ingredients, these Taco Stuffed Mini Peppers with a Cilantro Jalapeño Sauce are a low-carb lunch or dinner you're going to love!
Carrying on with the theme of all things beef, taco, and Cilantro Jalapeño Sauce related (if you haven't checked out that recipe, listed here, you're definitely missing out!), these stuffed peppers with ground turkey are quick, easy, and so delicious!
Even better, my boys love this recipe as a healthier alternative to nachos. It's also worth mentioning that they get excited, because they can eat this meal with their hands. It's the little things in life, ya know?
Personally, I think this meal is great for fun appetizers, quick lunches, or lighter dinners. Made with ground turkey instead of beef, they're slightly lower in fat than traditional taco recipes. Don't be fooled though, they're packed with tons of flavor in every bite!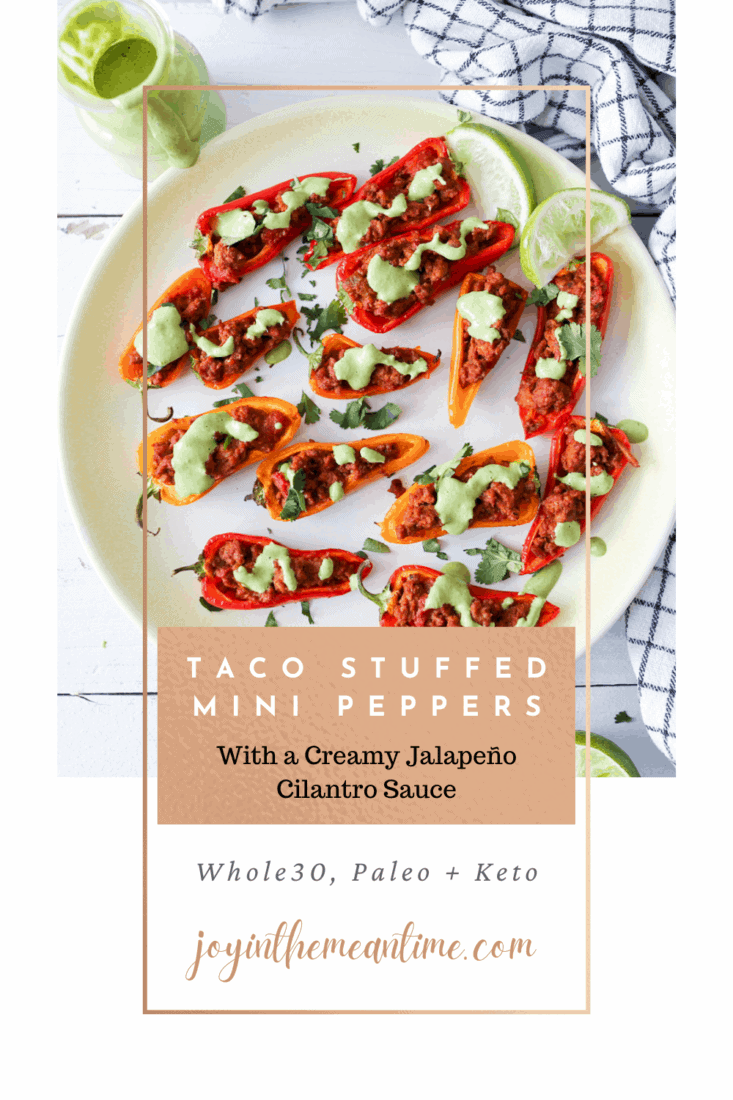 Basically, what I'm trying to say is this stuffed peppers recipe is perfect for all your food and nutrition-related needs. Plus, they can be made in big batches so you spend less time in the kitchen and reduce the amount of dishes used. That's a huge win in my book.
If you're looking for even more easy and Whole30 family-friendly recipes, be sure to check out this Taco Bowl with Jalepeño Cilantro Sauce, this quick Beef Burger Bowl, or my Whole30 Baked Chicken Fajitas!
Now, back to these taco stuffed peppers with ground turkey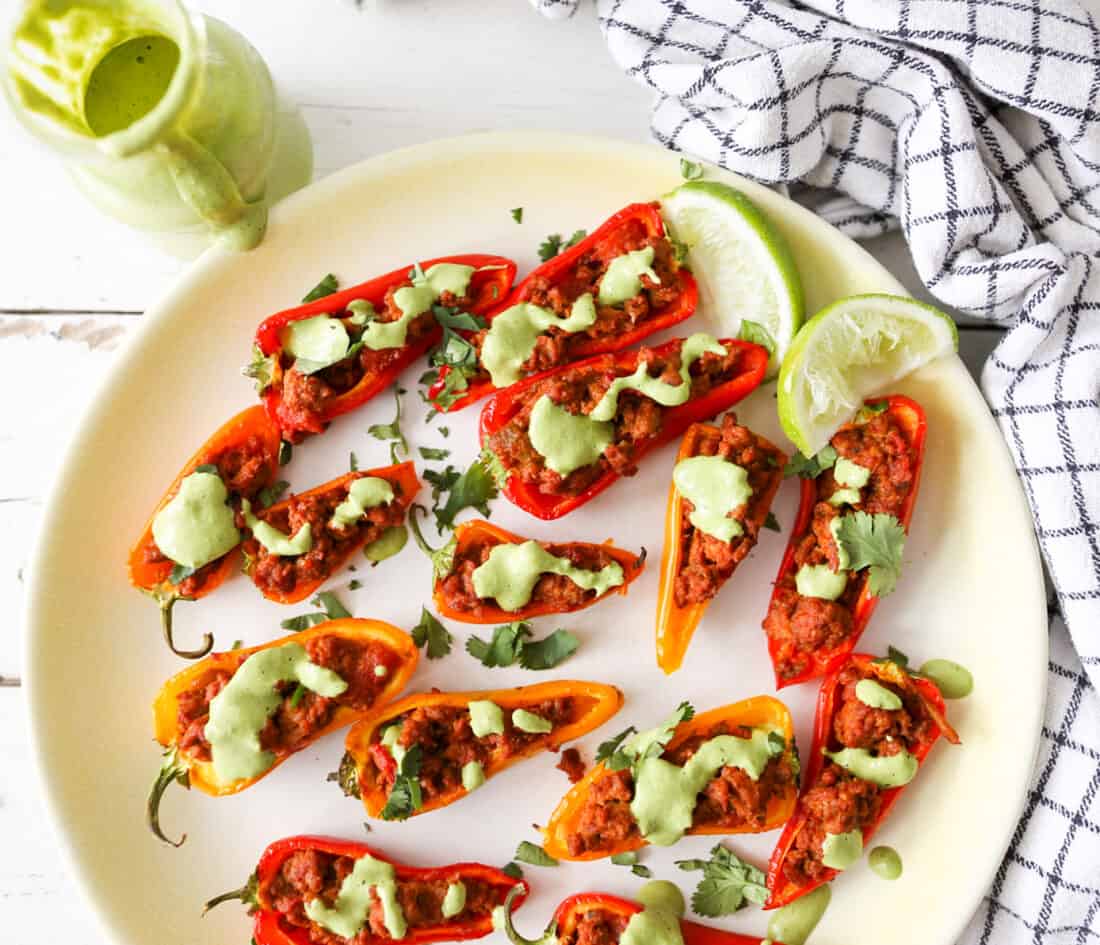 Ingredients
Made with only 11 ingredients, this recipe is short and sweet. However, if you want to make it even shorter, feel free to omit the spices for a Taco seasoning mix! My favorite is the Siete Foods Mild Taco Seasoning Mix. To get started you'll need the following ingredients:
Mini sweet peppers


Salt


Extra virgin olive oil


Lean ground turkey


Chili powder


Oregano


Ground cumin


Black pepper


Diced tomatoes


Green chilis


Cilantro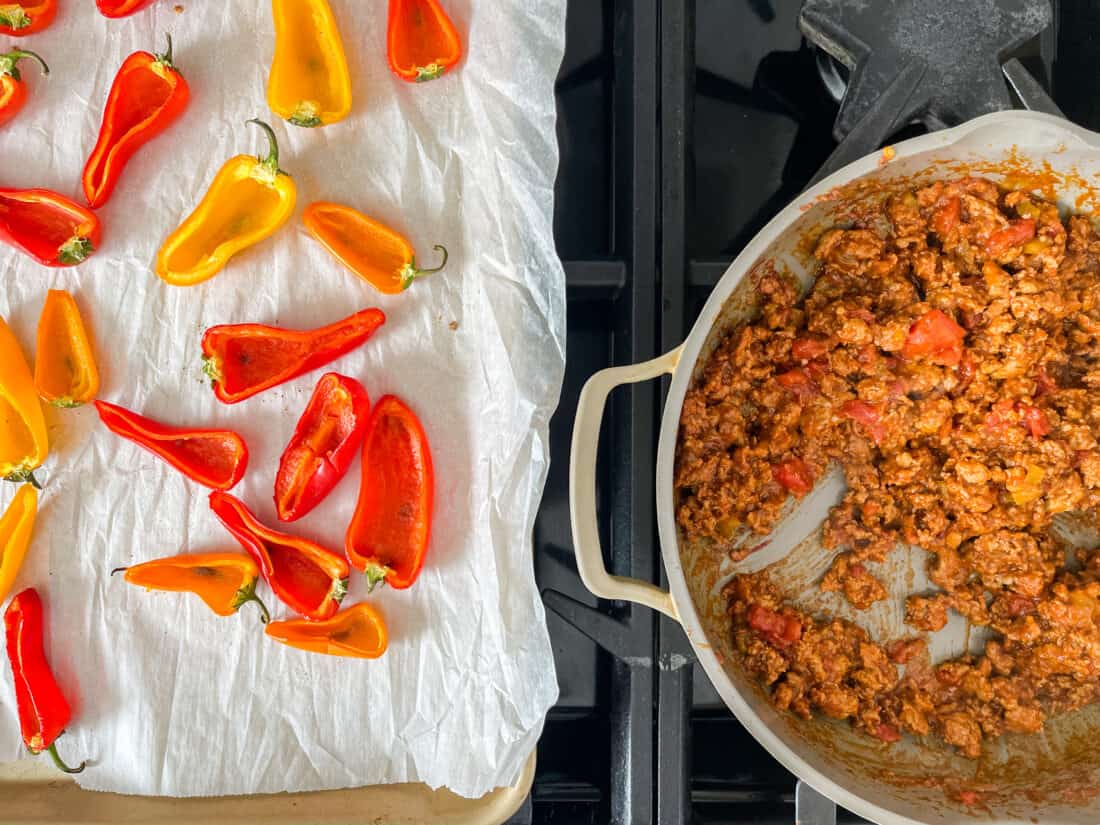 Instructions
These stuffed peppers with ground turkey are ready in just 5 easy steps for the quickest meal ever! I know, I know. There are 6 steps listed below, but does serving really count as a step? Not in my book, at least!
Preheat. Preheat your oven to 375 degrees Fahrenheit, and line a baking sheet with parchment paper.


Slice. Slice the peppers in half, and place them on the baking sheet cut-side up. Sprinkle them with salt, and able for 15-20 minutes or until soft. Be sure to leave your oven on!


Brown meat. While the peppers are baking, heat a large skillet over medium-high heat, and your oil first, then the ground turkey, and follow with your seasonings and salt. Now, brown the meat in your skillet, making sure to break it up into small pieces.


Add ingredients. Once the meat has fully cooked, add in your tomatoes and chilis. Let it sit, making sure to stir frequently, until the liquid has absorbed. This usually takes about 3-5 minutes, and remove the skillet from the heat.


Stuff peppers. Using the cooked turkey, fill the baked pepper halves, and return them to the oven to heat through for 5 minutes.


Tops & serve! Once cooked, let the peppers cool slightly, and drizzle the Cilantro Jalapeño Sauce over the top. Garnish them with cilantro, and serve either hot or room temperature!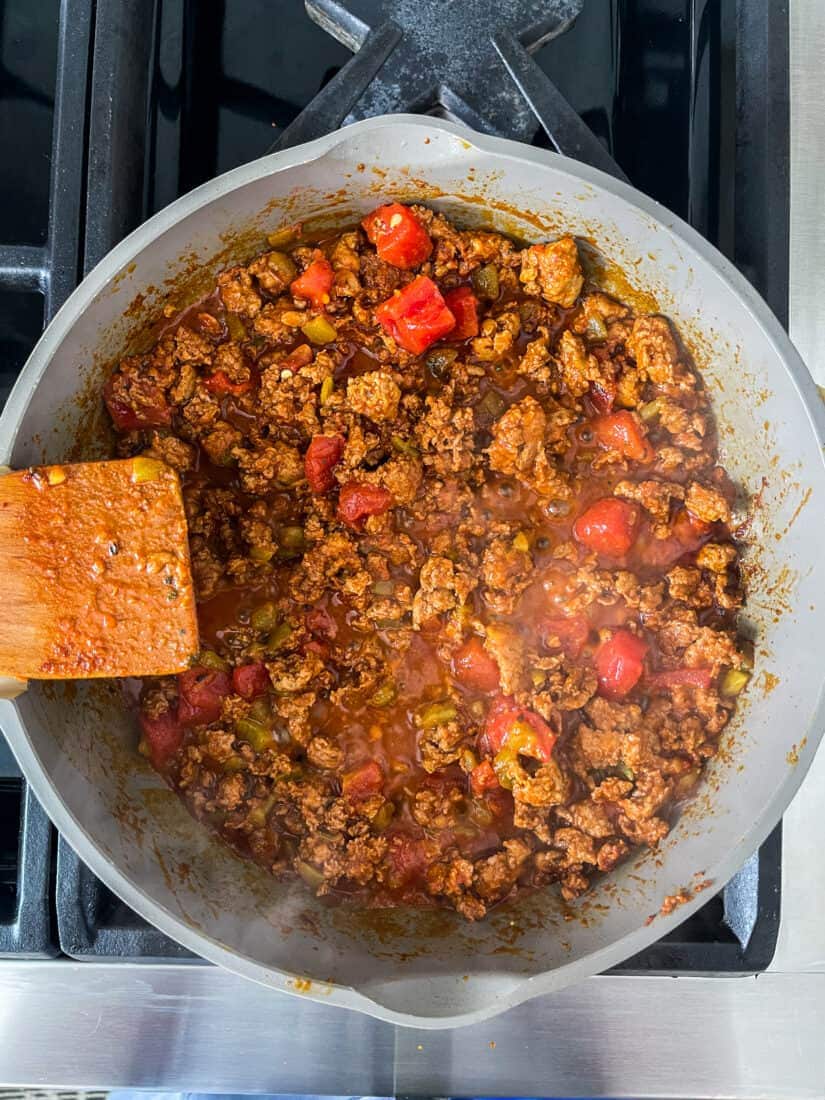 Additional toppings
In my opinion, the simplicity of this stuffed peppers recipe is part of why it's so good. The heat of the sauce adds the perfect amount of flavor. However, if you're looking to really load your peppers up with toppings, I recommend starting with these:
Shredded cheese


Sour cream


Jalapeños


Salsa


Shredded lettuce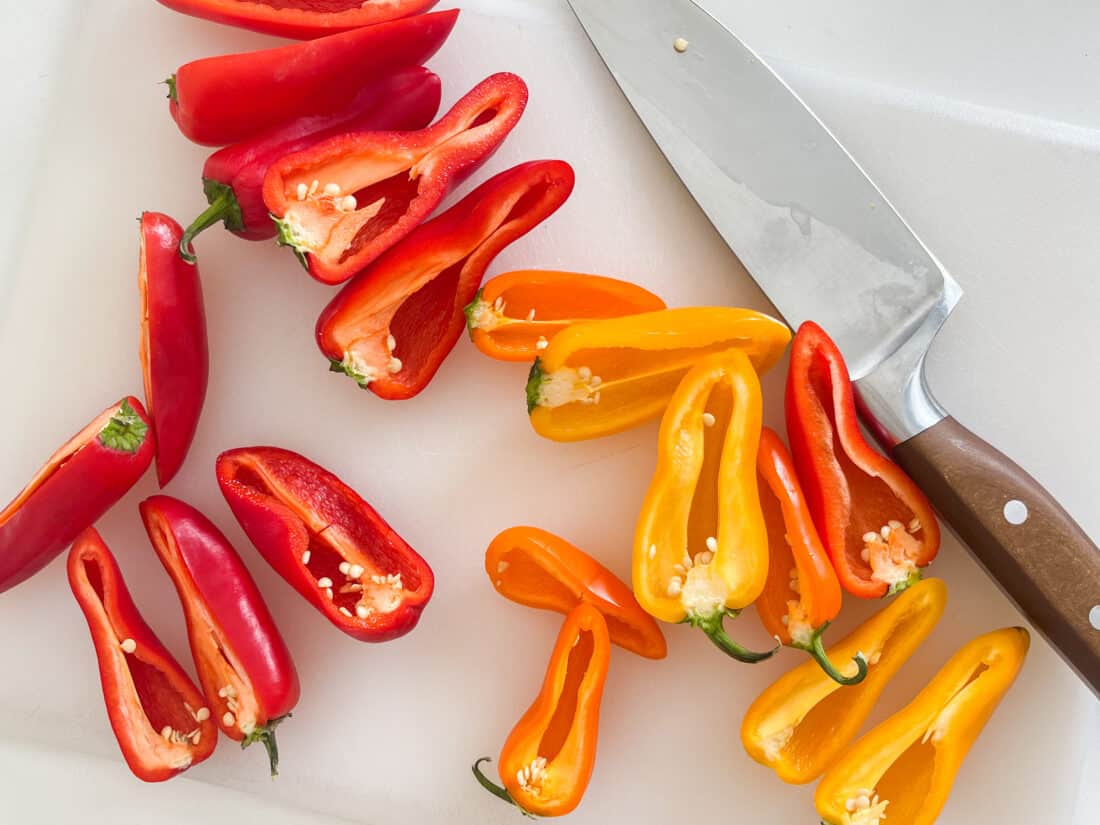 Bell pepper nutrition
Bell peppers are such a great low-carb option for everything from tortilla chips to sandwich bread, tortillas, and more. Delicious and full of flavor, they're also filled with tons of health benefits! To learn more about bell peppers and why they should be included in a healthy diet, keep reading here. However, if you just want the condensed version, check out these amazing benefits including:
Lowered blood pressure – Bell peppers are loaded with vitamin C which helps remove excess body fluid from the body and has been linked to lower blood pressure levels.
Reduced risk of heart attack – Bell peppers contain an anticoagulant known to reduce the risk of heart attacks by preventing blood clots.
Reduced risk of diabetes – Containing high amounts of both vitamin C and fiber, bell peppers can help slow down the rate at which sugars are absorbed in your bloodstream. They can also aid in reducing elevated blood sugar levels for those with Type 2 diabetes in particular.
Improved digestion – While aiding in the process of regulating blood sugar levels, the high amounts of fiber in peppers also helps to regulate your digestion and keep you full.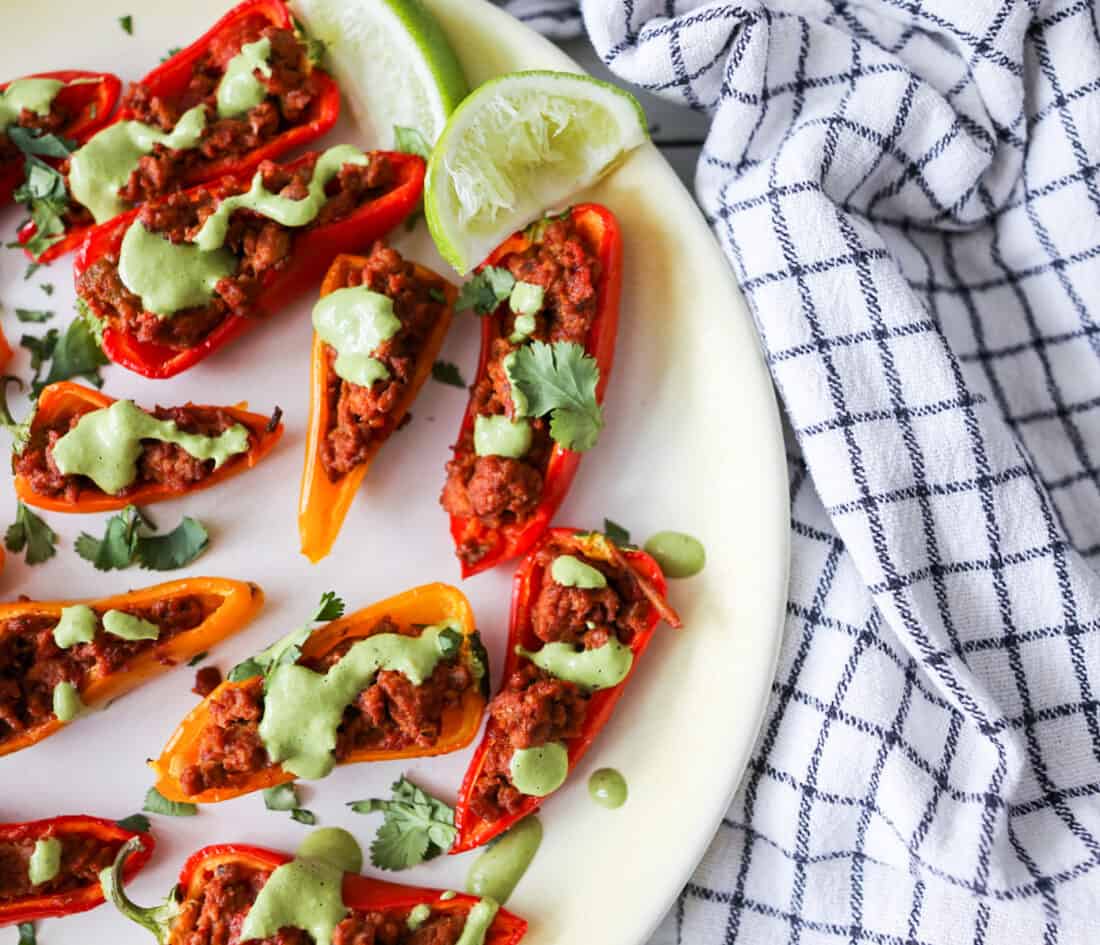 Frequently asked questions
Can I use a different meat source for these stuffed peppers with ground turkey? 
Yes, the meat in this recipe can easily be substituted! I recommend using beef, but ground chicken would work as well. Just be mindful of the fat content! You might want to add more oil for leaner meats or reduce it for fattier varieties.
u003cbru003eHow long will these stuffed peppers last?
When stored in an airtight container in the fridge, stuffed peppers will stay fresh for 3-5 days.
u003cbru003eCan I use regular-sized bell peppers? 
Absolutely! Feel free to use any sized peppers you want for this stuffed peppers recipe. Just adjust the ingredient portions as needed.
u003cbru003eCan I freeze stuffed peppers?
Stuffed peppers can be frozen. Just place them in a freezer-safe dish. Or, wrap each pepper in plastic wrap and place them all in a freezer-friendly bag. Then, store your stuffed peppers for at least 3 months. Check out u003ca href=u0022https://www.chilipeppermadness.com/cooking-with-chili-peppers/freezing-stuffed-peppers/u0022 target=u0022_blanku0022 rel=u0022noreferrer noopeneru0022u003ethisu003c/au003e guide for more information and how-to's!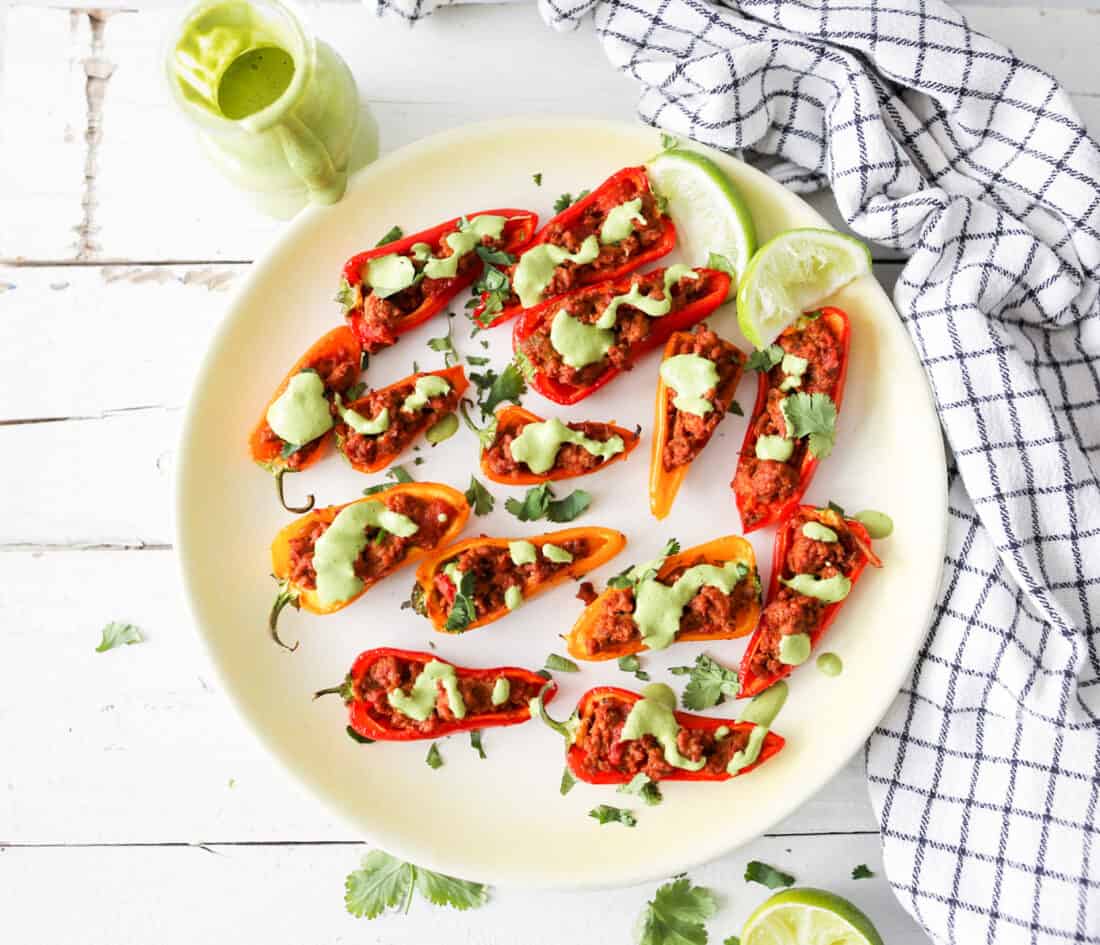 That's all, folks! Can you believe how easy this recipe is? Of course, if you make this or any of my other recipes, please tag me on Instagram! I'd love to see your creations, connect, and share your page. I hope you love this recipe as much as I do. Stay tuned for new recipes, easy meal plans, decoration tips, and more every week!
In the meantime, enjoy!
Karin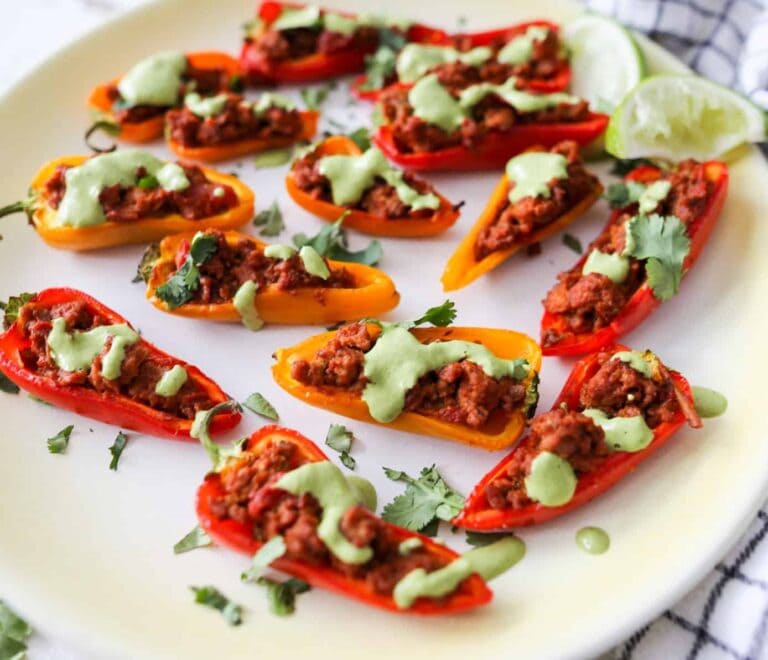 Ingredients
1

lb.

mini sweet peppers – about 20-30 depending on size- halved lengthwise

stems on, and seeded

1

tsp

salt

divided

1

tsp

extra virgin olive oil

1

lb.

lean ground turkey

1

tbs

chili powder

½

tsp

dried oregano

1

tsp

ground cumin

¼

tsp

ground black pepper

1

10-oz can diced tomatoes

1

4-oz can diced green chilis

2

T

cilantro

finely chopped

Sauce recipe linked
Instructions
Preheat oven to 375 degrees, and while oven is warming, line baking sheet with parchment paper

Place peppers cut side up, sprinkle salt over all the peppers- about 1 tsp, and bake for 15-20 minutes until softened- leave the oven on

While the peppers are baking, heat a large skillet over medium-high heat, add oil, then add ground turkey, and all the seasonings, as well as the remaining salt. Brown the meat, and ensure you break it up, so that it will fit nicely in the peppers. Once the meat is cooked through, add the tomatoes and chilis, until the liquid has absorbed- about 3-5 minutes, remove from heat

Carefully fill the baked pepper halves and return to the oven to heat through for 5 minutes

Let cool slightly, and drizzle sauce over top, garnish with cilantro and serve either hot or room temperature
P.S. This page may contain affiliate links. Of course, you're not obligated to use them, but I appreciate the love if you do!