Made with lean meat, seasonings, and a few secret special ingredients, this Burger Bowl recipe is a crowd-pleasing meal to cure your fast-food craving!
Who doesn't love a good burger?! Made with or without cheese, including bacon, adding crazy ingredients like peanut butter or onion rings, or simply eaten with ketchup, there seems to be a burger to satisfy any palate.
Don't get me wrong, I love this classic American food as much as the next person. However, what I don't love is all the carbs, calories, saturated fat, and processed ingredients that come with the fast food varieties. So, in an attempt to make my family's favorite meal just a bit healthier and Whole30 compliant, I invented these incredible Burger Bowls!
They've got all the flavor you're looking for from a big juicy burger in a single, healthy, low-carb bowl that will leave you feeling full, satisfied, and energized instead of lethargic and groggy! Even better, these Burger Bowls are family-friendly and can be modified to fit nearly anyone's needs. Paleo, Whole30, and Keto, they're the perfect meal prep lunch or easy dinner! As a result, this meal is pretty much on a constant rotation in my house.
To make this recipe, first chop your bacon into bite-sized pieces and heat a skillet over medium high heat. Once hot, add the bacon and cook until crispy (or the desired texture is reached). Remove the bacon from the skillet, and place it on a plate lined with paper towels in order to drain the excess fat.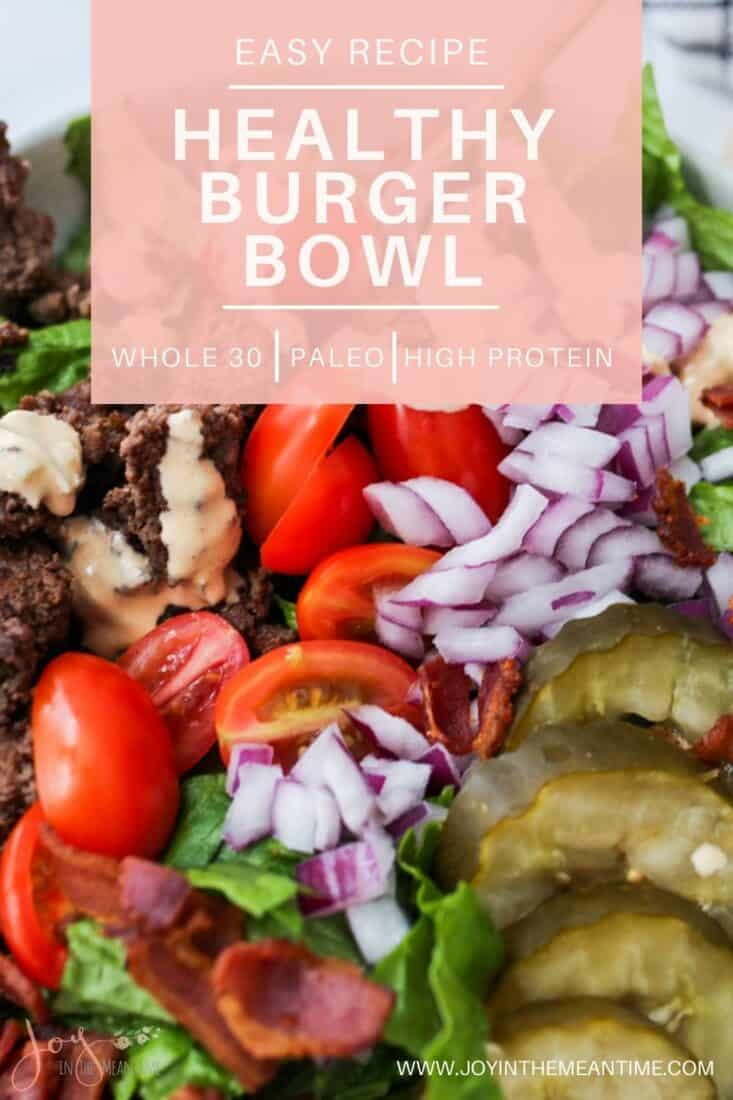 Next, remove the leftover bacon fat from your skillet, and brown your beef. Once beef begins to brown, add in your spices making sure to reserve the pickle juice for later. I know, it sounds strange, but trust me on this one!
While the beef is cooking, mix together all the ingredients for your special sauce and set it to the side. Afterward, when the meat has fully cooked, add the pickle juice to the skillet. Allow the juice to fully marinate and absorb into the beef. Then, immediately remove the skillet from the heat, and assemble your Burger Bowls.
Tips to Cook the Perfect Burger Beef:
Of course, ground beef and formed and molded burgers are not the same. Sure, they're both made with ground beef, but there's just something about the texture and integrity of a burger that is just so appealing. So, in an attempt to bring that same satisfaction to these Burger Bowls, I have discovered a few secrets listed below to help make ground beef taste (almost) exactly like a burger.
The pickle juice is essential, even if you don't like pickles! I promise this step doesn't make your beef taste like pickles. However, what it does do is add more dimension to the flavor of your beef. The sweetness and saltiness of the pickle juice work to complement and enhance the heartiness of the beef making for a mouth-watering meal. Plus, the juice works to add any lost moisture back into the meat keeping it soft and juicy rather than hard and rubbery.
The best way to achieve a more burger-like texture is to make sure your pan is hot before adding the beef. Let the pan sit on the stovetop a few minutes to ensure it is evenly heated without becoming hot enough to scorch the beef.
Once you add the beef, let it sit. Instead of continually stirring and breaking up the pieces, let the bottom crisp up a bit and flip only a few times. This method will lead to larger beef pieces that are slightly thicker and juicier than typical ground beef.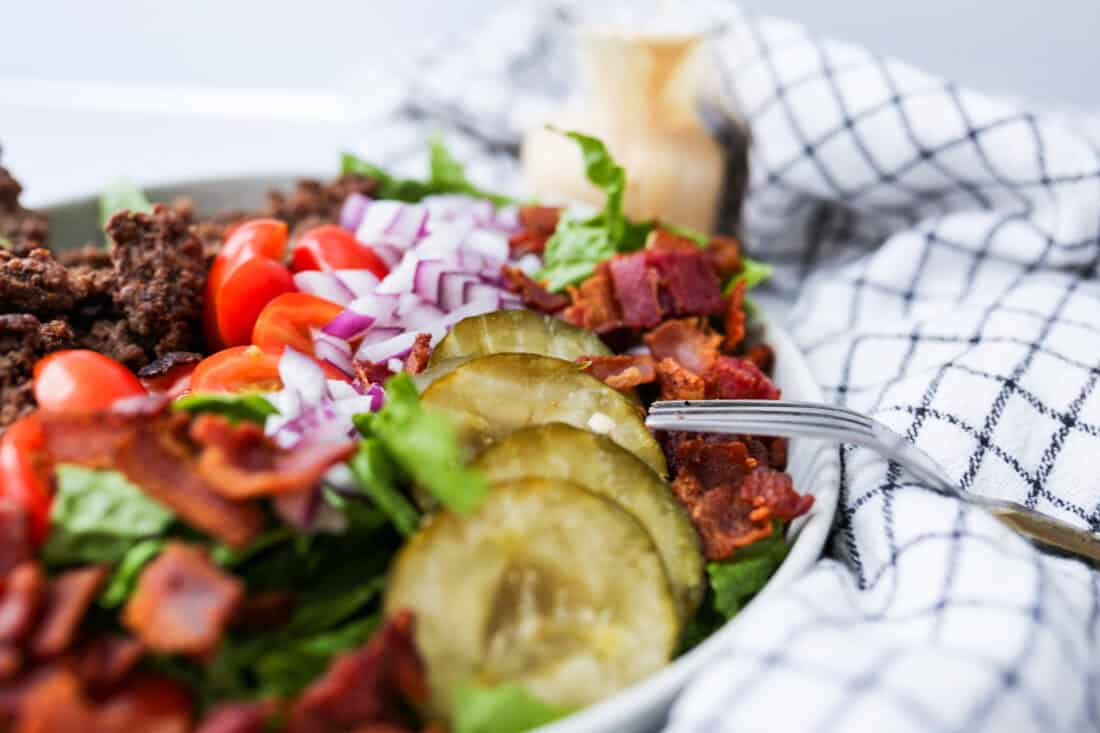 What are the Best Toppings to Add to a Burger Bowl?
The best toppings to add to Burger Bowls are those you would put on your burger! Get creative with this one, and get the kids in the kitchen. Letting your little ones choose their own toppings and assemble their bowls is an easy, (mostly) mess-free way to get them involved in the kitchen and experimenting with new flavors. For these Burger Bowls, I used:
Bacon
Cherry tomatoes
Romaine
Pickles
However, you could also add:
Sliced avocado
Fried eggs
Spinach or Arugula
Caramelized mushrooms (find my favorite Whole30 compliant recipe here)
Frequently Asked Questions:
Can I use a different protein source other than beef in Burger Bowls? 
Yes, nearly any protein source can be used in these Burger Bowls. However, to maintain the essence of the burger flavor I would recommend substituting the beef with ground turkey or bison. Or, if you're looking for vegetarian options, tofu or tempeh would work, too!
u003cbru003eCan Burger Bowls be prepped ahead of time? 
I would not recommend assembling the entire bowls ahead of time as they will likely become soggy. However, you can easily prep all the meat ahead of time. Then, cut, slice, and prepare all your ingredients and toppings for easy assembly throughout the week! 
u003cbru003eHow do I know when the beef for Burger Bowls is cooked? 
According to u003ca rel=u0022noreferrer noopeneru0022 href=u0022https://www.fda.gov/food/people-risk-foodborne-illness/meat-poultry-seafood-food-safety-moms-beu0022 target=u0022_blanku0022u003eFDA u003c/au003eregulations, ground beef should be cooked to a minimum of 160 degrees Fahrenheit. To ensure your meat is cooked, you can easily test it with a meat thermometer. Take a look at u003ca rel=u0022noreferrer noopeneru0022 href=u0022https://www.bbqgrillacademy.com/meat-temperature-chart-and-food-safety/?msID=33c41299-f590-4a37-83c1-dc91b649cf7du0022 target=u0022_blanku0022u003ethis u003c/au003echart for easy cooking! However, if you do not have a meat thermometer, just be sure that no pink is visible within your beef. 
u003cbru003eWhat should I serve with Burger Bowls?
The great thing about Burger Bowls is that they can easily be a complete meal all on their own! Load them up with eggs, avocado, veggies, and sauces for a well-balanced combination of protein, healthy fats, vitamins, nutrients, and of course, flavor! However, if you want to beef up (pun intended), this meal you can easily add a carb source such as baked sweet potato fries, u003ca href=u0022https://joyinthemeantime.com/whole30-smashed-potatoes/u0022u003eWhole30 Smashed Potatoesu003c/au003e or even rice!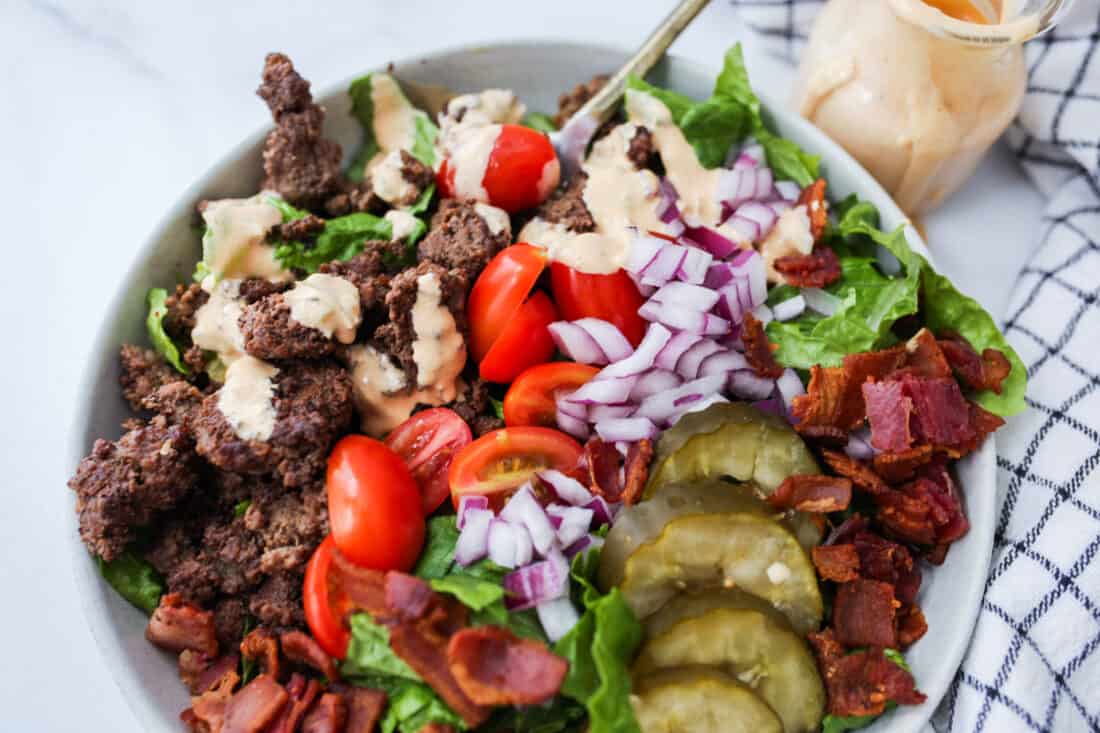 No matter how you choose to serve it, I guarantee this easy recipe will become one of your new go-to's for busy weeknights! I'd love it if you made this recipe! Be sure to tag me on Instagram so I can see your creations and share the love! Let me know in the comments below, what toppings are you including in your Burger Bowl?
In the meantime, enjoy!
Karin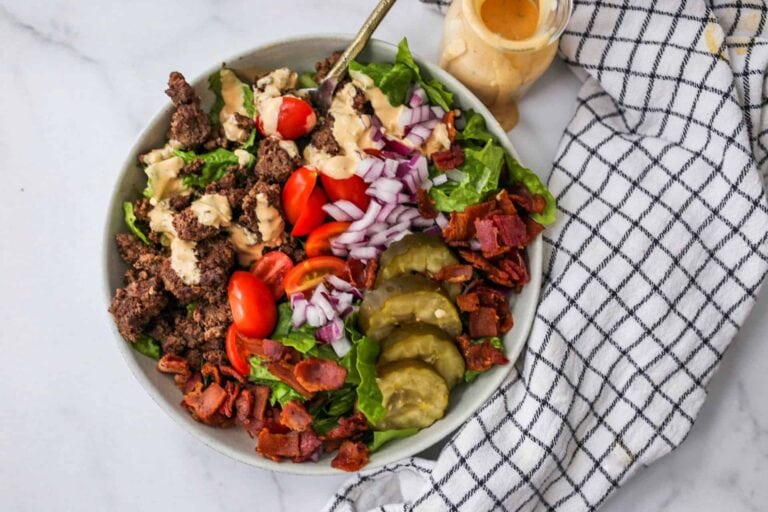 Ingredients
Burger Meat
1

lb

lean ground beef

1/4

tsp

salt

½

tsp

black pepper

½

tsp

mustard powder

½

tsp

garlic powder

½

tsp

onion powder

1

T

pickle juice
Special Sauce
½

cup

mayo

2

T

ketchup

1

T

yellow mustard

2

T

dill pickle juice

2

T

dill relish or small diced pickles

½

t

paprika

you can sub cayenne

½

tsp

hot sauce

optional with the cayenne to make the sauce spicy
Instructions
Heat a skillet over medium-high heat, once hot, add the bacon (chopped) until crispy, remove and set on a paper towel lined plate, drain excess fat

Begin to brown the ground beef (see notes for how to improve texture), add in the spices, reserving the pickle juice

While the ground beef is cooking, mix together all the ingredients for the special sauce, set aside

When the meat is cooked through, add the pickle juice, allow to absorb, then immediately remove from heat and prepare to assemble burger bowls
P.S. This page may contain affiliate links. Of course, you're not obligated to use them, but I appreciate the love if you do!