This quick and simple Pan Roasted Chicken Breast Recipe is made in one dish in as little as 30 minutes for the perfect Whole30, kid-friendly meal prep recipe. Pair it with roasted veggies, add it to sandwiches, and more for delicious meals the whole family will love!
Winner Winner Chicken Dinner
You know those recipes that are so simple you're almost embarrassed to share them? Well, this pan-roasted chicken breast recipe falls into that category. Seriously, it's so easy, you'll think you missed a step. However, it's also too delicious not to share with you guys! After all, I don't know about you, but I have struggled to create the perfect chicken recipes in the past. They were either undercooked, too dry, or just not good. The struggle was real.
Therefore, when I stumbled across this roasted chicken method, I never went back! Now, it's a go-to for meal prep, weeknight dinners, and more. I love to use it as a protein source on salads like my Simple Fall Salad, mixed into chicken salad, stuffed into chicken tacos, and more! You name it, I've probably added this chicken to it. The boys love it, too!
So, if you're ready to revolutionize your chicken dinner game (Okay, that might be a bit of an exaggeration but still), keep reading to find out all the details on how you can create the juiciest chicken recipe ever! 
How to Make Pan Roasted Chicken Breasts
My secret to creating perfectly seared yet juicy roasted chicken breasts is to cook them using a combination of stovetop and baking methods! Read below to learn exactly how I do it and how you can, too!
Preheat. To start, preheat your oven to 350 degrees Fahrenheit.
Tenderize. Next, cover the chicken with plastic wrap (or put it in a freezer bag), and gently tenderize the breast pieces with a tenderizer or the back of a skillet. You want each breast you're cooking to be of a similar size and thickness to ensure even cooking.
Season. Salt and pepper both sides of the chicken. Or, feel free to get creative with your own spices and flavors!
Cook. Then, heat an oven-safe skillet over medium-high heat, and add your fat source of choice. I prefer ghee to add flavor but oil or regular butter work just as well! Let the chicken sit in the pan for 3-5 minutes or until it can easily be flipped over.
Bake. Transfer the chicken in the skillet to the oven, and let it bake for 10-15 minutes depending on the thickness. Use a food thermometer to ensure your chicken is fully cooked! It should read 165 degrees Fahrenheit.
Rest. Remove the chicken from the skillet, and let it rest for 5-10 minutes to allow the juices to redistribute back through the meat. This step keeps it juicy!
Optional Additions
If you want, try adding additional flavors with spices, marinades, and sauces! For instance, you could marinate the chicken breasts in your favorite dressing or oil and spices to keep them extra juicy and add flavor. Or, dunk, drizzle, or dip them in barbecue sauce, ketchup, mustard, and more! I always like to add a bit of citrus like fresh lemon or orange paired with fresh herbs and spices.
Serving Suggestions
The great thing about the simplicity of this pan-roasted chicken breast is that it can be paired with pretty much anything. From pasta to sandwiches, salads, casseroles, and more, the options are endless! However, a few of my favorite ways to use this roasted chicken are:
As a topping for homemade pizzas
Paired with roasted sheet pan veggies
On top of pesto chicken bruschettas
Added to chicken quesadillas
In soups
Mixed with rice and broccoli
How to Store Leftover Roasted Chicken Breasts
If you want to prepare a big batch of chicken breasts to have throughout the week, they can easily be stored in the fridge or freezer!
Fridge: Keep leftovers stored in an airtight container for up to 3-4 days.
Freezer: Cooked chicken will stay fresh in the freezer for up to 6 months.
More Chicken Recipes You'll Love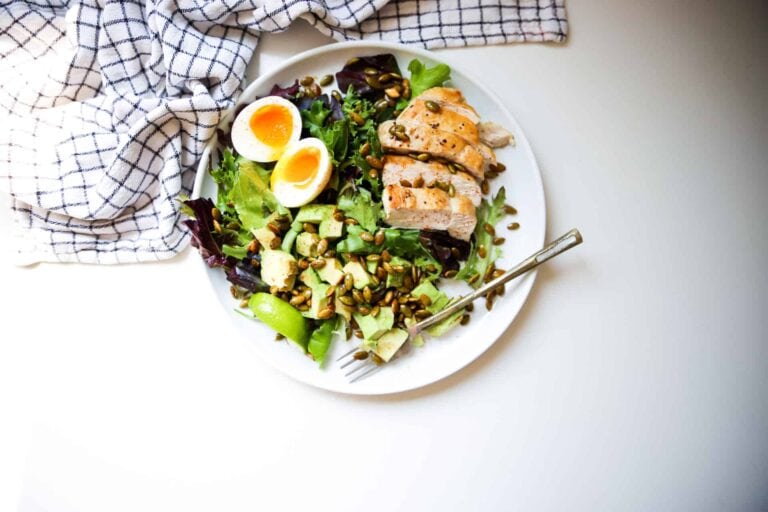 Ingredients
1

large

chicken breast

dash

salt

dash

pepper

1

Tablespoon

ghee
Instructions
Preheat the oven to 350 degrees Fahrenheit.

Cover the chicken with plastic wrap. Or, place it in a freezer bag, and gently tenderize it with a meat tenderizer or hte back of a skillet. (You want the chicken breast at similar thickness all around.)

Salt and pepper both sides of the chicken (or add seasonings of choice).

Heat an oven-proof skillet over medium-high heat, and add the ghee (or your fat of choice) to the chicken, and place it top side down in the skillet.

Let the chicken cook for 3-5 minutes (depending on the thickness) or until it can easily be flipped.

Transfer the skillet to the oven, and bake for 10-15 minutes or until it the chicken reaches an internal temperature of 165 degrees Fahrenheit.

Remove the chicken from the skillet, and let it rest 5-10 minutes.

Serve as desired.
Notes
Thinner chicken breasts may take less time to cook. Make sure to keep an eye on them in the oven!
If you struggle with cooking chicken, I hope this recipe solves all your problems! It has seriously been a game changer for me. However, I would love to know if you have any chicken-making tips you swear by, too! Let me know in the comments below.
Of course, if you make this or any of my other recipes, please tag me on Instagram! I'd love to see your creations, connect, and share your page. I hope you love this recipe as much as I do. Stay tuned for new recipes, easy meal plans, decoration tips, and more every week!
In the meantime, enjoy!
Karin