This Lemon Chicken Piccata recipe with artichokes is a healthy, Whole30 dinner recipe that comes together in minutes. Make it for easy weeknight dinners, dinner parties, and more. It's a crowd-pleaser every time, guaranteed.
If you're like me, chicken is a staple in your weekly dinner routine. After all, it's healthy, lean, affordable, and there are so many ways to cook it. I mean, just do a quick Pinterest scroll, and you'll be met with hundreds if not thousands of recipes. Crockpot, sheet pan, skillet, oven-baked, grilled, you name it, there's a recipe for you.
With recipes like Lemon Garlic Chicken, Easy-Peasy Whole30 Chicken Salad, and Sheetpan Chicken Thighs with Fennel and Red Pepper, I love chicken just as much as the next person. If it was up to my boys, we would be eating chicken nuggets every single night. However, once in a while, I like to switch things up with something a little out of the ordinary, and, if I can, a bit more fancy than our typical dinners.
Thus was born this Lemon Chicken Piccata recipe! Made with fresh, simple ingredients and added vegetables, it's the perfect healthy twist on a fancy date night dinner. Even better, it takes one pan and is ready in under 30 minutes. Does it get better than that? Whether you're following a Whole30 diet, looking for allergy-friendly recipes, or cooking for a crowd, this recipe is sure to please even the pickiest of guests!
How to Make Whole30 Lemon Chicken Piccata
To make this healthy Lemon Chicken Piccata start by preheating the oven to 200 degrees Fahrenheit, and place an oven safe platter in it to warm.
While the oven preheats, add flour, salt, and pepper to a shallow dish, and whisk until it is well-combined. Then, dredge the chicken in the flour mixture, and shake off any excess.
Next, heat the skillet over medium-high heat, add oil, and pan fry the chicken about 3-4 minutes per side or until it is a golden-brown color. Once cooked, place the chicken in the oven to stay warm.
Now, return the pan to the skillet on medium-high heat. Melt the ghee and 1 tablespoon of olive oil. Once melted, add the garlic and artichoke hearts making sure the garlic doesn't burn by continuously scraping the pan.
Stir in the broth, and continue scraping the bottom of the pan. Bring the mixture to a boil, and reduce it to a simmer. Allow the sauce to reduce by half. This step should take roughly 3-5 minutes. When the sauce has cooked down, reduce the heat to medium-low, and add in the lemon juice and capers, and let the mixture simmer for another 5 minutes.
To finish, add parsley, salt, and pepper to the sauce, arrange the chicken on a plate, and top with sauce and additional parsley.
*Pro-Tip: Do not wipe out the skillet before placing it back on the stove as the flour and chicken remnants add flavor and thickness to the sauce.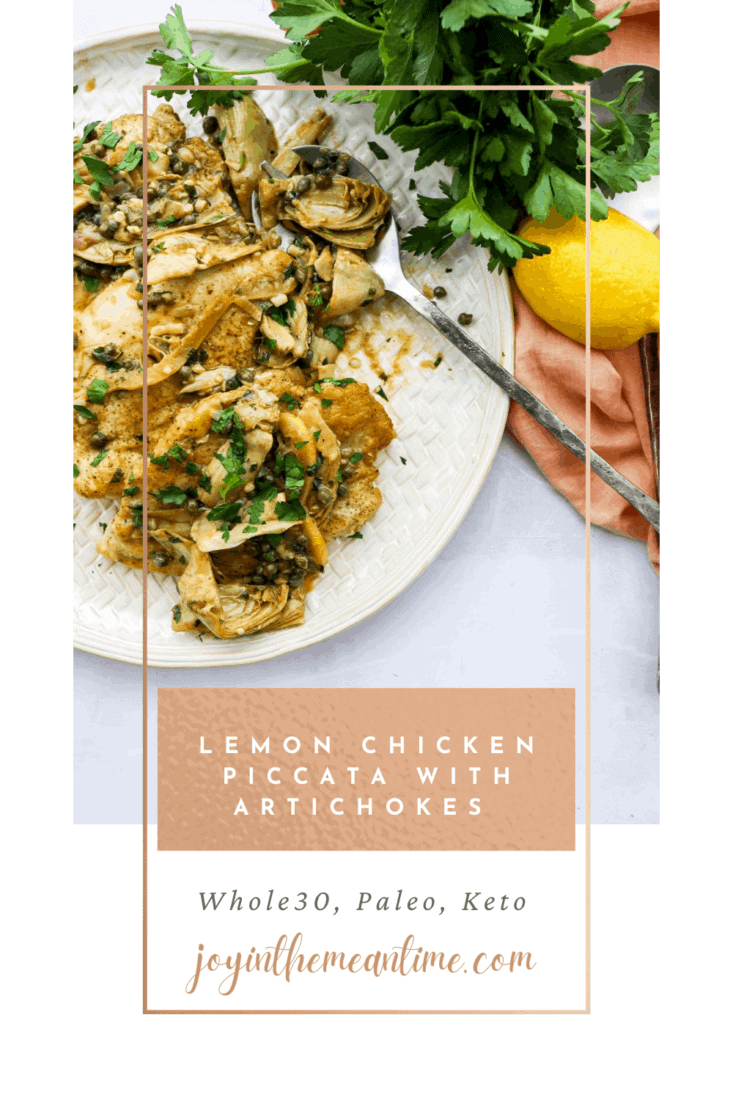 What to Serve with Lemon Chicken Piccata? How Can I Keep this Recipe Healthy and Whole30?
Traditional chicken piccata recipes are most often served with some sort of carb source such as seasoned rice, buttered noodles, or mashed potatoes. However, in an effort to keep this recipe healthy and Whole30-compliant, I opt for a few lighter side dishes including cauliflower rice or cauliflower mashed potatoes. Great options also include sauteed spinach, zucchini noodles, or spaghetti squash. Or, you could leave out the sides altogether and just eat the chicken and artichokes. It will still be healthy, filling, and delicious!
Health Benefits of Artichokes
If you've been around for a while, you'll know I do my best to constantly introduce my boys to new foods, flavors, and textures in an attempt to expand their palate. While they're pretty good at eating their veggies, I find we often fall into a rut where we're eating the same rotation of veggies including broccoli, asparagus, and peppers. So, I figured, why not bulk up this recipe with veggies and fiber? Inspired by a few restaurant Chicken Piccata dishes I've had over the years, I settled on artichokes for this meal. Not only are they cheap, they're pretty tasty and loaded with health benefits!
To read more about all the many reasons why you should be eating more artichokes, take a look at this article. Or, keep reading to find a brief overview of all the benefits of artichokes!
Did you know the artichoke plant originated in the Mediterranean? It has long been used for its medicinal purposes and is packed with vitamins and nutrients including vitamin C, vitamin K, Folate, Magnesium, Potassium, and more. Due to this, artichokes are reported to be able to lower "bad" cholesterol (LDL), regulate blood pressure, improve liver health, improve digestive health, and lower blood sugar.
As a result, it seemed like a no-brainer to include this awesome vegetable in our dinner! Luckily, it was a hit! Buried in the creamy sauce, the artichokes don't stand out as being vegetables making them super kid-friendly. All they're focused on is the yummy chicken. They don't even realize they're getting incredible health benefits as well!
I would love to know how you plan to serve this recipe and whether your family liked it! Also, are there any vegetables you would like to learn how to make taste great? Let me know in the comments below!
Of course, if you make this or any of my other recipes, please tag me on Instagram! I'd love to see your creations, connect, and share your page. I hope you love this recipe as much as I do. Stay tuned for new recipes, easy meal plans, decoration tips, and more every week!
In the meantime, enjoy!
Karin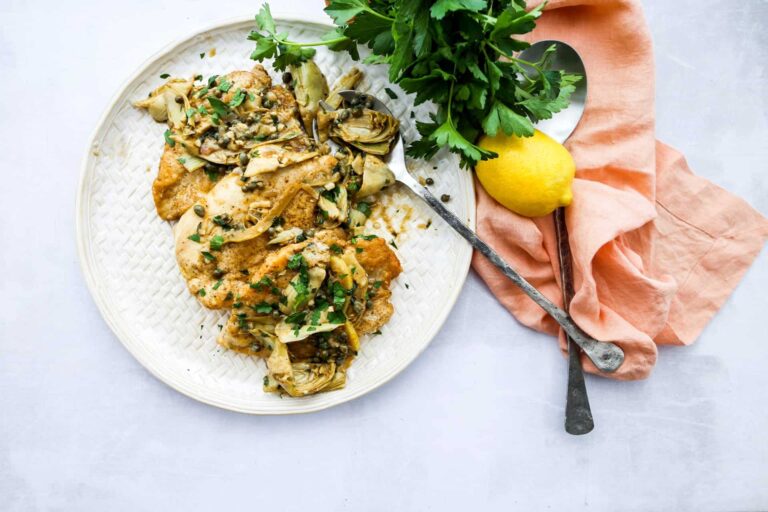 Ingredients
3

boneless skinless breasts halved into cutlets

and lightly pounded to ¼ inch

¼

tsp

salt

¼

black pepper

¼

cup

arrowroot flour

2

tbsp

olive oil

plus more as needed you can also use avocado oil

1

garlic clove

minced

1

cup

chicken broth

3

tbsp

fresh lemon juice

2

tbsp

capers

1

tbsp

ghee

1

jar

6 oz artichoke hearts rinsed and drained

2

tbsp

fresh parsley

chopped
Instructions
Preheat oven to 200 degrees F and put an oven-safe platter in to warm

In a shallow dish, add the flour, salt, and pepper, whisk. Dredge the chicken in the flour, being sure to shake off any access

Heat skillet over medium high-high heat, add oil and pan-fry the chicken about 3-4 minutes per side, until golden brown, transfer to the platter in the oven to stay warm while you prepare the sauce

Return pan to medium-high heat (do not wipe clean). Melt ghee and 1 tbsp olive oil, add the garlic and artichokes hearts- be sure to stir, and scrape off the brown bits- you want to be sure the garlic doesn't burn. Stir in the broth, and continue scraping up any bits. Bring to a boil, then reduce to simmer and allow reduce by half (3-5 minutes)

Reduce the heat to medium-low, Add in the lemon juice and capers and allow simmer for an additional 5 minutes more. Add in the parsley, and salt and pepper to taste

Arrange chicken on a serving platter and top with sauce, add additional parsley if desired
P.S. This page may contain affiliate links. Of course, you're not obligated to use them, but I appreciate the love if you do!