This Lemon Garlic Chicken is made with caramelized shallots, garlic, paprika, and lemon juice for a delicious dinner recipe that comes together in minutes!
I don't know about you, but my family eats lots of chicken. Given that it is most often the most affordable protein source in the grocery store and a great source of lean protein, chicken is a no-brainer when it comes to making healthy meals my whole family will enjoy. However, there are only so many ways to prepare a dish, and life can get a little boring eating the same things over and over…and over again.
So, to spice things up and add a little fun back into the kitchen, I created this incredible Lemon Garlic Chicken recipe! If you've been following along for a while, it will come as no surprise to learn that I'm in love with all things citric and acid. There is just something so lovely about the brightness of the combination and the way it enhances the flavor of any dish.
Staying true to my obsession, this recipe is made with paprika, caramelized shallots and garlic, and a massive squeeze of lemon that adds THE BEST flavor. Even better, it comes together in literally minutes. So you can say so long to boring chicken and spending hours in the kitchen and get back to doing the things you love!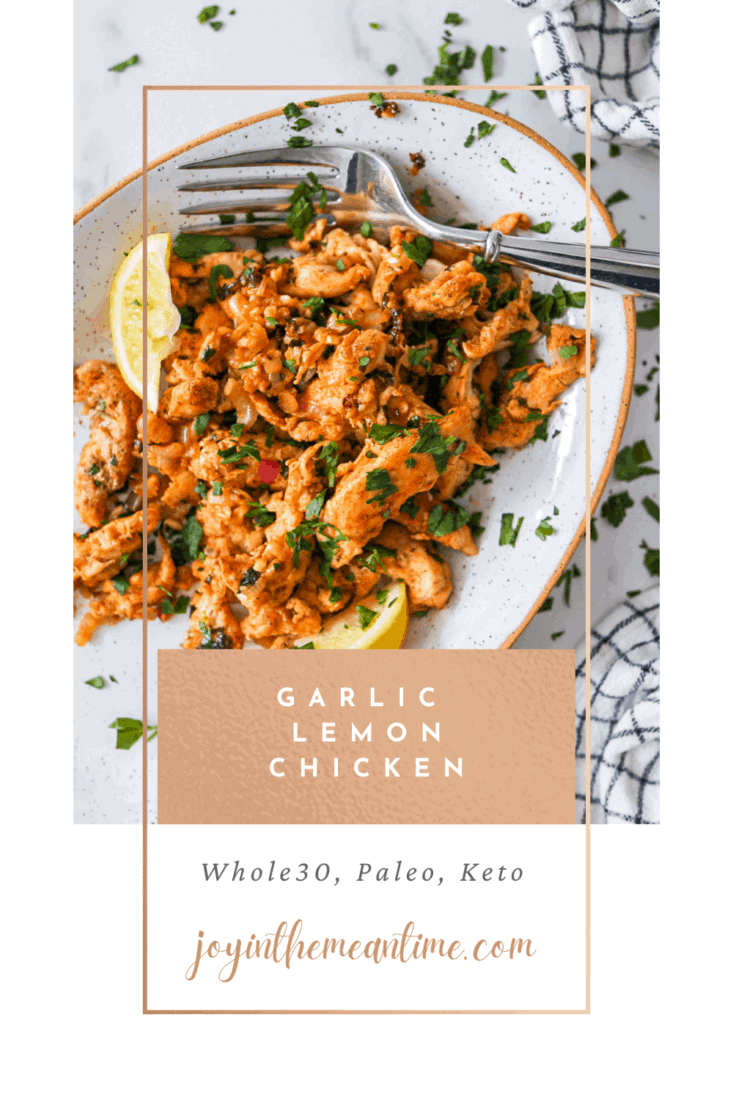 How to Make Lemon Garlic Chicken
To make this recipe, first thin out your chicken tenders. To do so, start by placing your chicken in a freezer bag, and gently bat it with the back of a skillet or pan to thin it out. Then, cut the chicken tenders in half.
Next, add the cut chicken to a bowl with paprika, salt, and pepper. Gently toss the ingredients. Be sure to evenly coat the chicken for the best flavor!
Now, heat your skillet over medium-high heat, and add your oil. Once the oil begins to shimmer, add the chicken strips, shallots, and garlic.
Stir fry the chicken until fully cooked. This will take about 3 minutes. Then, add lemon juice, parsley, and another pinch of salt. To finish, remove from the skillet, and serve your chicken hot with lemon wedges and an additional garnish of parsley!
*Pro-Tip! Check out this article to know how to tell when your oil is hot or shimmering.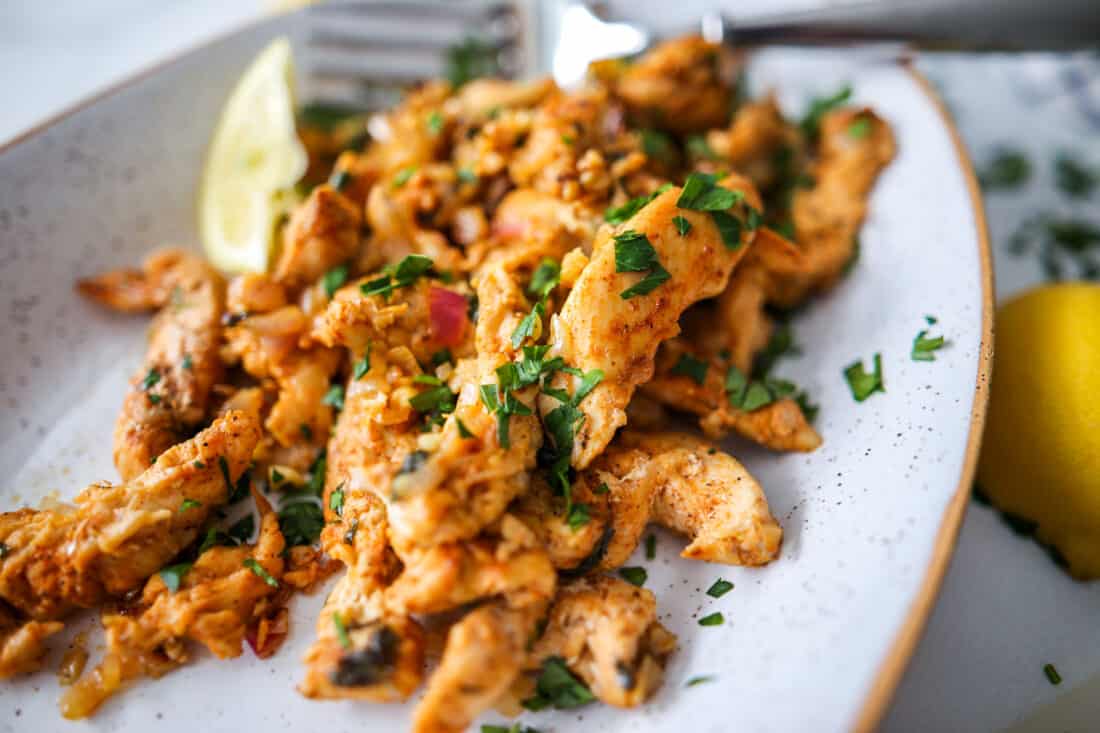 Cooking Tips and Tricks
Use chicken tenderloins for stir fry meals and other quick-cooking recipes as they are a lot smaller and thinner than chicken breasts. This means they cook a lot faster! Alternatively, you can also thin out chicken breasts to achieve the same effect.


When tenderizing the meat, be sure to do so gently in order to prevent the chicken from splitting.


Make sure your chicken reaches an internal temperature of 165 degrees Fahrenheit to ensure that it is fully cooked.
Serving Suggestions
As it stands, this Lemon Garlic Chicken recipe is both Whole30 and Paleo compliant. If you want to keep it so, it pairs amazingly over a bed of greens, with Whole30 Smashed Potatoes, mixed vegetables, or my kids' favorite Zucchini & Carrot Fritters!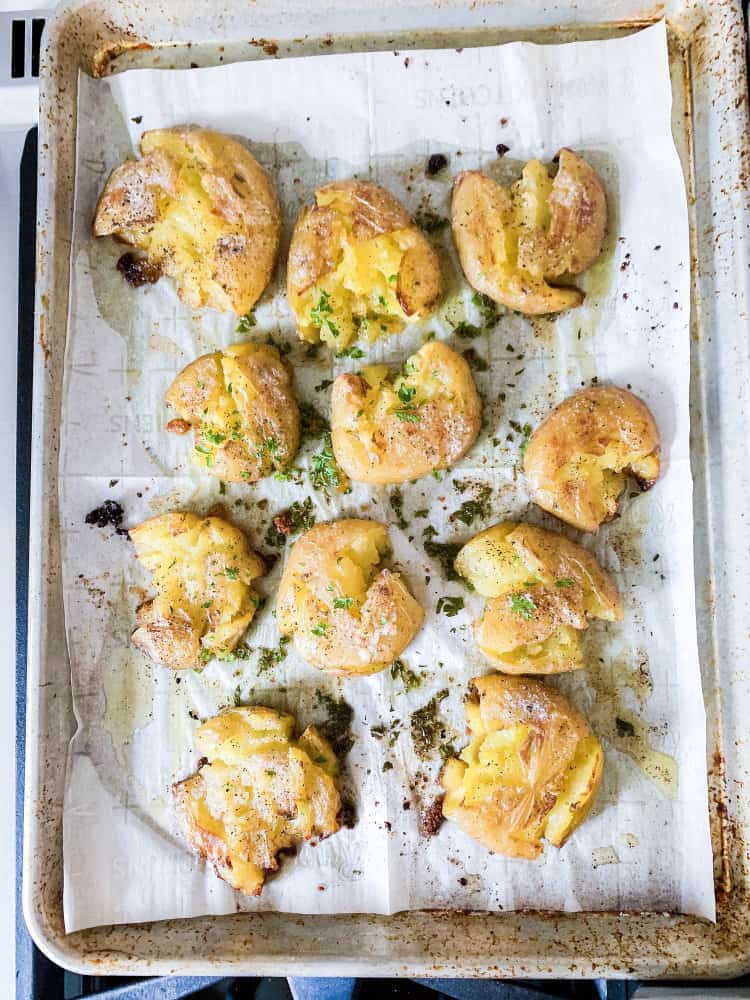 If you're not following specific diet protocols such as those in Whole30, Paleo, or Keto lifestyles, this lemon garlic chicken is also delicious served over rice, with noodles, or in a wrap!
Basically, what I'm getting at is that there is no wrong or bad way to serve this recipe. It's delicious with everything!
All About Paprika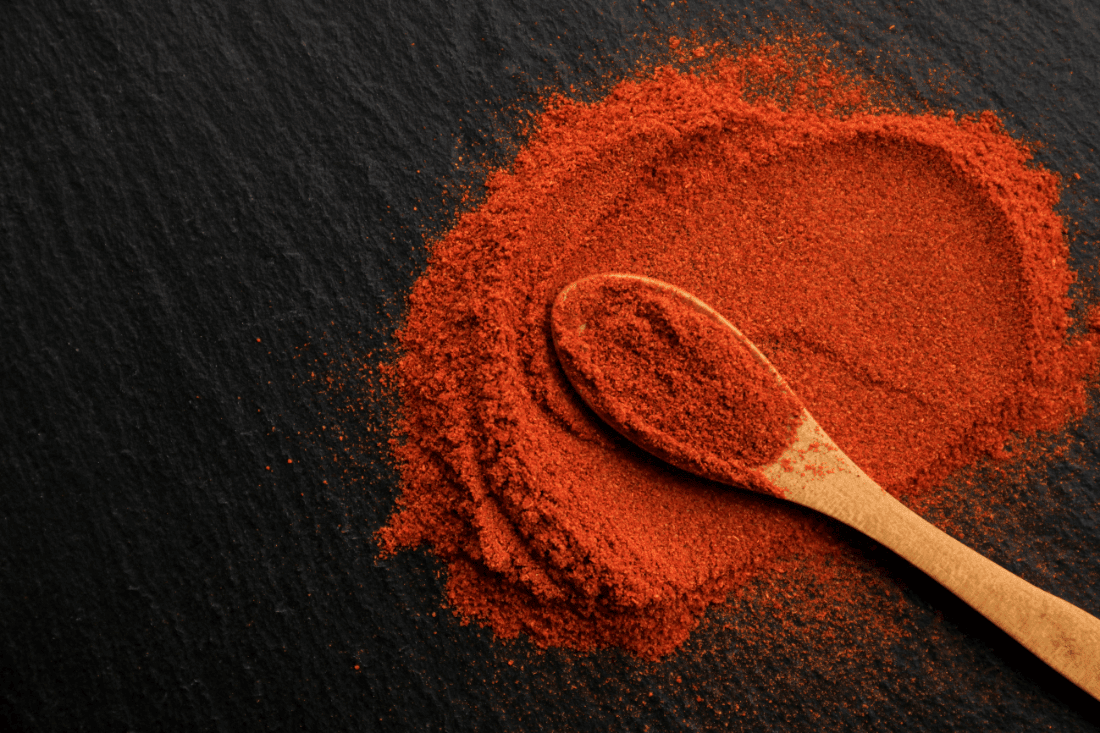 Paprika is a crucial ingredient in this Lemon Garlic Chicken recipe. It is a ground spice originating in Mexico and is made from dried red fruits and sweet peppers. Most commonly thought of as just a pretty garnish, paprika can be used to add tons of flavor to any dish!
Depending on the types of peppers used, the heat level of paprika can vary. However, this dish is not spicy in the least! Actually, it's a family favorite that my boys love. The spice level depends on the amount of carotenoids present in the peppers used.
There are three different types of paprika including Regular Paprika, Hungarian Paprika, and Spanish Paprika. Regular Paprika is what can most commonly be found in grocery stores and what is used for this Lemon Garlic Chicken. It has a mild flavor with hints of both spicy and sweet.
To learn more about paprika in all its delicious forms, take a look at this article!
Frequently Asked Questions
Can I substitute paprika in this Lemon Garlic Chicken recipe?
Yes, while the flavor may vary a bit, paprika can be substituted in Lemon Garlic Chicken. If you want to keep the heat, use a dried chili or a bit of hot sauce. Or, if you want a smokier flavor, use chipotle powder instead. Can I use a different oil for Lemon Garlic Chicken? 
u003cbru003eCan I use a different oil for Lemon Garlic Chicken? 
Yes, any oil or fat you prefer can be used to make Lemon Garlic Chicken. I recommend using olive oil due to its immense health benefits and fairly high u003ca href=u0022https://www.seriouseats.com/2014/05/cooking-fats-101-whats-a-smoke-point-and-why-does-it-matter.htmlu0022 target=u0022_blanku0022 rel=u0022noreferrer noopeneru0022u003esmoke pointu003c/au003e. However, butter, coconut oil, sesame oil, grapeseed oil, and more would work as well! Just keep in mind that the flavor will alter slightly, and keep the differing smoke points of each fat source. 
u003cbru003eIs Lemon Garlic Chicken healthy? 
Yes, Lemon Garlic Chicken is an extremely healthy dinner (or lunch) recipe! Chicken tenderloins are low fat and very high in protein. Plus, the spices, lemon juice, and oil all have incredible nutrition benefits. So, when paired with complex carbs and nutrient-dense vegetables, you really can get much healthier than this recipe! 
u003cbru003eCan I use a different protein source in this Lemon Garlic Chicken recipe? 
If you prefer, shrimp can be used in place of chicken in this Lemon Garlic Chicken recipe. However, I do not recommend substituting out any other protein source as their flavor will overpower the ingredients of this dish.
Of course, if you make this or any of my other recipes, please tag me on Instagram! I'd love to see your creations, connect, and share your page. I hope you love this recipe as much as I do. Stay tuned for new recipes, easy meal plans, decoration tips, and more every week!
In the meantime, enjoy!
Karin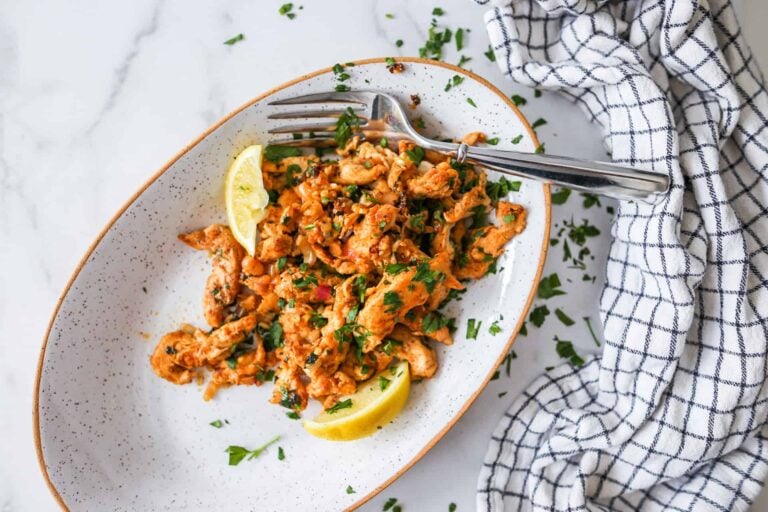 Ingredients
1

lb.

chicken tenders

sliced in half into strips

2

tbsp

extra virgin olive oil

1

shallot

minced

4

cloves

garlic

minced

1

tsp

paprika

Juice of 1 lemon

2

tbsp

parsley

chopped

1

tsp

salt

½

tsp

black pepper

Lemon wedges and chopped parsley to garnish
Instructions
If the tender is a thicker than your finger, place it in a freezer bag, and gently bat it with the back of skillet or pan to make thinner, then cut in half

In a medium mixing bowl, add the chicken, paprika, salt and pepper, and gently toss, ensuring everything is evenly coated

Heat your skillet over medium-high heat, add the oil, and once it gets hot and begins to shimmer, add the chicken strips, shallots and garlic

Stir-fry the chicken until cooked through, about 3 minutes

Add the lemon juice, parsley and another pinch of salt

Remove and serve hot with lemon wedges and additional garnish of parsley
P.S. This page may contain affiliate links. Of course, you're not obligated to use them, but I appreciate the love if you do!