Made with simple ingredients, this Instant Pot Tangy Whole30 Chicken recipe is full of flavor and the perfect kid-friendly meal prep option. Serve for healthy dinners or easy lunches!
Why You'll Love this Whole30 Chicken
Do you guys have an Instant Pot? I love mine! I thought sheetpan meals like my Whole30 Roasted Kielbasa and Cabbage were easy, but holy cow the Instant Pot makes meal time so fast! That means I can get out of the chicken and back to chasing my little ones around. Not to mention the fact that clean-up is super painless. Really, does life get any better than that? I mean maybe, but it's the little things, ya know?
Anyway, given my newest obsession with this kitchen tool, I knew I had to get in the kitchen to create recipes for not only my family but you guys as well! So, I started brainstorming where to start. After some debating, I decided to go with a basic chicken recipe everyone would love. As easy as a chicken salad but complex enough to turn into a full dinner, this Tangy Whole30 Chicken is the perfect recipe for all your mealtime needs. Plus, it was a huge hit with the kids! It's sweet, tangy, and everything in between! You'll have to taste it for yourself to really know what I'm talking about, though. So, let's get cooking!
Healthy Ingredients for Whole30 Chicken & Easy Alternatives
Unlike some other Instant Pot recipes that can be super complicated and require lots of unusual ingredients, I did my best to create a simple whole30 chicken recipe that resembles classic BBQ with a bit of a tang. Take a look below to see what I used!
Onion – Yellow or white onions work best to provide a bit of a sweet and tangy flavor while also providing just a bit of texture.
Tomato Paste – Not to be confused with tomato sauce, tomato paste is thick instead of runny. However, if you can't find it, you can replace tomato paste with 3 times the amount of tomato sauce.
Seasonings – For a bit of a kick, I used salt, pepper, cayenne, and paprika. However, feel free to experiment with different combinations, and adjust the amount used based on your own preferences.
Ketchup – Any ketchup will work, but if you're following a Whole30 diet be sure to double-check the ingredient list to make sure your choice is compliant!
Coconut Aminos – Coconut aminos add a bit of a salty flavor, but soy sauce or tamari can be used in its place.
Apple Cider Vinegar – If you don't have apple cider vinegar, white wine vinegar is a nearly identical alternative!
Chicken – For extra flavor, I used skinless, bone-in chicken breast. However, any chicken you prefer will work. Just keep in mind that skin-on chicken pieces and fattier cuts will have a slightly different taste.
Dijon Mustard – Technically, regular mustard can be used for this recipe, but I highly recommend opting for dijon if you can as it creates a richer flavor.
Optional Slaw Ingredients
For a full meal, I love to pair this tangy chicken with an easy slaw! The basic ingredients are listed below. Then, you'll just need a few spices and additions, and you'll be on your way to a crazy good meal full of different flavors and textures!
Slaw – To keep things super simple, I recommend using a pre-shredded slaw mix from the store.
Apple – I prefer granny apples, but you can absolutely swap them out for your favorite apples.
Mayonnaise – Again, if you're following a Whole30 diet any mayonnaise will work. Just make sure it's compliant!
How to Make Tangy Pulled Chicken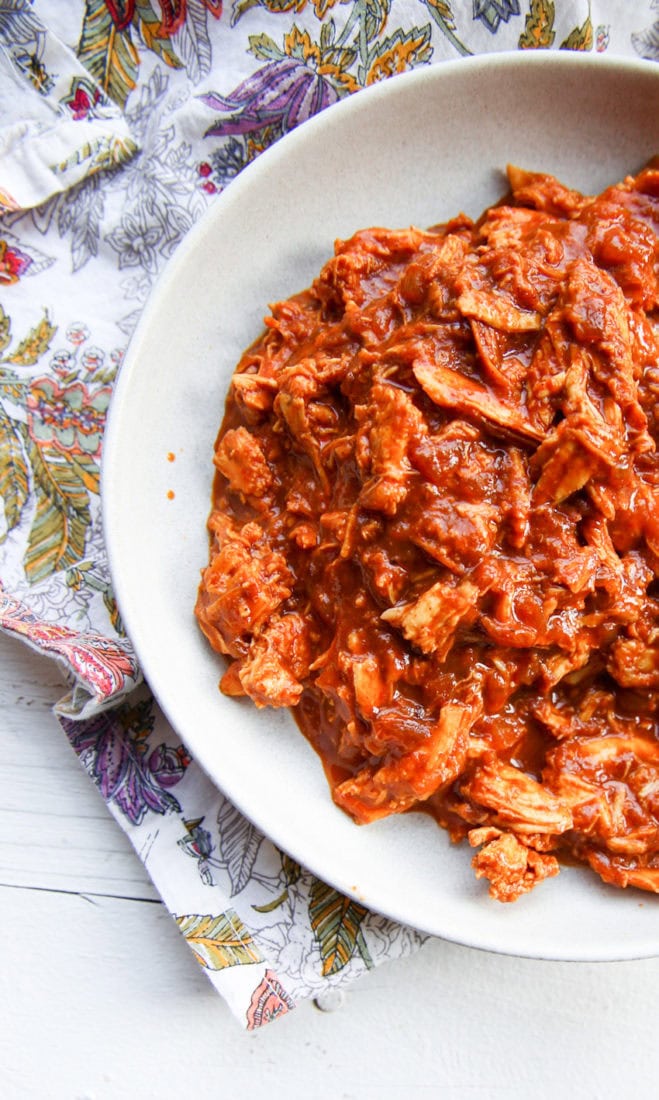 Sauté. To begin, set the Instant Pot to sauté. Once it's hot, add your avocado oil and onions, and let them sauté for 2-3 minutes or until the onions are translucent and fragrant. Then, turn off sauté mode.
Add Ingredients. Next, add the tomato paste, chili powder, salt, pepper, cayenne, ketchup, and coconut aminos to the pot, and stir them all to combine. Once the sauce has been mixed thoroughly, add the chicken.
Cook. Cover the pot with the lid, and let the ingredients cook for 20 minutes using the steam release mode.
Shred. Once it is safe to open the pot and remove the lid, take out the chicken, and shred it with 2 forks being careful to remove any bones.
Combine. While the chicken has been removed from the pot, add the remaining ingredients, and give the sauce a good stir. Then, add the cooked shredded chicken. Using tongs, carefully toss the chicken until it is evenly coated.
*While the chicken is cooking, prepare the slaw by combining the mayo, celery seeds, apple cider vinegar, mustard, salt, and pepper in a small bowl. Then, in a second large bowl, add the slaw and shredded apple making sure to mix the ingredients thoroughly. Pour the dressing over top, and stir to combine making sure the apple and slaw are well-coated.
Serving Suggestions
This recipe can be served all kinds of ways including:
On buns or in lettuce wraps
Over cauliflower rice
On top of sweet potatoes
Storage
For the best results, make sure to store the slaw and chicken separately in airtight containers. When kept in the fridge, the chicken will keep for up to 4 days, and the slaw will stay fresh for 3-5 days.
No Instant Pot? No Problem!
If you don't have an instant pot, you can easily prepare this recipe in a slow cooker! Or, bake it in the oven, and toss it in the sauce.
More Whole30 Chicken Recipes
I hope you love this recipe! Do you have any favorite chicken recipes? Let me know in the comments below!
Of course, if you make this or any of my other recipes, please tag me on Instagram! I'd love to see your creations, connect, and share your page. I hope you love this recipe as much as I do. Stay tuned for new recipes, easy meal plans, decoration tips, and more every week!
In the meantime, enjoy!
Karin
Ingredients
For the Chicken
1

onion

diced

¼

cup

tomato paste

1

Tablespoon

avocado oil

1

teaspoon

paprika

½

teaspoon

salt

¼

teaspoon

black pepper

1/8

teaspoon

cayenne

¼

cup

ketchup

3

Tablespoon

coconut aminos

2

12 ounce bone-in skinless (or removed) split chicken breast

2

Tablespoon

apple cider vinegar

2

teaspoon

Dijon mustard
For the Slaw
1

bag premixed slaw

1

apple grated- I prefer granny apple

½

cup

mayo

1

Tablespoon

celery seeds

2

Tablespoon

apple cider vinegar

1

Tablespoon

yellow mustard

Salt to taste
Instructions
For the Chicken
Set the instant pot to sauté, and when hot, add the avocado oil, then onions, sautéing for 2-3 minutes until slightly translucent, turn off the sauté mode

Add the tomato paste, chili powder, salt, pepper, cayenne, ketchup, coconut aminos, mix thoroughly

Add the chicken breasts, cover and cook with a sealed lid, for 20 minutes and use the release the steam

Removing the chicken from the instant pot begin to shred, careful to remove any bones

Add the apple cider vinegar and Dijon mustard to the sauce, mix to combine, and return the shredded chicken and using tongs, carefully toss until it is evenly coated
For the Slaw
In a small bowl mix together mayo, celery seeds, apple cider vinegar, mustard, salt and pepper- set aside

In a large bowl, add the shredded apple and slaw, add the dressing and mix thoroughly

Refrigerate for at least 30 minutes
P.S. This page may contain affiliate links. Of course, you're not obligated to use them, but I appreciate the love if you do!