Made with simple ingredients, these Grilled Chicken Kabobs are the perfect low carb, Paleo, and Whole30 friendly recipe for all your summer cookouts! Serve them with grilled veggies for an easy, crowd-pleasing meal.
For me, summertime means one thing, and that's grilling! Whether it's the Perfect Whole30 Steak, my favorite burger, or Cajun Grilled Shrimp, we've always got something coking. After all, who wants to be cooped up in the hot kitchen when it's nice outside? Not me! Plus, grilling is a great way to get friends and family together for a backyard barbecue Simple and easy, grilling recipes like these Grilled Chicken Kabobs can be adapted to fit nearly any dietary needs.
The best part? When cut into pieces, grilled chicken looks just like their favorite chicken nuggets. Plus, they get to eat them right off the stick which they think is so fun! It's the little things, ya know? Serve them with a couple tasty sides like fresh fruit or veggies, and your little ones will be so happy they won't even realize their meal is good for them, too!
Not to mention, this Grilled Chicken Kabobs recipe is incredibly easy to make! In fact, I bet you already have all the ingredients you need waiting for you in your kitchen. All it takes is a few simple steps, and you'll have yourself a delicious meal in minutes so you can get back to the party!
How to Make Grilled Chicken Kabobs
To make this Grilled Chicken Kabobs recipe, start by brining the chicken breasts. Then, preheat the grill to medium-high heat.
While the grill heats, mix together the salt, pepper, garlic powder, onion powder, and paprika in a small bowl.
Next, cut the brined chicken breasts into 1-inch thick pieces, and place them in a large mixing bowl with olive oil. Gently stir so that the chicken is evenly coated with olive oil. Then, add the spice blend, and mix well.
Carefully thread the chicken on prepared skewers, and place them evenly across the grates on the grill. Cook for 12-14 minutes or until the chicken has reached an internal temperature of 165 degrees Fahrenheit and is cooked through. It should have a golden-brown crust when finished.
To serve, transfer the chicken to a platter, and sprinkle them with fresh lemon and parsley.
*Pro-Tip: If you're using wooden skewers, let them soak in water for at least 20 minutes so they do not burn on the grill!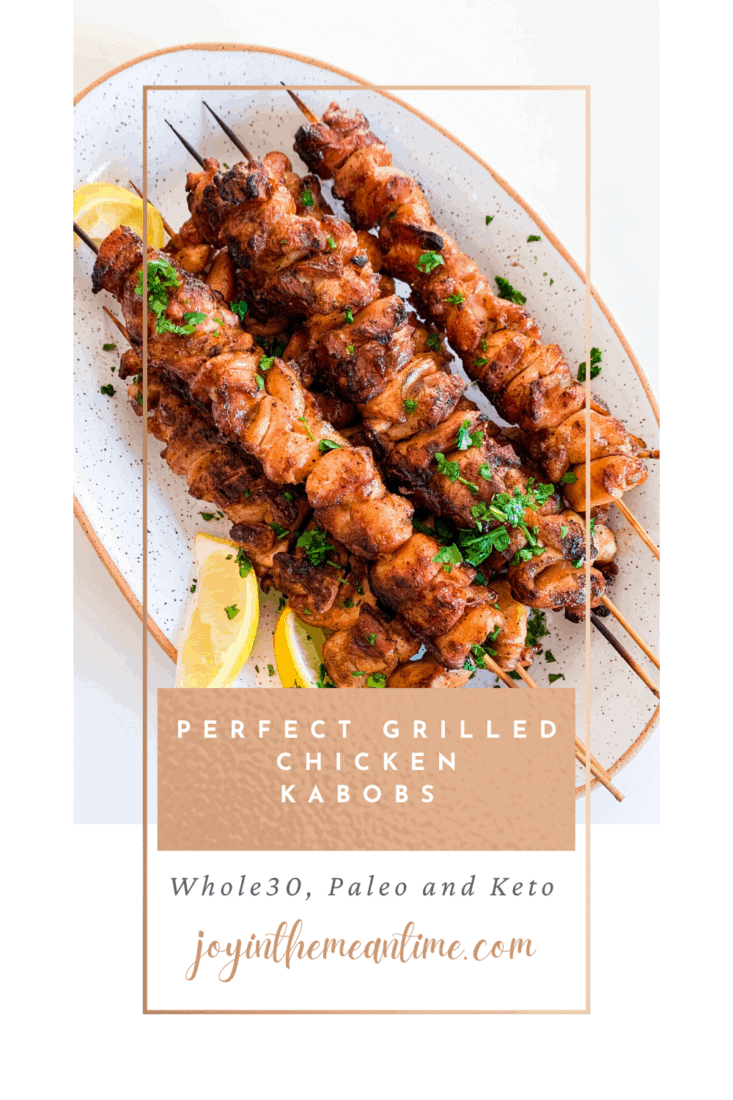 How to Brine Chicken for Grilled Chicken Kabobs & Why You Should
In simple terms, brining is essentially letting your chicken (or meat) soak in saltwater before cooking. Doing this adds tons of flavor to your chicken and keeps it from getting dry while cooking. There are several methods of brining which you can read about here.
For this Grilled Chicken Kabobs recipe, I used a wet brining method. To use this technique, start by filling a large bowl with water. Add ¼ cup of salt, and stir until it has been absorbed by the water. Then, place the whole chicken breast inside the bowl, and let it sit for at least 15 minutes. You can also let your chicken soak overnight. Just make sure to keep it covered in the fridge for no more than 5 hours.
Once it has soaked, rinse your chicken breast well with cold water, and discard the water left in the bowl. Pat the chicken with a paper towel to remove any extra fluid, and continue to your recipe.
Serving suggestions for Grilled Chicken Kabobs
These grilled chicken kabobs are delicious all on their own as a high protein snack or appetizer, However, if you're looking to make a complete meal out of them, the options are nearly endless!
One of my favorite ways to make these kabobs is alongside grilled veggie skewers like these. If you're looking to keep things low-carb, these skewers are also super tasty deconstructed and served in a salad. Or, add them on top of zucchini noodles or cauliflower rice for a filling meal.
If carbs aren't of concern, toss some corn or potatoes on the grill as well! Or, serve these skewers on top of pasta in recipes like chicken alfredo, over a bed of rice, in a wrap, or tucked into a pita!
No matter how you choose to serve these Grilled Chicken Kabobs, don't forget to choose a delicious sauce or dressing for dipping. There's nothing they don't taste good with. For example, ketchup, hummus, tzatziki, and a dijon vinaigrette are a few of my family's favorites!
Wooden Skewers vs Metal Skewers
For this recipe, I used metal skewers, but wooden skewers work just as well, too. Personally, I opt for metal skewers due to their convenience and cost-efficiency. Unlike wooden skewers, metal can be reused again and again. If well cared for, they can last for a very long time! Also, unlike wood skewers, metal skewers do not have to be soaked in water before use.
This said, due to their slight price increase, metal skewers aren't always the best option for feeding large crowds. In this case, I recommend picking up a few packs of wooden bamboo skewers. That way you won't have to worry about people throwing them away. Plus, you'll have virtually no kitchen clean up! It's a win win.
I would love to know how you're planning on serving this Grilled Chicken Kabobs recipe. Let me know in the comments below! Or if you have any questions, feel free to ask.
Of course, if you make this or any of my other recipes, please tag me on Instagram! I'd love to see your creations, connect, and share your page. I hope you love this recipe as much as I do. Stay tuned for new recipes, easy meal plans, decoration tips, and more every week!
In the meantime, enjoy!
Karin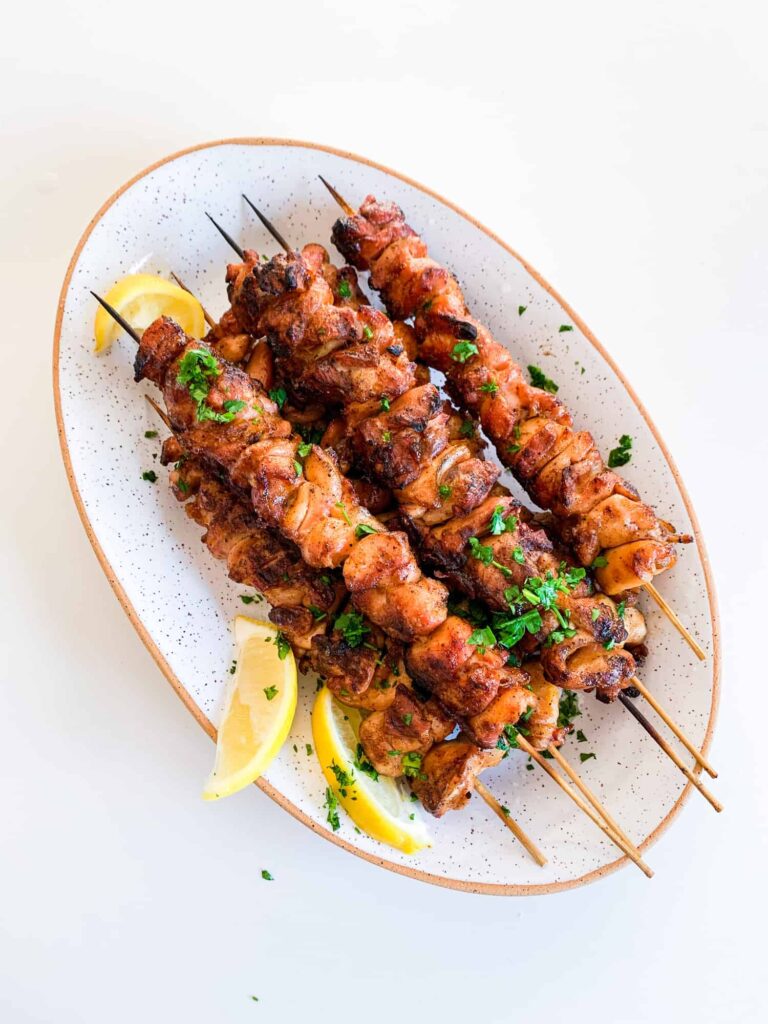 Ingredients
4

boneless skinless breasts – gently pounded to even thickness and brined

1

T

olive oil

1 ½

tsp

salt plus ¼ cup for brining- see directions below

½

tsp

black pepper

1

tsp

garlic powder

½

tsp

onion powder

½

tsp

paprika

Lemon wedges and fresh parsley for garnish
Instructions
Start by brining the chicken breasts- fill a large bowl with warm water and ¼ cup salt- stir until most of the salt is absorbed. Place the whole chicken breast inside the bowl, and allow to sit for 15 minutes- you can also refrigerate covered for up to 5 hours. Rinse the chicken breast with cold water, and discard salt mixture, and pat the chicken breast with a paper towel

Preheat the grill to medium-high heat

In a small bowl, mix together the salt, pepper, garlic, and onion powder, and paprika set aside

Cut chicken breasts into 1-inch pieces, and place them in a large mixing bowl with the olive oil, using a spatula, gently stir, then sprinkle spice mixture over top, and gently toss until everything is evenly coated with the olive oil and spice mixture

Thread chicken onto prepared skewers. I prefer to use metal skewers, but if you are using wooden skewers, be sure to soak for at least 20 minutes, so they do not burn

Once the grill is hot, place them evenly across the grate. You may have to do it in batches, depending on the size of your grill. Cook for 12-14 minutes, until chicken has reached a temperature of 165 degrees and cooked through and the lovely golden crust has formed

Transfer kabobs to a platter, and sprinkle with fresh parsley and squeeze of lemon if desired
P.S. This page may contain affiliate links. Of course, you're not obligated to use them, but I appreciate the love if you do!