Made with pantry staples and one secret ingredient, these Classic Waffles are light, fluffy, and perfectly delicious. Make them ahead of time for an easy, kid-friendly weekday breakfast. Or, serve them fresh for a sweet weekend brunch!
The Most Important Meal of the Day
Can you believe it's August already? Where did the time fly? Although seemingly short, it has certainly been a busy summer around our household. Between home renovations, shifting work schedules, and the adoption of our new puppy, it feels like we haven't sat down once. However, that doesn't mean we haven't been eating well! In fact, we've done our best to enjoy all the fresh flavors summer has to offer with recipes like Peach Caprese Salad, Zucchini, and Carrot Fritters, and sweet treats like Paleo Strawberry Popsicles.
However, with the kids going back to school and our schedules busier than ever, I'm finding myself in need of some more super kid-friendly make-ahead recipes especially when it comes to breakfast! With three boys running around, the kitchen can get a little crazy in the mornings. So, not wanting to send them off with empty stomachs or overly sugary treats, I decided to take matters into my own hands, and who doesn't love a good classic pancake? Luckily, this recipe is made with whole food ingredients and just the right amount of sweet to make it perfect for every occasion! Made with items you likely already have in your cupboard and one super special secret ingredient, it's the perfect way to start the day!
Ingredients for Homemade Pancakes
Of course, you could always just pick up a box of pancake mix at your local grocery store. However, those can be full of mystery ingredients and added sugars. Instead, this recipe uses a simple list of ingredients for a wholesome breakfast the whole family will love! To get started, you'll need:
All-Purpose Flour – All-purpose flour works best to create a fluffy texture. However, feel free to swap it out for a gluten-free substitute if necessary. Just keep in mind that you may need more or less depending on what you choose.


Sugar – I chose regular granulated sugar, but coconut sugar and your favorite sugar substitute could be used as well.


Eggs – The egg yolk not only provides pancakes with a richer flavor, but the eggs are also necessary to hold the rest of the ingredients together and provide structure to the pancakes. Yet, if you're following a vegan diet, they can keep be swapped out for a flax egg instead.


Milk – Any milk you have on hand is fine. Or, for a more traditional recipe and a super rich flavor, opt for buttermilk instead.


Oil – Either avocado or vegetable oil are best to use as they have high smoke points and fairly neutral flavors.


Cinnamon – Cinnamon adds an extra element of flavor and pairs lovely with the sugar but can be omitted.


Almond Extract – The secret ingredient that really sets these pancakes apart from the rest, almond extract adds a rich flavor similar to marzipan. However, vanilla extract works as well. 
How to Make the Perfect Pancakes
If you follow the simple instructions below, you can whip up these homemade pancakes just as fast as it would take to run to the store for a pre-made mix. Plus, they're guaranteed to be super fluffy and extra delicious!
Stir. In a medium bowl, stir together the dry ingredients, and make a well in the center once they are well combined.
Combine. In a separate, small bowl, combine the wet ingredients including the egg, milk, oil, and almond extract, and whisk the ingredients until a smooth mixture is formed.
Add. Add the egg mixture to the bowl with the dry ingredients, pouring it all in at once. Stir the ingredients until the dry ingredients are moistened. Don't worry, the batter will be lumpy!
Heat the griddle. Set your griddle to medium-high heat. Then, pour or scoop the pancake batter in equal-sized dollops. I used ¼ cup to keep them all the same size.
Cook. Cook the pancakes until bubbles begin to form, and give them a flip! Then, let them rest on the griddle another minute or so until they are done to your liking. Just be sure to keep an eye on them so they don't burn!
Toppings & Add-Ins
Don't get me wrong, these classic pancakes are pretty irresistible all on their own, but sometimes it's fun to add in a few extras and toppings! I love to get the kids involved letting them create their own pancakes. A few additional ingredients we love include chocolate chips, fresh fruit such as strawberries, bananas, and blueberries, peanut butter, syrup, and whipped cream!
Can I Make Pancakes ahead of Time?
Yes! One of my favorite things about this recipe is that it's perfect for meal prep. While I don't recommend keeping the batter stored in the fridge, I would highly suggest cooking it ahead of time! Then, store it in the fridge in an airtight container for up to 2 days. Or keep them in the freezer for up to 2 months.
How Do You Make Pancakes Fluffy?
There are tons of tips and tricks to make your pancakes extra fluffy. So, I'll just give you a few of the simplest. 

Use super fresh ingredients.


Don't overmix the batter.


Be gentle when you flip! Flipping them high into the air looks cool but actually squeezes the air out and makes them flatter. 
More Breakfast Recipes
In all honesty, my boys request these classic pancakes at least once a week, and I really can't blame them! Luckily, I've always got them stashed away in the fridge or freezer. The only hard part is deciding which toppings to use. What would you go for? Let me know in the comments below!
Of course, if you make this or any of my other recipes, please tag me on Instagram! I'd love to see your creations, connect, and share your page. I hope you love this recipe as much as I do. Stay tuned for new recipes, easy meal plans, decoration tips, and more every week!
In the meantime, enjoy!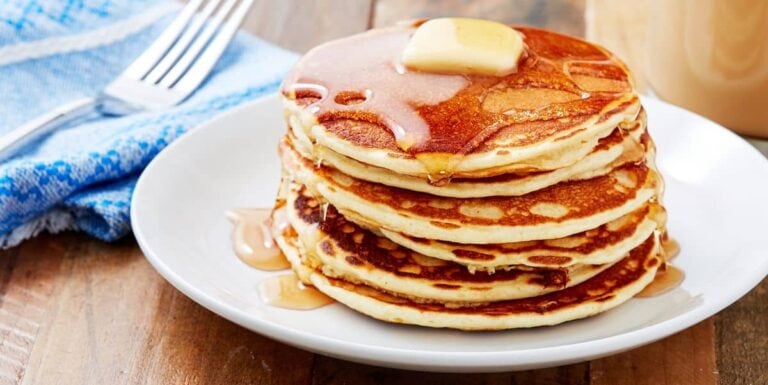 Ingredients
1

cup

all purpose flour

1

tbsp

sugar

2

tsp

baking powder

1/4

tsp

salt

1

egg

lightly beaten

1

cup

milk

2

tbsp

cooking oil

avocado or will vegetable work

1/2

tsp

cinnamon

1

tsp

almond extract

vanilla extract will work
Instructions
In a medium mixing bowl, stir together the dry ingredients (flour, sugar, baking powder, salt and cinnamon) making a well in the center

In a separate bowl, combine egg, milk, cooking oil, and almond extract

Add the egg mixture all at once to the dry mixture- stir until mositened, batter will be lumpy

Heat a griddle or nonstick pan over medium high heat, pour or scoop the batter using a measuring cup (I used 1/4 measuring cup) to help keep them the same size

Pro tip: use the lid of a mason jar lid (face down), spraying it liberally, as a mold to keep all the pancakes similar in the size
P.S. This page may contain affiliate links. Of course, you're not obligated to use them, but I appreciate the love if you do!