Made with simple ingredients, these Classic Homemade Waffles are a healthier alternative to your kids' favorite frozen breakfast. Mix in chocolate chips, pair them with fruit, or drizzle them with syrup for a tasty breakfast or easy dinner any day of the week! 
Your New Favorite Breakfast Recipe
In my opinion, everyone should have a few go-to recipes in their personal toolbox, even if they don't particularly enjoy being in the kitchen. Of course, meals like this Crispy Rosemary Chicken and Potatoes, my Whole30 Egg Salad for One, and Whole30 Fried Rice are always staples in my kitchen. However, sometimes, you need something a bit more fun. That's where these homemade waffles come in!
You guys, I've been making this recipe for years, and we still aren't tired of them yet. Admittedly, they are not Paleo or Whole30, but they are made with ingredients you can pronounce and likely have sitting in your kitchen. Even when foods might not be the healthiest, I very much believe that it is much "cleaner" when you make it at home (rather than it being store bought). If you have ever looked at the ingredient list on the back of a box of frozen waffles, you know just what I'm talking about! The good news is that this homemade waffles recipe can be equally as convenient as any store bought you'll find. Plus, they double not only as a tasty breakfast but also make for a quick dinner recipe for busy weeknights.
Sounds too good to be true, doesn't it? I promise it's not, though! Keep reading to learn how to make the perfect waffles in no time! 
The Best Ingredients for Homemade Waffles
If you're like me, you're eager to get started in the kitchen, but first we need to gather the proper ingredients! I kept this list of core ingredients as short as possible and even provided a few substitutes for easy cooking.
Eggs – Eggs provide the binding for this homemade waffles recipe and help create the fluffy texture we all love. Personally, I have not attempted it, but I believe a flax egg would work in its place.

Flour – For these waffles, I used all-purpose flour, but gluten-free or whole wheat would work as well. Just be sure to adjust measurements accordingly! This measurement chart might help.

Milk – Whether you prefer regular cow's milk, almond milk, soy milk, or something else, you can't go wrong here! Use whatever you like best.

Oil – I opted for vegetable oil, but avocado or sunflower oil would work as well.

Sugar – If you're watching your calories, feel free to opt for a sugar substitute. I just wouldn't use a liquid variety as it could cause clumps.

Cinnamon – Technically, cinnamon is an optional ingredient, but I highly recommend including it as it gives these waffles that extra kick of flavor we love.

Almond Extract – If you don't have almond extract on hand, vanilla extract tastes great, too! 
Ingredient Add-Ins and Toppings
This recipe is amazing on it's own. However, adding your own twist on the ingredients can be a fun way to get the kids involved in the kitchen! Let them help make their own waffles by including add-ins such as fresh fruit, chocolate chips, and chopped nuts.
Then, let them get creative with their plating as they arrange toppings such as maple syrup, powdered sugar, whipped cream, and more!
Tools You'll Need for Homemade Waffles
The secret to making easy waffles is to use the right tools. Luckily, I've tried and tested them all so you don't have to. After countless batches made, I've determined the key to your waffle-making success comes down to purchasing a good waffle maker. My favorite is this Mini Waffle Maker! I find it makes the perfect-sized waffles without much fuss. 
How to Make Easy Waffles at Home
To make this recipe, you'll want to start with the dry ingredients. Mix them all in a medium-sized bowl until well-combined. Then, create a well in the center.
Next, combine the wet ingredients in a separate bowl, and whisk until they are completely blended. Once mixed, add the wet ingredients to the dry, and stir.
The key here is to combine the wet and dry ingredients until the dry are moistened keeping the batter lumpy. You definitely do not want to overmix it!
To finish, add the batter to  your waffle maker as the ingredients instruct, and repeat until all the batter has been used.
Meal Prep, Storage, and Reheating
My favorite thing about this homemade waffles recipe is that it makes for the perfect meal prep! I highly recommend making a large batch ahead of time. Then, store them in an airtight container in the fridge for 2-3 days.
Or, place a sheet of parchment paper in between each waffle, and pop them in the freezer for up to 3 months.
When you're ready to eat, simply pop your prepared waffles into the toaster, place them in the microwave, or even toss them on a skillet for a few minutes! Just be sure to keep an eye on them as they cook fairly quickly! After all, no one likes burnt waffles. 
More breakfast recipes you'll love
If you have any waffle tips or tricks I need to know, please feel free to leave a comment below, and while you're down there, I'd love it if you told me your favorite waffle topping! I'm team syrup myself.
Of course, if you make this or any of my other recipes, please tag me on Instagram! I'd love to see your creations, connect, and share your page. I hope you love this recipe as much as I do. Stay tuned for new recipes, easy meal plans, decoration tips, and more every week!
In the meantime, enjoy!
Karin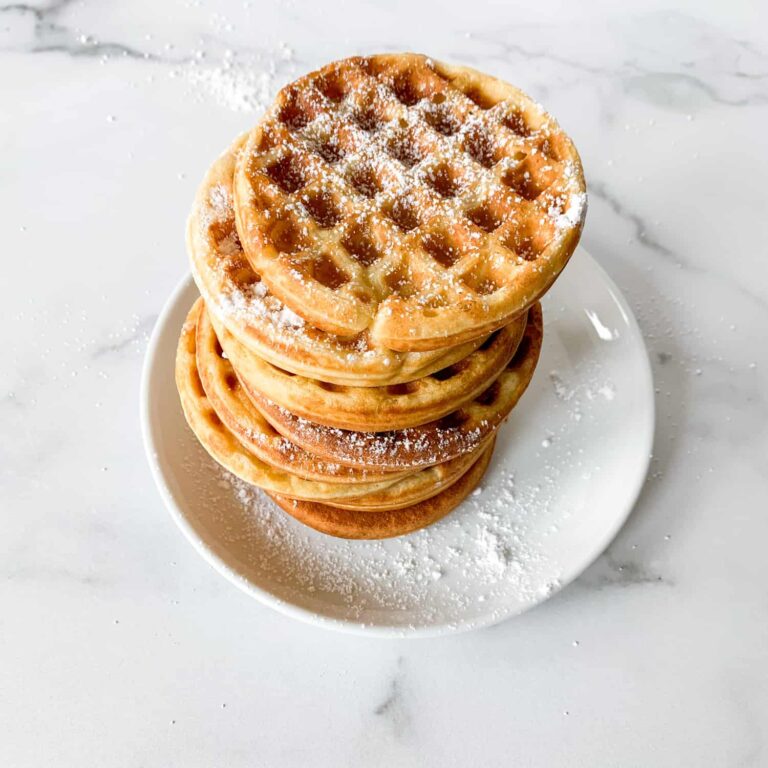 Ingredients
2

eggs

lightly whisked

2

cups

all purpose flour

1 3/4

cup

milk

1/2

cup

vegetable oil

you can sub avocado or sunflower oil, if desired

1

tbsp

sugar

4

tsp

baking powder

1/4

tsp

salt

1/4

tsp

cinnamon

1/2

tsp

almond extract

you can sub vanilla extract
Instructions
In a medium bowl, stir together all lthe dry ingredients (flour, sugar, baking powder, salt, cinnamon), making a well in the center

In a separate medium bowl, combine the wet ingrediets (eggs, milk, oil, almond extract)

Pour the egg mixture into the dry ingredients all at once, stir until moistented – batter will be lumpy

Prepare in your waffle maker as recommened
Notes
If you want to freeze, allow to cool, and place a small sheet of parchment in-between each waffle. Store in a freeze safe container, and take out and toast as desired. 
P.S. This page may contain affiliate links. Of course, you're not obligated to use them, but I appreciate the love if you do!