Made with two simple ingredients, this recipe for yogurt bark is the easiest healthy breakfast, snack, or dessert your kids are going to love!
With three growing boys, snacktime is taken very seriously in my house. Of course, items like chips, pre-packaged fruit snacks, granola bars, and more are easy options. However, they're also often loaded with added sugars and processed ingredients I don't feel great about feeding my family.
So, whenever possible, I do my best to not only find but also make healthy snacks with real ingredients I know will nourish my family. With trial and error, I've come up with recipes like these Paleo Playdate Bites, Paleo Kiddie Corn Dogs, and these 9 Healthy Toddler Snacks.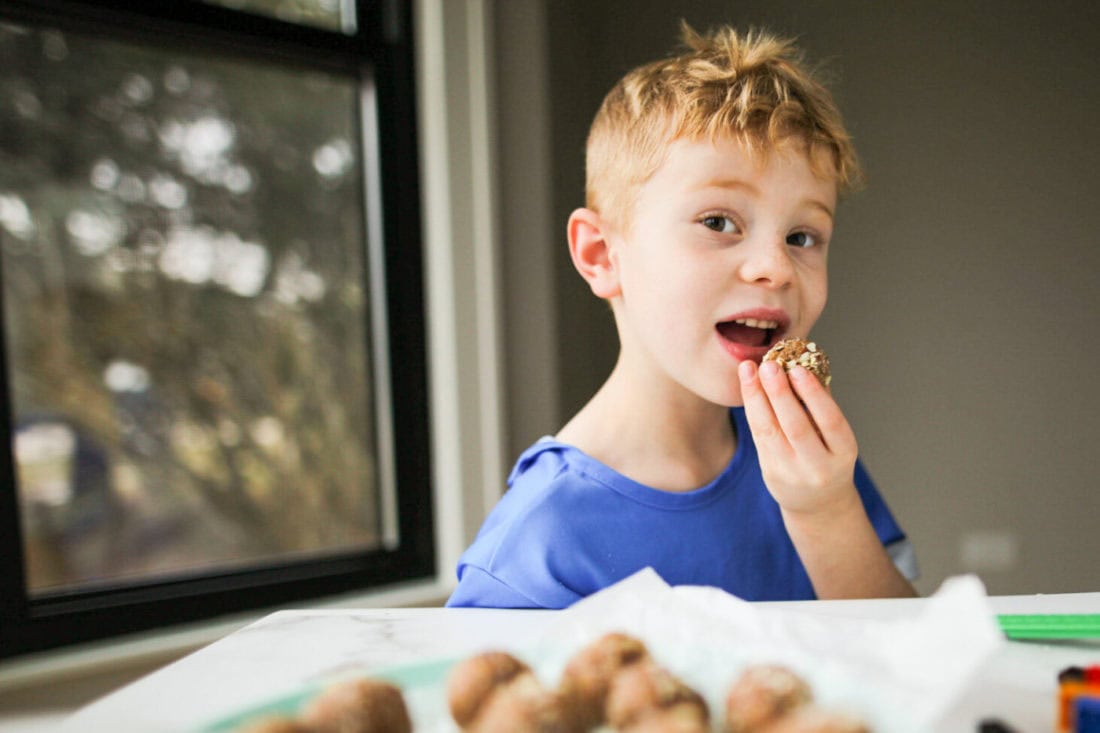 These snacks are all incredibly delicious. However, with warmer weather on the horizon, I wanted to create something a little lighter. In an effort to cure my kids' never-ending sweet tooth, I came up with this recipe for yogurt bark! 
Yogurt Bark Ingredients
Not only is this yogurt bark delicious, it's also incredibly easy to make! Even better, it's super versatile to meet your little ones' ever changing taste buds. For this recipe you'll need: 
Vanilla or French vanilla yogurt


Toppings
Nope, you didn't miss something. Those two ingredients are literally all you need for this quick and easy recipe for yogurt bark! 
Optional Yogurt Bark Add-Ins
Feel free to get creative and add more ingredients to this yogurt bark to keep things fun. Plus, using this base and adding additional ingredients can be an easy and exciting way to introduce new textures and flavors into your kid's diet. If you want even more recipes for yogurt bark, take a look at these 16 Yogurt Bark Recipes!  However, additional ingredients for this recipe could include: 
Fresh or dried fruit


Chocolate chips


Cereal or granola


Sprinkles


Pretzels
Instructions for Yogurt Bark
Line pan. Using parchment paper, line the bottom and sides of a flat pan or baking sheet. Make sure to cover the corners!


Spread yogurt. Spread the yogurt evenly across the parchment paper.


Sprinkle. Add your toppings of choice.


Freeze. Place the pan in the freezer for at least four hours or until the yogurt is frozen. I froze mine overnight!


Break. Once frozen, break the yogurt into pieces the size of your choice.


Enjoy! Serve the yogurt bark immediately, and enjoy! Be warned, though – These bites need to be eaten quickly, or they may begin to melt.

Yogurt Bark Serving Suggestions
Want to increase the protein in your family's diet? Swap out the yogurt in this recipe for a Greek yogurt variety. On average, a single serving of Greek yogurt has about 17 grams of protein! Be careful, though! Many options often have significant amounts of added sugar and mystery ingredients. To avoid this, be sure to read the ingredient list and try to opt for choices with minimal ingredients. 
Frequently Asked Questions
How long will frozen yogurt bark last?
When stored in an airtight container or a sealed freezer-friendly bag, frozen yogurt bark will last 2-months in the freezer.
u003cbru003eCan I make dairy-free frozen yogurt bark? 
Absolutely, frozen yogurt bark can be made dairy-free! Just opt for a dairy-free yogurt alternative instead. 
u003cbru003eHow can I cut frozen yogurt bark? 
The easiest way to break apart frozen yogurt bark is to use a sharp knife. However, you can also break the bark fairly easily using your hands. 
u003cbru003eHow to healthily sweeten frozen yogurt bark? 
To negate the tartness of yogurt, especially Greek yogurt, without adding tons of sugar to this recipe for yogurt bark, opt for natural sweeteners like honey or maple sugar. You could also mix in liquid stevia. No matter what option you choose, remember a little goes a long way! 
So, there you have it! This recipe for yogurt bark is the easiest healthy snack or quick breakfast to cool you off in the upcoming summer months. Plus, it's a fun way to get the kids involved in the kitchen. They'll love getting to help spread the yogurt, choose their own toppings, and breaking the frozen bark. 
If you're looking for more healthy breakfast ideas, take a look at these kid-friendly Rise and Shine Prosciutto Egg Cups, The Best (and Easiest) Whole30 Frittata, or my Classic Waffles! Are there any breakfast recipes you love that I should add to my family's rotation? Let me know in the comments below! Also, how are you planning to make this yogurt bark? I'd love to hear your ideas for toppings and add-ins.
Of course, if you make this or any of my other recipes, please tag me on Instagram! I'd love to see your creations, connect, and share your page. I hope you love this recipe as much as I do. Stay tuned for new recipes, easy meal plans, decoration tips, and more every week! 
In the meantime, enjoy!
Karin
Ingredients
32

oz

Vanilla or French vanilla yogurt

Choice of toppings (fresh or dried fruit, cereal, sprinkles, chocolate, etc.)
Instructions
Line flat pan (bottom and sides) with parchment paper.

Spread evenly with yogurt

Sprinkle with your choice of fresh toppings (I used fresh strawberries, granola and sprinkles for good measure)

Freeze for at least 4 hours or until frozen solid (I did overnight)

Break into pieces and serve immediately

Store leftovers in freezer friendly bag or container
P.S. This page may contain affiliate links. Of course, you're not obligated to use them, but I appreciate the love if you do!