Made with fresh and simple ingredients, this Cauliflower Kale Detox Salad with Tahini Ginger Dressing is the perfect light meal that will leave you feeling full and refreshed! Serve it as a light appetizer or a filling meal.
Detoxing the Right Way
I'm sure you've seen a whole array of products that promise detoxes, weight loss, clear skin, and so much more. In all honesty, I've been sucked into a few marketing schemes throughout my life. *Gasp!* Embarrassing, I know, but we've all been there, right? However, in my experience all the great marketing in the world can't beat the basics, and the best way to actually detox is to fill your body with healthy nourishing ingredients and recipes like green beans, Brussels sprouts, bok choy!
This being said, with the holiday season in full swing, I've found myself reaching for one too many sweets now and then. Therefore, in order to get back on track and avoid sliding down the slippery slope of Christmas cookie indulgence, I decided to lighten things up a bit with a super healthy kale detox salad! Now, I know that kale isn't always the most popular ingredient out there.
However, I'm convinced that people who don't like it, just haven't had it prepared properly. You see, there are a few tricks to make kale a little tastier to eat. Plus, when paired with yummy ingredients such as cauliflower, carrots, pomegranate seeds, and more, it's totally irresistible! So, if you're like me and ready for a little more nutrition in your life, keep reading to learn how easily this detox salad comes together!
Ingredients for a Kale Detox Salad
This detox salad recipe is full of fresh fruit and vegetables that deliver a wide variety of vitamins, nutrients, and fiber to keep you full and satisfied! Then, I created a homemade salad dressing full of flavor and healthy fats to top it off. Take a look at everything you'll need to make this recipe below.
For the Salad
Cauliflower – I bought a whole head of cauliflower, and grated it with a box cutter. However, rice cauliflower would work, too.
Kale – Did you know there are 7 different kinds of kale? For this detox salad I recommend using either Tuscan kale or curly kale varieties, but whatever you can find at your local grocery store works! 
Parsley – I highly recommend opting for fresh parsley. Or, incorporate other fresh herbs such as cilantro and celery leaves.
Carrots – For the best texture, I prefer to use grated carrots!
Almonds – Sliced almonds provide a nice crunchy texture, but any other nut or seed you prefer will also taste great! 
Pomegranate Seeds – Pomegranate seeds add a beautiful pop of color and a slightly sweet and tart taste. Or, if you prefer, add dried cranberries or cherries instead. 
Broccoli – To save time, opt for pre-chopped broccoli florets. 
For the Dressing
Tahini – Tahini is a smooth paste made from sesame seeds that is full of flavor and healthy fats!
Lemon Juice – The acidity of lemon juice works to break down some of the fibrous kale, making it less bitter, and combines beautifully with the tahini.
Olive Oil – Olive oil helps thin out the dressing while also adding a bit of flavor and more healthy fats to keep you full.
Water – Similar to olive oil, water is used to thin out the dressing a bit, allowing it to spread evenly across the ingredients.
Seasonings – For added flavor, I used salt, pepper, and grated ginger for a bit of zing! 
Extras & Add-Ins
This kale detox salad recipe is super loaded already, but there's always room for more, right? If you want to bulk it up even further, try adding protein like Pan Roasted Chicken, steak tips, shrimp, or Pan Seared Salmon! Or, add in extra ingredients like additional nuts and seeds, fresh fruit such as blueberries or apples, croutons, feta cheese, and more!
How to Make a Detox Kale Salad
I love to make a big bowl of this salad to munch on throughout the week! It's seriously one of the easiest meal prep recipes you could ever make. Just follow the steps below, and you'll be on your way to your new favorite salad recipe!
Whisk. In a small bowl, whisk together the ingredients for the salad dressing.
Chop. Chop all the veggies into small pieces, and add them to a large mixing bowl.
Toss. Top the veggie mixture with the salad dressing, making sure they are well-coated, and enjoy.
*For the best results, try massaging the kale ahead of time! To do this, add the kale pieces to a large bowl along with olive oil and a pinch of salt and pepper. Then, literally massage the kale with your hands for 3-4 minutes or until it is soft and tender!
Preparation and Storage Tips
This detox salad holds up super well when stored for later! In fact, the flavors soak in even more after a day or so in the fridge! To prepare this salad ahead of time, toss follow the directions as instructed. Then, place the salad in an airtight container, and store it in the fridge for up to 3 days.
However, I don't recommend freezing this detox salad as it will become watery when thawed.
Can I Use a Different Green?
Sure! Nothing quite resembles the flavor of kale, but any greens you prefer can be used. However, for the best results, I recommend using dark leafy greens. Also, if you swap out the kale, I don't recommend preparing this salad ahead of time as it will become soggy.
Can I Substitute the Dressing?
Of course! Feel free to use any salad dressing you like best!
More Salad Recipes You'll Love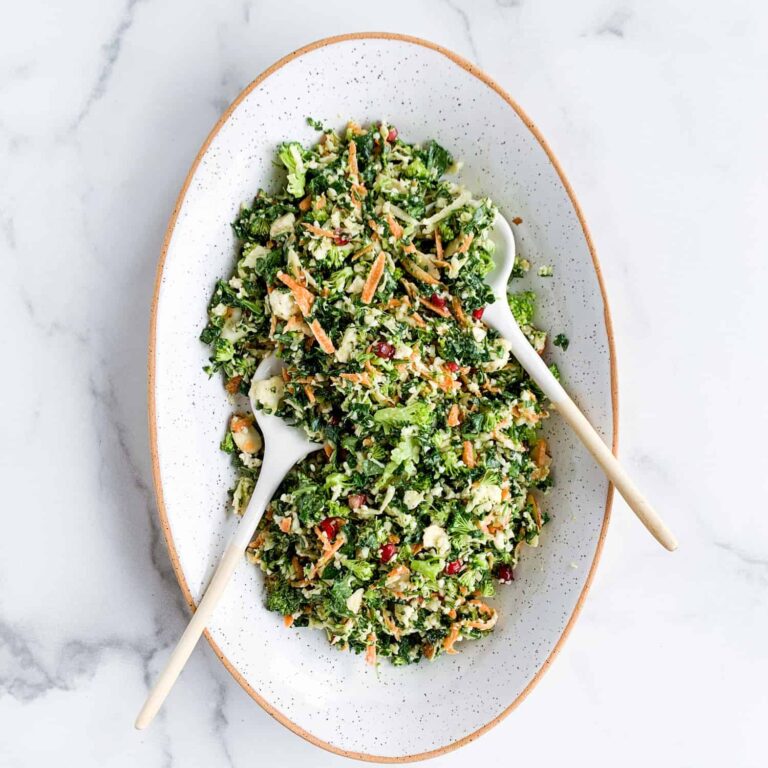 Ingredients
1/2

head of cauliflower

grated with a box cutter

1

cup

kale

chopped (small)

1/2

cup

parsley

chopped (small)

3

carrots

grated

1/4

cup

sliced almonds

4

Tablespoons

pomegranate seeds

1

broccoli head

chopped (small)
Salad Dressing
2

Tablespoons

tahini

2

Tablespoons

lemon juice

freshly squeezed

1

Tablespoon

extra virgin olive oil

1

Tablespoon

water

1

pinch

sea salt

1/4

teaspoon

black pepper

freshly grated

1

Tablespoon

freshly grated ginger
Instructions
In a bowl, whisk together the tahini, lemon juice, olive oil, water, salt and pepper, set aside

Chop all the veggies and add to a big bowl

Top the veggies with the dressing, toss and serve
Notes
For tender kale pieces, use your hands to massage them with oil before assembling the salad.
Kale is a great veg that holds up well "marinated" This salad can sit in your refrigerator for up to three days. 
That's it, you guys! Not only is this kale detox salad recipe a super pretty addition to your dinner table, it's also absolutely delicious! It's definitely one of my go-to recipes in a pinch. However, I'd love to know what some of your favorite salads are! Let me know in the comments below!
Of course, if you make this or any of my other recipes, please tag me on Instagram! I'd love to see your creations, connect, and share your page. I hope you love this recipe as much as I do. Stay tuned for new recipes, easy meal plans, decoration tips, and more every week!
In the meantime, enjoy!
Karin