Made with simple ingredients and roasted in the oven (or air fryer), these Whole30 Green Beans are the perfect healthy side dish full of health benefits. Make them for barbecues, weeknight dinners, and more!
Don't get me wrong. I love a good summer barbecue, but between the corn on the cob, baked beans, mac and cheese, potato salads, and more, they aren't always carb-conscious or Whole30 friendly. So, in an attempt to bring a little more health to our summertime meals, I created these Whole30 Green Beans! Not only were they a hit at our last cookout, they also make an incredibly easy side dish for weeknight meals or your weekly meal prep.
When it comes to dinners, especially in the summer, I always try to find the perfect balance between healthy, tasty, and easy. Luckily, with recipes like Cajun Grilled Shrimp, The Perfect Whole30 Steak, and the Perfect Burger, the grill makes cooking quick and effortless. However, if you're also looking for more healthy side dishes, don't forget to toss together this Easy-Peasy House Salad or my favorite Whole30 Broccoli Slaw. Personally, I like to mix and match these recipes and more to create healthy meals I know my whole family will love.
So, when I was left with a big bag full of fresh green beans, I knew I had to get to work creating something delicious. Luckily, this recipe didn't disappoint! Of course, feel free to add your own flare, and experiment with seasonings. Yet, if you're looking to toss something in the oven and forget about it until dinner, this is just the side dish for you! Ready in just 15 minutes, you won't believe how tasty this roasted green beans recipe turns out.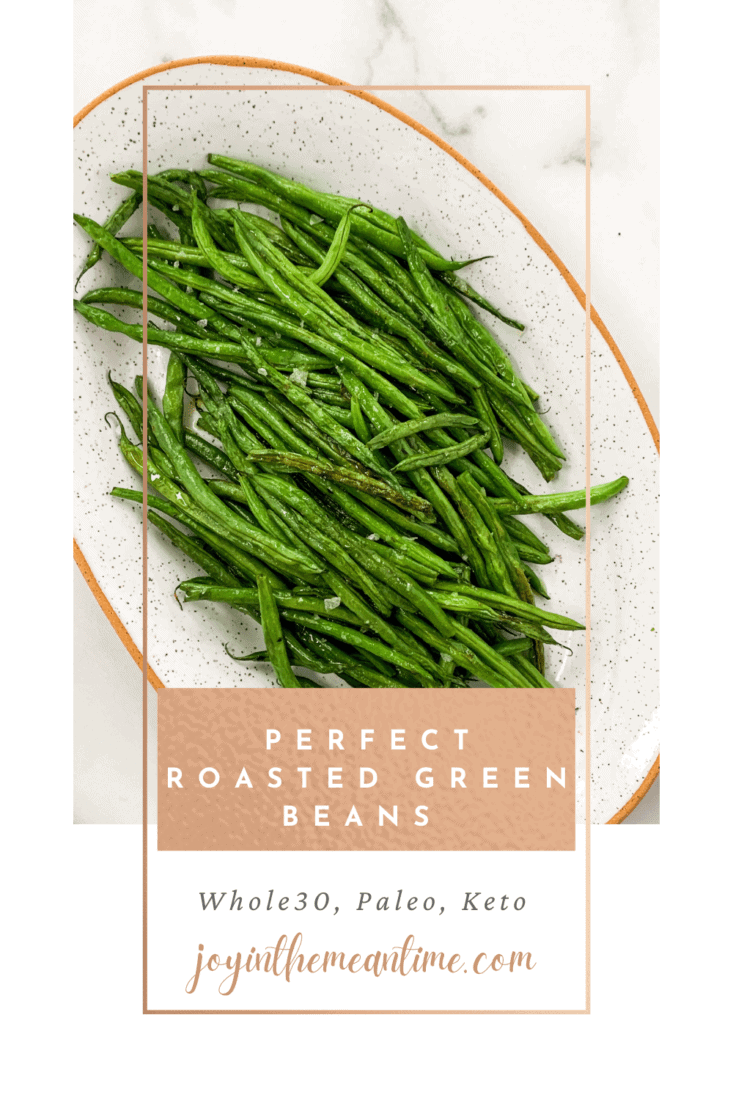 How to Make Whole30 Green Beans in the Oven
To make this roasted green beans recipe, start by preheating the oven to 425 degrees Fahrenheit, and line a baking sheet with parchment paper.
Next, wash and trim the green beans by cutting off their ends and any bad spots that may appear. To achieve the best crispy texture, be sure to fully dry the green beans with a paper towel.
Then, place the green beans on the parchment-lined baking sheet in a single layer. Drizzle them with olive oil, salt, pepper, garlic powder, and paprika. Use your hands to mix well and evenly distribute the seasonings.
Roast the green beans for 14-15 minutes or until they are crispy and fork-tender. To finish, transfer the green beans to a serving dish, and add salt, pepper, and lemon zest to taste.
How to Roast Green Beans (Air Fryer Version)
To roast Whole30 green beans in the air fryer instead of the oven, follow the same steps. However, instead of preheating an oven, you will need to preheat an air fryer to the same temperature. Then, after washing, trimming, drying, and seasoning the green beans, spray the tray of the air fryer with an oil spray. Add in the green beans, and cook for about 6 minutes. Remove the tray, give the green beans a good shake, and cook for an additional 7 minutes. If they have not reached their desired crispiness, continue to cook in 2 minute intervals until satisfied.
Can I Eat Green Beans on a Whole30 Diet?
When it comes to green beans, peas, and all things legumes, navigating the Whole30 diet can be a bit confusing. This is largely a result of changing rules and guidelines. Originally, all legumes were off-limits in the Whole30 diet. However, upon recent scientific data, the guidelines have been altered a bit. According to the official Whole30 website, green beans and most forms of peas are now permitted in a Whole30 compliant diet.
So, the short answer is, yes, green beans can be eaten on a Whole30 diet.
What are the Health Benefits of Green Beans? Why You Should be Eating Them
First and foremost, green beans are incredibly tasty, and can be included in your weekly meal plan as a budget-friendly option. Quick to cook and easy to make, they're a staple in my family's diet. However, while their flavor alone is enough to sell me, these little green cylinders are actually incredibly good for you, too!
For example, green beans are excellent sources of vitamins A and C. They're also rich in Calcium, Iron, Magnesium, Potassium, Phosphorous, Zinc, and more. Not to mention, they're also low in both carbs and calories and loaded for fiber. This means you can eat quite a few for very negligible calories, and they'll keep you full and satisfied until your next meal.
For more information about the health benefits of green beans, take a look at this article.
Flavor Additions to this Roasted Green Beans Recipe
For this recipe, I used olive oil and spices to keep things Whole30 compliant. However, the flavor combinations are truly endless. Feel free to mix and match your favorite spices, add fat sources, and more to make this recipe your own! Of course, make sure to double check ingredient lists and comply with any of your dietary needs. However, to get your started brainstorming for dinner, a few of my favorite Whole30 Green Bean add-ins include:
Parmesan Cheese


Minced Garlic


Bacon


Ham


Balsamic Vinegar
Healthy eating doesn't have to be complicated or difficult, and these Whole30 Green Beans prove it to be true! Whether you follow any of my suggestions or create your own, I would love to know how you make this recipe your own. Let me know in the comments below!
Of course, if you make this or any of my other recipes, please tag me on Instagram! I'd love to see your creations, connect, and share your page. I hope you love this recipe as much as I do. Stay tuned for new recipes, easy meal plans, decoration tips, and more every week!
In the meantime, enjoy!
Karin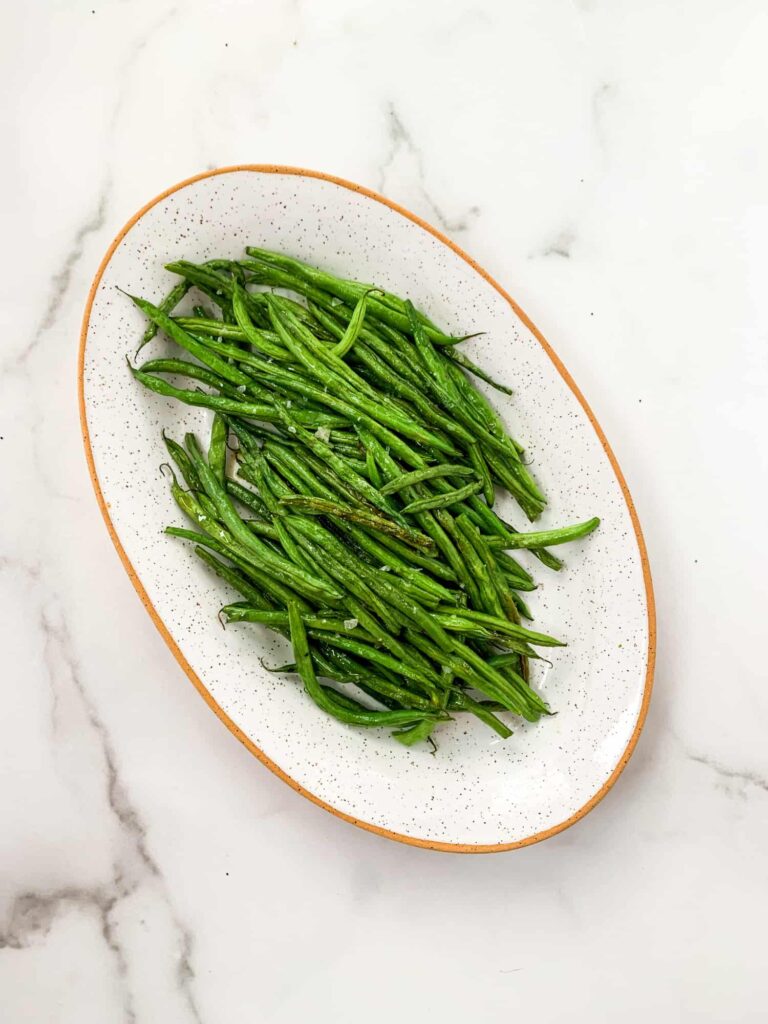 Ingredients
1

lb

fresh green beans

washed dried and ends trimmed

2

tsp

EVOO

½

tsp

garlic powder

½

tsp

paprika

¼

tsp

salt plus more to taste

¼

tsp

black pepper

plus more to taste

Lemon zest for garnish if desired
Instructions
Preheat oven to 425 F and line a baking sheet with parchment and set aside

Wash and trim green beans and pat dry with a paper towel. To ensure you get a great texture, you really want to make sure they are completely dry

Place green beans on parchment-lined baking sheet, and drizzle with olive oil, salt, pepper and garlic powder, and paprika using your hands to mix thoroughly, and spread in a single layer

Roast for 14- 15 minutes crispy, and fork-tender with some delicious crispy bits

Transfer to a serving dish, and garnish with additional salt and pepper if desired. You can also sprinkle with a bit of fresh lemon zest if desired
P.S. This page may contain affiliate links. Of course, you're not obligated to use them, but I appreciate the love if you do!