These Perfect Baked Chicken Meatballs are made with a handful of simple ingredients and ready in 20 minutes for a super tasty low-carb recipe that is Whole30, Keto, and Paleo. Serve them as an appetizer, dinner, or kid-friendly snack!
Why You'll Love these Whole30 Meatballs
One of the main concerns I hear regarding a Whole30 diet is the difficulty involved in giving up carb-heavy foods we all know and love. Don't get me wrong, this was a huge concern of mine when I began my first round of Whole30 several years ago, too! However, instead of using it as a deterrent, I took advantage of an opportunity to overcome a challenge. So, instead of cutting out some of my favorite foods completely, I decided to get creative and develop Whole30-friendly alternatives. Now, with recipes like Taco Stuffed Mini Peppers, Whole30 Burger Bowls, and The Perfect Whole30 Steak, I've found it's actually super easy to enjoy my favorite foods, and I never feel deprived.
That being said, the hardest cuisine to turn Whole30 friendly tends to be Italian food, for me, at least. It's not impossible, but it does take a little bit of trial and error. So, instead of diving right into a pasta-heavy meal, I decided to start small and went with baked chicken meatballs. Luckily, this recipe turned out even better than I could have expected! It's completely Whole30-friendly and comes together so quickly. Plus, they're great to prepare ahead of time and keep stocked in the freezer for those nights when you need dinner in a pinch. Or, is that just me? The best part is even my boys loved it! I guarantee once you try these baked meatballs, they'll become a staple in your kitchen, but I'll let you find out for yourself.
Whole30 Chicken Meatballs Ingredients
Chances are you already have most of the ingredients you need for these meatballs waiting for you in your kitchen! Take a look below to see what you'll need.
Chicken – For this recipe, you'll want a pound of ground chicken. Whole breasts or thighs won't work well.
Pork Rind Crumbs – I use pre-made pork rind crumbs. However, if you don't have them available to you, you can simply place whole pork rinds in a food processor, and pulse them until they reach a consistency similar to breadcrumbs. Paired with lean ground chicken, pork rinds add an incredible rich flavor! 
Egg – Not only does the egg add flavor to these chicken meatballs, it also helps hold all of the other ingredients together.
Seasonings – I used garlic powder, onion powder, salt, and pepper, but feel free to experiment with your own seasonings if you like!
How to Make the Perfect Baked Meatballs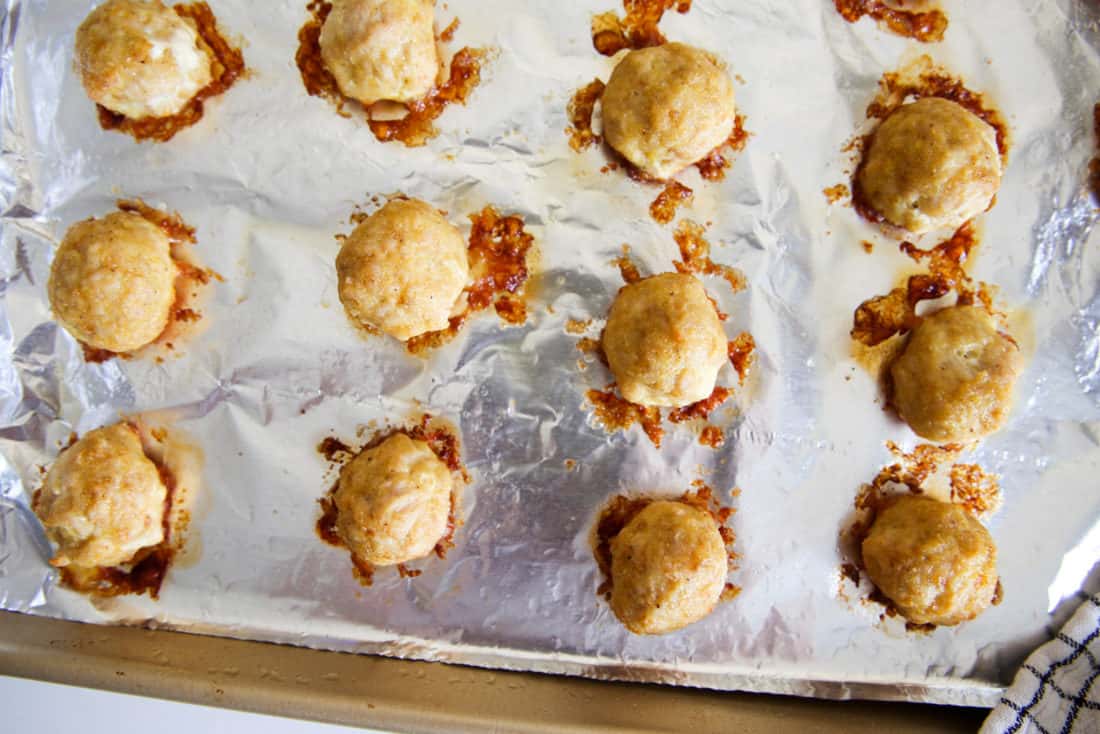 Think meatball recipes are super complicated? I did, too! That is until I made these chicken meatballs. Seriously, I couldn't believe how easily they came together! Just follow the steps below, and you'll have perfectly baked meatballs in minutes.
Preheat the Oven. To start, set your oven to 400 degrees Fahrenheit, line a baking sheet with aluminum foil, and spray it with a cooking spray. (I used olive oil spray like this one)
Combine. In a large bowl, combine all of the ingredients until they are well-mixed. I found this step is easiest to do with your hands, but you could use a spoon or spatula as well.
Form Small Meatballs. Once the ingredients are combined, use your hands to form small meatballs, rolling the mixture in between your palms until about a tablespoon small ball is formed. Repeat this step until all of the meat mixture has been used.
Bake. Place the meatballs in the oven for 20 minutes.
Storage Suggestions
Once baked, these meatballs are best served right away and can be eaten either warm or cold! However, if you want to prep them ahead of time or have leftovers, store them in a shallow airtight container for up to 3-4 days.
How to Freeze Baked Chicken Meatballs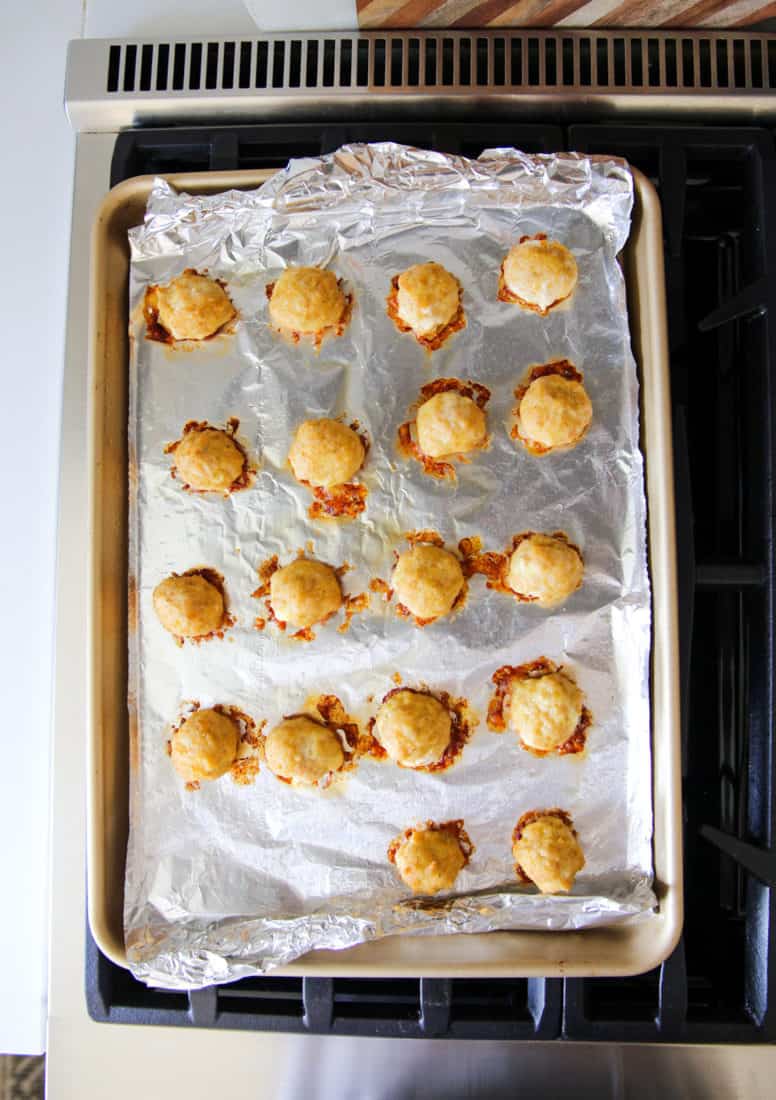 I love to make a big batch of these meatballs and store them in the freezer for game day or quick dinners! To do so, just bake them as directed, place them in a single layer on a baking sheet in the freezer for 1-2 hours, transfer the frozen meatballs to a sealable bag, and store them fully cooked for up to 3 months.
Serving Suggestions
Honestly, the serving options for this recipe are virtually endless! A few of my favorite pairings are marinara sauce, barbecue sauce, buffalo sauce, pesto, and sweet and sour sauce.
To make them a meal try serving:
Swedish Meatballs
Italian Wedding Soup with Meatballs
Meatball Casserole
Spaghetti (or Spaghetti Squash) and Meatballs
A Meatball-Topped Salad
Can I Use a Different Protein Source?
Yes, but keep in mind that the pork rinds add quite a bit of fat. So, I recommend sticking with a lean protein source such as ground turkey or lean beef!
Can I Use Fresh Onion and Garlic?
Of course! Personally, I don't love the mouthfeel of super chunky meatballs which is why I opt for powdered versions. However, if you like the chunks of chopped onion and garlic, by all means, feel free to include them instead of the powdered versions! You may need to alter the amount included, though.
More Great Chicken Recipes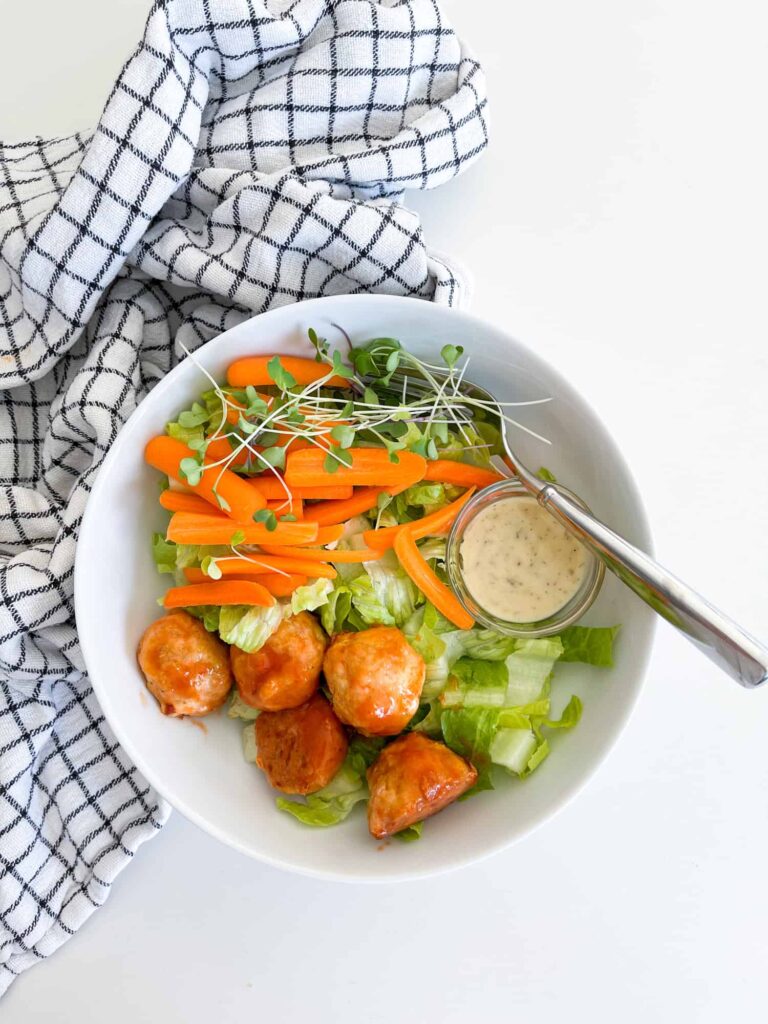 Ingredients
1

pound

ground chicken

½

cup

pork rind crumbs*

2

Tablespoon

extra virgin olive oil

1

teaspoon

garlic powered

½

teaspoon

onion powder

1

egg

1

teaspoon

salt

¼

teaspoon

pepper
Instructions
Preheat the oven to 400 degrees Fahrenheit.

Line a baking sheet with aluminum foil, and spray it with cooking oil.

Mix all the ingredients in a large bowl. Then, form small meatballs about the size of a tablespoon.

Place the meatballs on the baking sheet, and bake for 20 minutes.
Notes
*If you don't have pre-made pork rind crumbs, just pulse whole pork rinds in a food processor until a texture similar to breadcrumbs is formed. 
You should have about 18 meatballs
Store these meatballs in the freezer for up to 3 months. 
That's it, you guys! You'll be in and out of the kitchen with this recipe in no time. Honestly, I've made it too many times to count at this point, and I'm still not tired of it. There are just so many ways to serve chicken meatballs! How are you planning to pair them? Let me know in the comments below!
Of course, if you make this or any of my other recipes, please tag me on Instagram! I'd love to see your creations, connect, and share your page. I hope you love this recipe as much as I do. Stay tuned for new recipes, easy meal plans, decoration tips, and more every week!
In the meantime, enjoy!
Karin