Made with clean and simple ingredients, these Perfect Shrimp Burgers are served with a homemade tartar sauce recipe for a low carb, keto friendly meal perfect for every occasion. Make them ahead of time for easy meal prep or quick dinners! 
Burgers without the Beef
Don't get me wrong, I love a good recipe with beef. I mean, who can turn down a Perfect Burger, Spicy Beef + Asparagus Stir Fry, or Ground Beef Taco Meat? However, I also try to incorporate fish or seafood into my family's diet once or twice a week. This means fish filets and grilled shrimp are frequently on the menu. So, in an effort to switch our mealtime up a bit, I decided to get a little creative in the kitchen.
The result left me with this Perfect Shrimp Burger recipe! Not only is it super easy to make, but it also consists of simple, keto ingredients so you get all of the great flavor you're looking for with none of the added ingredients or starchy carbs. To make them even tastier, I'm also giving you a recipe for a homemade tartar sauce that tastes even better than the store-bought varieties. Not to mention, these burgers are perfect to make ahead of time, and the kids love them! 
Ready to get cooking? Let's go!
What You'll Need
I did my best to keep these ingredients as simple as possible, making these lists fairly short. In fact, you'll likely have most of the ingredients already waiting for you in your kitchen!
Ingredients for the shrimp burgers
Pork Rind Bread Crumbs – If you aren't following a keto diet, feel free to use regular Panko breadcrumbs instead.

Mayo – I like to use a Paleo mayo like Primal Kitchen, but any you have on hand will work!

Scallions – Similar to onions, scallions are used to add a nice tang to these burgers.

Herbs + Seasonings – I used parsley, lemon zest, salt, peper, and paprika, but there are endless flavor combinations you could try! Try adding a bit of heat with chipotle powder. Or, toss in a pre-made mix for extra convenience.

Shrimp – For easy cooking, I recommend using shrimp that come without their tails. Just be sure to opt for uncooked varieties!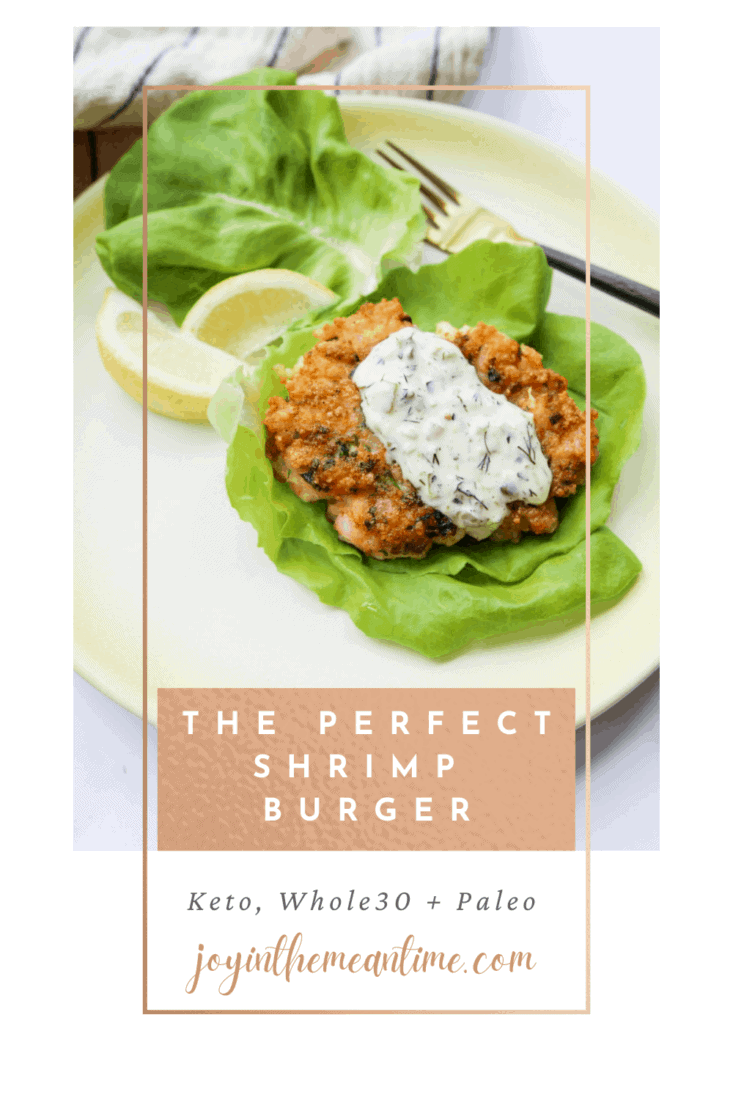 Ingredients for the tartar sauce
Mayo – Mayonnaise serves as the base for this recipe and provides the tang we all love when it comes to tartar sauce. However, Greek yogurt could be used as well.
Relish – If you don't have relish on hand, finely chopped pickles work in its place.
Capers – Capers add a nice savory and slightly salty flavor. However, green olives can be used in their place.
Dill – Not only does dill make this homemade tartar sauce look more appealing, it also helps enhance all the other ingredients in the recipe for the perfect balance of flavor.
How to Make Shrimp Burgers
Think homemade burgers are difficult to make? Think again! Once you see how simple this recipe is, they'll become a staple in your recipe book. To get cooking, follow the easy steps below.
Combine. In a large bowl, combine the mayo, scallions, parsley, lemon zest, salt, pepper, and paprika mixing until the ingredients are well combined.

Pulse. Using a food processor, pulse the shrimp making sure to leave some fairly large pieces in the mix while others are finely minced. This will take about 7-8 pulses.

Add Ingredients. Next, add the shrimp to the mayo mixture, and gently fold the ingredients until all of the shrimp pieces are coated with the sauce. Then, add the pork rind "breadcrumbs," and fold them until they are just covered.

Divide + Refrigerate. Separate the mixture into 4 equal patties, and place them on a baking sheet that has been lined with parchment paper. Once formed, place them in the refrigerator for 1-3 hours.

Cook. Heat a skillet over medium-high heat, and add oil. Let the burgers sear for 3-4 minutes on each side or until their internal temperature reached 145 degrees Fahrenheit.
Flavor Options
Looking for more flavor options? Try these alternatives:
Cajun Burgers – Swap the seasonings for a cajun spice. To make them even spicier, add extra cayenne as well.
Asian Burgers – For a slightly spicy Asian flavor, take out the herbs and seasonings, and add grated ginger to the mix. Then, take it one step further, and top your shrimp burgers with grilled pineapple rings.
Traditional Old Bay Burgers – If you're looking for a more traditional recipe, simply use Old Bay seasoning. You can even add it to the tartar sauce! Be careful, though. A little goes a long way! You'll only need 1-2 tablespoons for the whole recipe.
Serving Suggestions
One of the great things about this recipe is how versatile it can be. Of course, it's great served in buns as burgers. However, you can also use the patties in lettuce wraps, on top of salads, in tacos, and more!
Storage Tips
I love to make this shrimp burger recipe ahead of time! For easy storage, simply place the cooked patties into an airtight container, and place them in the fridge for up to 2 days. Or, individually wrap each patty, and place them in a sealable bag, and keep them in the freezer for up to 3 months.
How to Reheat
If you're reheating these burgers from frozen, make sure to first place them in the fridge overnight to allow them plenty of time to thaw. Then, to reheat the patties, place them in a skillet over medium-low heat until they are heated through. This will only take a couple of minutes so be sure to keep an eye on them! You don't want to overcook your shrimp burgers.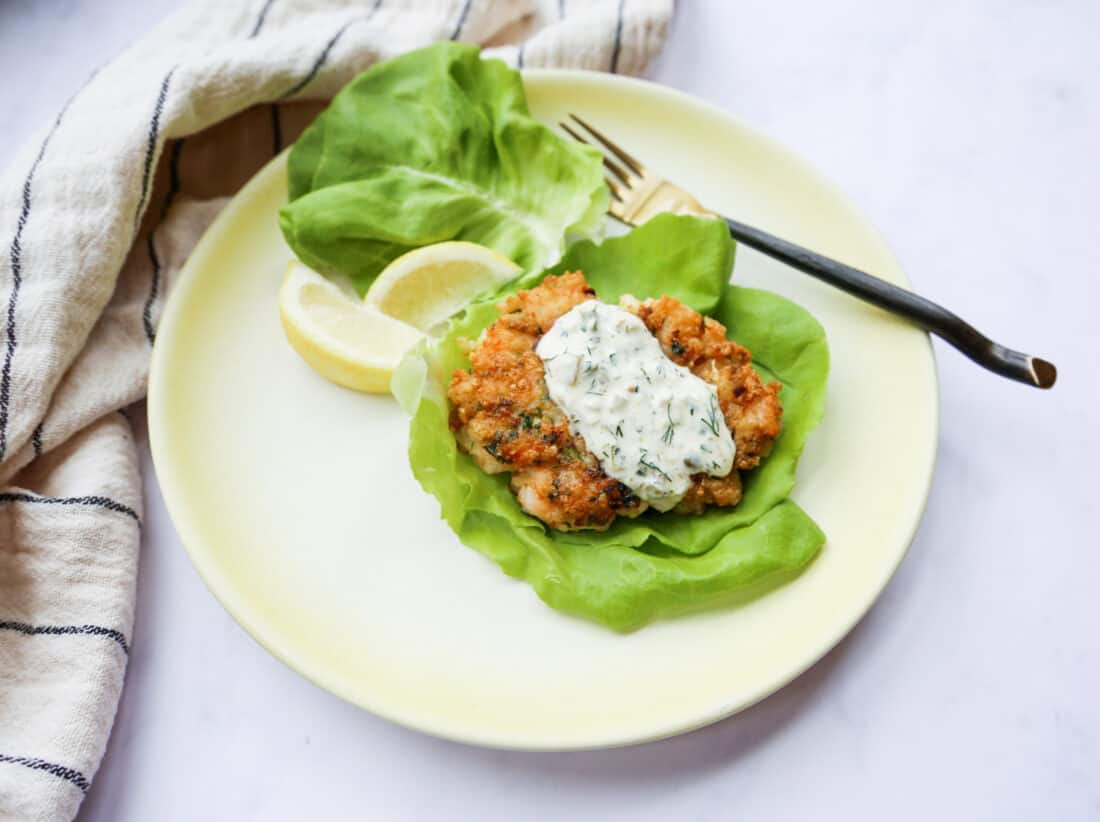 More Seafood Recipes
I told you this recipe was easy! With a wide variety of flavor options and serving suggestions, it's quickly becoming a go-to meal in my house, and I hope it does for you, too. If you make this shrimp burger recipe, I would love to know how you served them! Let me know in the comments below.
Also, of course, if you make this or any of my other recipes, please tag me on Instagram! I'd love to see your creations, connect, and share your page. I hope you love this recipe as much as I do. Stay tuned for new recipes, easy meal plans, decoration tips, and more every week!
In the meantime, enjoy!
Karin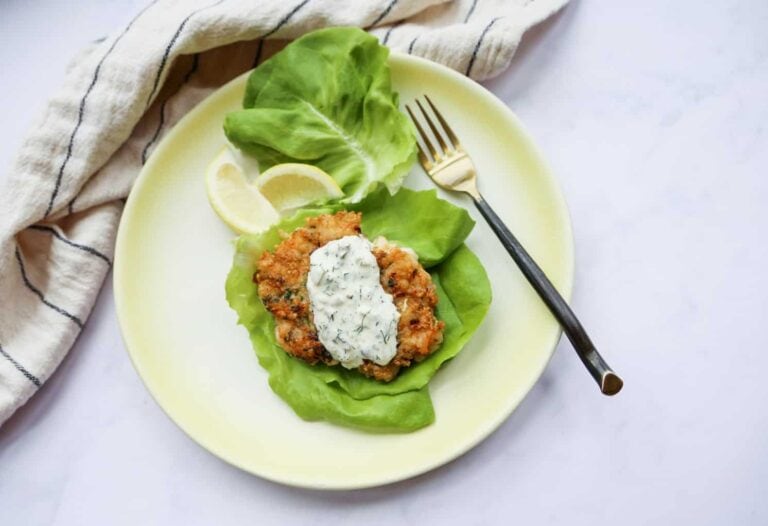 Ingredients
Ingredients for the Shrimp Burgers
½

cup

pork rind bread crumbs*

¼

cup

mayo

2

scallions

minced

2

T

fresh parsley

minced

2

t

lemon zest

grated

½

t

salt

1/4

t

black pepper

1/4

t

paprika

1 ½

lb.

large shrimp peeled

deveined and patted dry
Ingredients for the Tartar Sauce
¾

C

mayo

2

T

relish

or finely diced cornichons or pickles

1

T

capers

1

T

fresh dill

1t dried

Pinch

salt

1

t

lemon zest
Instructions
*If you need to make your own pork rind crumbs, pulse in food processor to course crumbs, about 7-10 pulses

Combine mayo, scallions, parsley, lemon zest, salt, pepper, and cayenne in a large bowl until smooth

Pulse shrimp in a food processor until some pieces are finely minced, and others are still larger, more coarsely chopped – about 7-8 pulses

Add shrimp to the mayo and gently fold until all the pieces are covered. Add the pork rind crumbs over top, and fold until just covered- you want it to be more of a coating around the burger

Divide the shrimp into 4 equal patties and place on a baking sheet lined with parchment and refrigerate for 1-3 hours

Heat a skillet (preferably cast iron) over medium high heat, add cooking oil of choice (I like avocado oil or ghee, as it has a higher heat point) and sear for 3-4 minutes per side, until the temp is 145 F.

Serve with tartar sauce, and garnish as desired
P.S. This page may contain affiliate links. Of course, you're not obligated to use them, but I appreciate the love if you do!