Made with simple ingredients, this Simple Fall Salad Recipe is made with healthy fats and has a spicy crunch to make healthy eating fun! Pack it for a tasty office lunch or serve it fresh for a delicious dinner.
Why You'll Fall for this Salad
As soon as the weather gets its first hint of fall, I find myself craving warm meals such as Paleo Butternut Squash Soup, Roger's Chili Con Carne, and Whole30 Winter Minestrone. There's just something about a big bowl of comfort food that always hits the spot. However, while these meals are great, I often find myself needing a lighter option to help balance them out. So, what better to pair with hot soups, casseroles, and more than a refreshing salad? I didn't want to serve just any salad, though.
Instead, I chose to add a seasonal flair for a hearty salad that can be served as a side dish or on its own for a super filling meal! If you're not a salad lover, don't worry! This fall salad recipe is nothing like your average salad and far from boring. Made with a unique blend of ingredients and textures, it's a flavor explosion! Plus, it's made with simple ingredients, most of which you probably already have waiting for you in your kitchen. Then, all it takes is a few minutes, and you've got yourself the perfect meal with 0 fuss and super minimal clean-up. I mean, does it get much better than that? Not in my world! You'll have to find out for yourself, though! Find out everything you'll need to know to make the perfect fall salad recipe below.
Fall Salad Recipe Ingredients
For this recipe, I did my best to keep things as simple as possible while adding a bit of seasonal flair. Feel free to add or remove ingredients to suit your preferences, but for my basic fall salad recipe, you'll need to gather the ingredients below.
Greens – I like to use mixed greens for robust flavor and added nutrients, but any greens or lettuce you like best can be used. 
Avocado – Avocado adds a nice, creamy texture and healthy fats to keep you full. However, you could always use nuts or cheese instead if your dietary needs allow. 
Egg – I like to use 6-minute eggs for a slightly creamy texture, but hardboiled eggs are equally delicious if you prefer.
Lime –  A drizzle of lime juice is an easy way to enhance the natural flavors in the rest of the ingredients and provides a nice touch of citrus to freshen this recipe up a bit!
Chicken – I used my Perfect Pan-Roasted Chicken Breast for this recipe, but definitely cook your chicken however you prefer!
Seasonings – For added flavor, I like to keep things simple using salt, pepper, paprika, and a bit of extra virgin olive oil. 
Pumpkin Seeds – Pumpkin seeds or pepitas if you prefer, are the true star of this fall salad recipe adding a good amount of crunch, healthy fats, and fiber to keep you full! However, if you don't have pumpkin seeds available, any nut or seed you have on hand can be used in their place. Just keep in mind that the flavor of this salad will vary depending on what you use. 
Optional Add-Ins
I'll admit, this salad already has quite a bit going on, but if you want to add even more, try incorporating fun ingredients such as bacon, croutons, cheese, fruit, and a variety of meats!
How to Make the Best Salad
The secret to making the perfect Fall Salad is in roasting the pumpkin seeds before combining them with the rest of the ingredients. Take a look below to learn how to make this salad from start to finish!
For the Pumpkin Seeds
Toss. To start, preheat the oven to 350 degrees Fahrenheit, and toss clean, dry pumpkin seeds in a bowl with olive oil, salt, pepper, and paprika.
Roast. Once well-coated, place the pumpkin seeds on a baking sheet that has been lined with parchment paper, and roast them in the oven for 10-15 minutes. Make sure to stir them halfway through cooking! This prevents them from burning.
For the Fall Salad
Cook Ingredients. While the pumpkin seeds are roasting, cook your egg and chicken however you prefer.
Toss. Once the egg has cooked, combine all of the ingredients in a large bowl. Once the pumpkin seeds become aromatic, remove them from the oven, and let them cool before adding them to the salad.
Season. Add a pinch of seasonings and drizzle lime juice on top of your fall salad, and enjoy!
Storage & Meal Prep
This fall salad recipe is best served fresh. Therefore, I don't recommend preparing it super far in advance. However, if you want to prep your ingredients ahead of time, I've found it's easiest to cook your eggs and chicken and roast your pumpkin seeds, keeping all of the ingredients separated. Then, when you're ready to eat, all you have to do is toss your ingredients in a bowl, and enjoy!
Can I Use a Different Protein Source?
Yes! Any protein source you like best can be used for this recipe. I like to switch things up using, steak strips, shrimp, or even tofu!
Can I Use a Different Salad Dressing?
Sure! I like the simplicity of the olive oil and seasonings, but feel free to use any salad dressing you prefer such as a vinaigrette, Ranch, and more! 
More Salad Recipes You'll Love
I hope you enjoy this fall salad recipe! It's been one of my absolute favorite meals lately. Do you have any fun ways use like to use pumpkin seeds? Let me know in the comments below!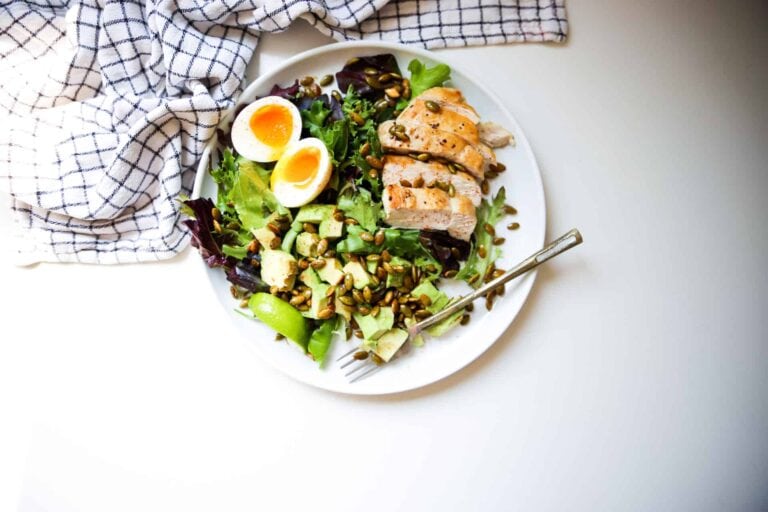 Ingredients
Mixed greens

Avocado

6-

minute egg

Lime wedge

Chicken breast

or protein of choice

Salt + pepper to taste

¼

cup

pumpkin seeds

1

Tablespoon

extra virgin olive oil

Pinch

of paprika
Instructions
Preheat the oven to 350 degrees Fahrenheit.

Toss the pumpkin seeds with olive oil, salt, pepper, and paprika, and place them on a baking sheet lined with parchment paper.

Roast the pumpkin seeds for 10-15 minutes, making sure to toss them halfway through cooking.

While the seeds are roasting, arrange the salad by combining the miixed greens, chicken breast, and egg,

After 10-15 minutes or when the pumpkin seeds begin to smell aromatic, remove them from the oven, and let them cool.

Top the salad with the cooled pumpkin seeds, a pinch of salt (if desired), and a squeeze of lime.
Of course, if you make this or any of my other recipes, please tag me on Instagram! I'd love to see your creations, connect, and share your page. I hope you love this recipe as much as I do. Stay tuned for new recipes, easy meal plans, decoration tips, and more every week!
In the meantime, enjoy!
Karin